The mere suspicion that National Security Agency leaker Edward Snowden was on a plane carrying Bolivian president Evo Morales was apparently enough to reroute the aircraft to Austria Tuesday night, after France and Portugal revoked its right to fly over their territories, Bolivia's foreign minister said.
Foreign Minister David Choquehuanca said the plane was forced to land in Vienna because of suspicion that Snowden was on board. He denied Snowden was on the plane, and said France and Portugal would have to explain why they canceled authorization for the plane.
The aircraft was taking Morales home from Russia, where he had met with Russian President Vladimir Putin at a summit for gas exporters.
"We don't know who invented this lie. We want to denounce to the international community this injustice with the plane of President Evo Morales," Choquehuanca said from Vienna, according to The Associated Press.
A tweet posted on the official Twitter page of the Austrian foreign ministry read: "Rumors claiming that Snowden was on board the plane of President Morales that landed in Vienna are not correct."
Choquehuanca said the last-minute change of plans had put Morales's life in danger.
Snowden's options had dwindled Tuesday as several countries he'd sought refuge in revealed he was not eligible for asylum.
A senior U.S. official said there was no indication Tuesday that Snowden is anywhere but still in the Moscow airport. When asked if it was possible Snowden had managed to leave the country on a foreign official's plane, the official told NBC News, "I've heard nothing remotely like that."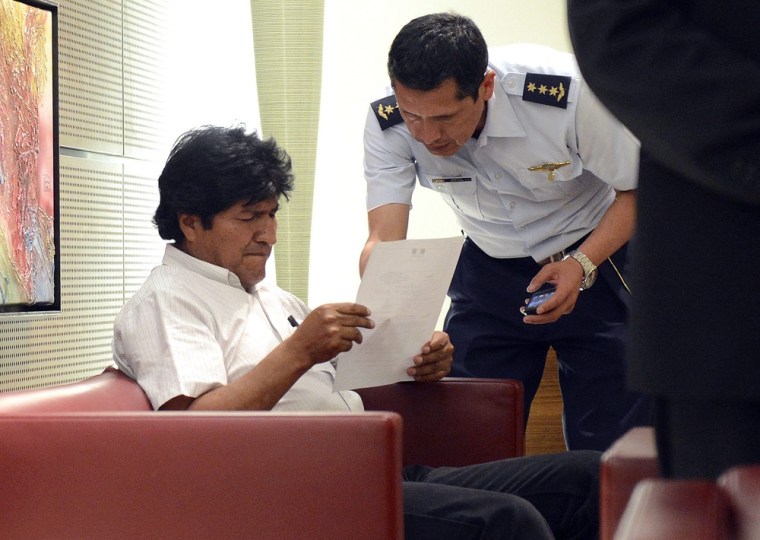 When asked about the Bolivian plane incident, a spokesman for the French Prime Minister Jean-Marc Ayrault's office told NBC News, "No comment on the affair, no confirmation nor denial."
Anti-secrecy organization WikiLeaks said late Monday the former contractor had sought asylum in at least 21 countries, including China, Russia, Venezuela and Iceland. The requests, which "outline the risks of persecution Mr Snowden faces in the United States," had been presented to a Russian official at Moscow's Sheremetyevo Airport, the group said. 
But only hours later, his applications to many of those countries were deemed not valid.
As the rejections piled up, Snowden's father released through his lawyer, an open letter to his son calling him a "modern day Paul Revere summoning the American people to confront the growing danger of tyranny and one branch government."
Lonnie Snowden has not spoken to his son since April but has said he would like to lay a foundation for him to return to the United States and face charges of espionage.
Snowden, who described himself as a "a stateless person" after his U.S. passport was revoked, is believed to be holed up at the Moscow airport where he landed nine days ago.
Before going to Russia, he was in Hong Kong, where he allegedly leaked details of U.S. surveillance programs gathered while he was working as a private contractor for the National Security Agency.
Snowden withdrew a request for asylum in Russian after President Vladimir Putin accused him of "harming our American partners," a government officials said.
State Department spokesman Jen Psaki confirmed the U.S. has been in touch with a "broad range of countries that could serve as either transit spots or final destinations."
"What we've been communicating is…that Mr. Snowden has been accused of leaking classified information. He is somebody that we would like to see returned to the United States…and we are hopeful that will happen," she said.
Several countries indicated he would not be awarded asylum for technical reasons.
Ecuador, Spain, Ireland, Poland, Austria, Norway, Finland and the Netherlands confirmed that Snowden's paperwork could not be processed because he was not on their soil or at their borders.
"We don't consider it as an application at this point," a spokesman at Finland's Foreign Ministry said.
In a statement, Poland said immigration officials had received "a fax from a person who signed as E. Snowden which does not fulfill the requirements of a formal application for asylum."
India and Brazil said they had rejected Snowden's asylum request outright.
"Following careful examination we have concluded that we see no reason to accede to the Snowden request," Syed Akbaruddin, a spokesman for the India's foreign ministry, said on Twitter.
German Interior Minister Hans-Peter Friedrich confirmed Tuesday that Snowden had made a request for asylum. According to news magazine Spiegel, the country's Foreign Ministry was examining if Germany could allow entry to Snowden.
The opposition Green Party said Snowden "did a service for Germany by unveiling practices, which breach fundamental basic rights and represent a massive breach of trust between allies" and has suggested the former contractor had a legitimate case.
Venezuelan President Nicolas Maduro said his country had not received a formal asylum request but added that he thought countries should support Snowden's work exposing "the imperialist elite of the United States."
"They spy on friend and foe," Maduro told reporters after a gas exporters' conference in Russia. "They have created a semi-Orwellian system." 
France and Switzerland said they had not yet received an asylum request.
Snowden could apply for a humanitarian visa which would allow entry for three months, however, said a spokeswoman at the Swiss office for migration, which handles asylum requests.
Other countries on the WikiLeaks list -- such as Bolivia and Iceland -- could not be immediately contacted.
On Monday, Putin said Snowden could stay in Russia on one condition.
"He must stop his work aimed at harming our American partners, as strange as that sounds coming from my lips," he told reporters in Moscow. "He must choose a country of destination and go there. Unfortunately, I don't know when this will happen."
NBC News' Jim Maceda, Nancy Ing, Pete Williams, Tracy Connor, Becky Bratu and Christina Marker and Reuters contributed to this report.
Related: