A passenger plane with more than 60 people on board "lost contact" with air traffic controllers shortly after taking off from Indonesia's capital, Jakarta, on Saturday, a Transport Ministry spokesperson said.
Authorities have launched a search-and-rescue operation after Sriwijaya Air Flight SJ182 went missing over the Java Sea minutes after it took off for Pontianak, the capital of the Indonesian province of West Kalimantan, spokesperson Adita Irawati said.
Indonesian Transport Minister Budi Karya Sumadi later told a virtual news conference that 50 passengers and 12 crew had been aboard. Among them were seven children and three babies, he said.
"We are sorry about this incident," he said. "Please pray for the blessing of all people so that the search-and-rescue process will run smoothly."
Indonesian President Joko Widodo had given instructions to "maximize" search efforts in the sea, north of Jakarta, by the government search-and-rescue agency, Basarnas, he added.
Tracking service Flightradar24 said on its Twitter feed that the plane "lost more than 10,000 feet of altitude in less than one minute, about 4 minutes after departure" from Jakarta's Soekarno-Hatta International Airport.
A crisis center for relatives has been set up at the Supadio International Airport in Pontianak where the plane was due to land.
The aircraft is a nearly 27-year-old Boeing 737-500, according to registration details included in the tracking data, Flightradar24 said.
The plane was last heard from at 2.40 p.m. local time (2:40 a.m. ET), Irawati said.
Yusuf Latief, a spokesperson for rescue agency, Basarnas, told NBC News that ships had been dispatched to the Thousand Islands area, a chain north of the Jakarta coast, where the plane is thought to have lost contact.
Download the NBC News app for breaking news and politics
Sriwijaya Air said in a statement that it was "still in contact with various related parties to get more detailed information," and that "management is still communicating and investigating this matter."
Founded in 2003, the airline is one of Indonesia's discount carriers, flying to dozens of domestic and international destinations.
Indonesia, the world's largest archipelago nation, with more than 260 million people, has been plagued by transportation accidents on land, sea and air because of overcrowding on ferries, aging infrastructure and poorly enforced safety standards.
Between 2007 and 2016, the U.S. Federal Aviation Administration lowered its Indonesia safety evaluation to Category 2, meaning its regulatory system was inadequate. Indonesian officials say they have worked hard to bring safety up to international standards.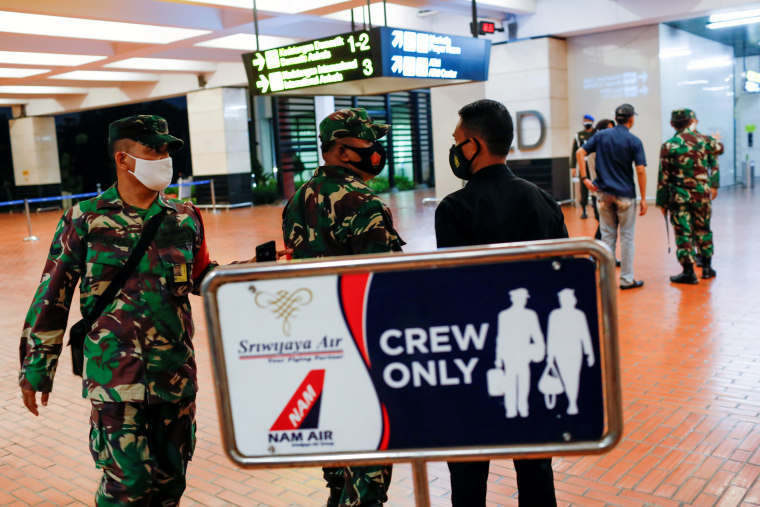 But it is the second air crash off the coast of Indonesia in just over two years. A Boeing 737 Max operated by Indonesian airline Lion Air crashed off Jakarta in October 2018, killing all 189 passengers and crew.
David Sidman, director of communications at Boeing said in a statement that the company was "aware of media reports from Jakarta, and are closely monitoring the situation." Adding, "We are working to gather more information."
Boeing agreed on Thursday to pay $2.5 billion to settle a U.S. Justice Department investigation and admit that employees misled regulators about the safety of its 737 Max aircraft, which suffered two deadly crashes shortly after entering airline service.
Reuters contributed to this report.