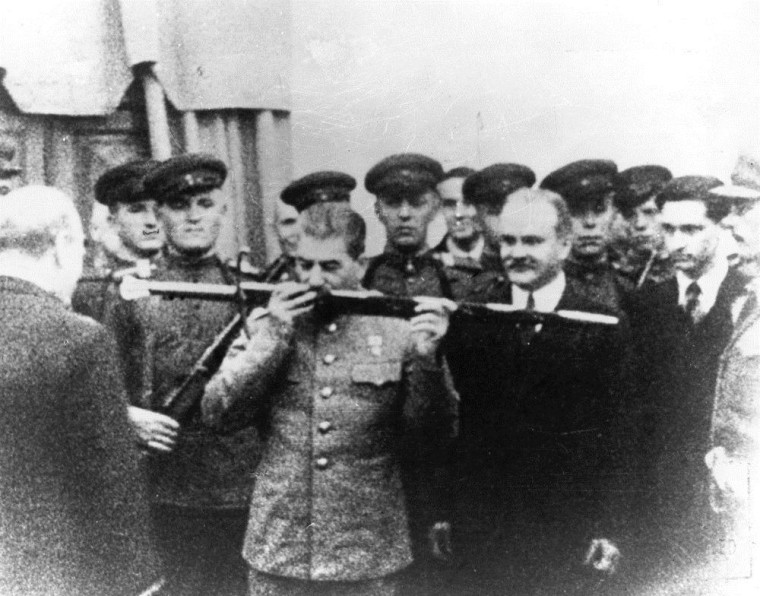 VOLGOGRAD, Russia — Josef Stalin and the city of Stalingrad are making a comeback, if only for a short time.
The Russian city of Volgograd has approved the use of its wartime name at events on Saturday commemorating the 70th anniversary of the 200-day Battle of Stalingrad that turned the tide of World War II.
In a move not sanctioned by the city authorities, admirers also plan to display portraits of the late Soviet dictator in minibuses to honor his role in the defeat of Nazi Germany.
The city council's decision is designed to please war veterans but is unlikely to have been taken without the approval of President Vladimir Putin, who is expected to attend the events in the industrial hub of 1 million on the River Volga.
There are also plenty of other signs of nostalgia for Stalin and the Soviet era in Volgograd, despite the millions of deaths from collectivization and the murder of political opponents.
"I categorically do not justify Stalin's repressions, but you have to recognize the positive things he did, whether you want to or not," said Gamlet Dallatyan, a 92-year-old veteran of the battle which Russian historians say killed nearly 2 million. "It would be good to go back to the name of Stalingrad, though not so much because of Stalin himself but because that is how the city was known during the war."
A businessman in Volgograd has opened a Stalin museum and many streets still honor Soviet leaders such as Vladimir Lenin or hark back to communist ideology.
On the corner of Worker-Peasant Street and Trade Union Street, the USSR restaurant -- next to a branch of the U.S. fast-food company McDonald's -- welcomes diners with a sign declaring: "Eaters of the world unite."
Named after Stalin in 1925, the city was renamed Volgograd in 1961, during Nikita Khrushchev's "de-Stalinization" campaign.
History's bloodiest battle?
That outraged veterans of the battle for Stalingrad, which was flattened during fighting from July 17, 1942, until the German surrender on Feb. 2, 1943.
In what is said by some historians to have been the bloodiest battle in history, soldiers fought in trenches, streets and buildings, sometimes room to room. Some succumbed to the cold and hunger.
About 920 Stalingrad war veterans still live in the region. They not only praise Stalin for firm wartime leadership, but have urged Putin to restore the name of Stalingrad in memory of the battle.
"It was awful but I never doubted we would win. We were all patriots," said Dallatyan, who was responsible for communications. "I am full of pride. I never thought of it as just our victory but as the victory of the Soviet people."
The decision by the city government this week will allow the name Stalingrad to be used officially at public events on five days every year including May 9, when Russia marks the Allied victory over Nazi Germany.
Local communists have collected 35,000 signatures for a petition calling for Volgograd to be renamed and plan to take their demands to court.
"People admire Stalin, with all his pluses and minuses," said Nikolai Parshin, the regional Communist Party leader in his office.
Popular but no 'saint'
A poll in 2008 ranked Stalin, who died in 1953, the third most popular figure in Russia's history.
A local group of Stalin admirers will on Saturday put up posters of Stalin in five "marshrutka" minibuses used for public transport.
"You should not make a saint of him," said Dmitry Pikalov, who coordinates the group's actions. "But facts are facts and he was the leader during the war that defeated fascism."
Little is being made of the deaths of Soviet soldiers shot for cowardice because of Stalin's order that no one should take a step back or of the deaths of tens of thousands of Germans soldiers in captivity after the war.
Putin has criticized Stalin but also praised some of his achievements, including urging Russia to take a "leap forward" to rejuvenate its defense industry, harking back to the 1930s industrialization led by Stalin that cost of many lives.
He has described the Battle of Stalingrad as the turning point of World War II and in 2004 ordered Stalingrad to replace Volgograd among the names of "hero cities" on the Tomb of the Unknown Soldier in Moscow.
Related:
Russia's leaders criticized at Stalin commemorations
Documents: US, UK hushed up Soviet massacre of 22,000 Poles in WWII