WASHINGTON — The State Department has appointed veteran diplomat Donald Booth as a special envoy to Sudan after a bloody crackdown by security forces on pro-democracy protesters in Khartoum.
The attack on June 3 came after a weeks-long standoff with protesters seeking a speedy transition to civilian rule following the April ouster of long-time strongman Omar al-Bashir.
Opposition leaders say 108 people were killed in the violent dispersal of the protesters' sit-in outside the military headquarters in Khartoum, but Sudan's Health Ministry has disputed that number and said 61 people were killed across the country.
The newly appointed special envoy is already traveling in the region with the top America diplomat to Africa, U.S. Assistant Secretary of State Tibor Nagy, and is in Khartoum for meetings with both parties in the Sudan conflict.
State Department Spokesperson Morgan Ortagus said the U.S. representatives will be urging the Sudanese security forces to end the attacks on civilians, withdraw the Rapid Support Forces (RSF) from Khartoum, and allow an independent investigation of the recent violence. The Americans will also meet with other regional partners on the situation, Ortagus said Wednesday.
The RSF, the paramilitary unit blamed for the killings, were formerly known as the janjaweed militia. They gained international notoriety for brutal atrocities during the Darfur conflict in western Sudan starting in 2003.
Booth comes to the role with extensive experience — he previously served as U.S. special envoy for Sudan and South Sudan from 2013-2017 during the Obama administration.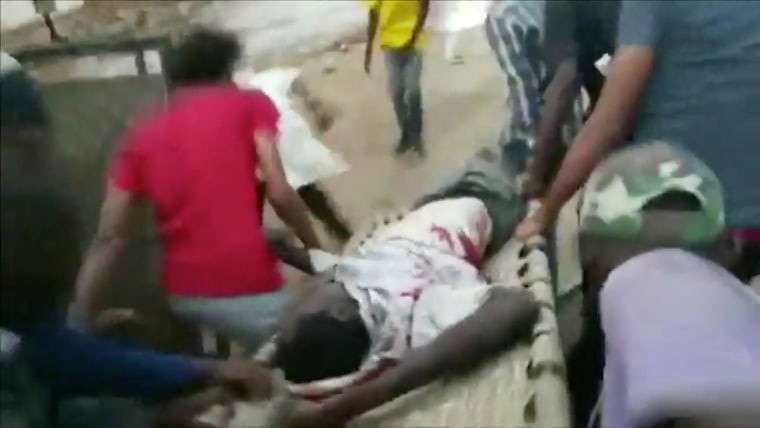 The State Department, which does not currently have an ambassador to Sudan, has come under fire for what some critics saw as a slow reaction to the brutal attacks.
However, Nagy responded on Twitter just hours after the June 3 attacks, stating that the U.S. "stand[s] with the peaceful protestors" and calling on Sudan's military authorities "to rein in these abusive forces and protect the people of Sudan."
Over 24 hours later, the U.S. condemned the attacks in a joint statement with Norway and the United Kingdom calling for "an agreed transfer of power to a civilian-led government as demanded by the people of Sudan."
Pressure was also applied on Saudi Arabia and the United Arab Emirates to use their influence on Sudan's Transitional Military Council in publicly confirmed phone calls.
But an official statement on the attacks was not put out by the State Department until over 48 hours after the incident.