Stephen Hawking, the British theoretical physicist who embraced the depth and complexities of life in his search for answers on the universe, was mourned Saturday at a private funeral service.
Nearly 500 family members, friends and colleagues gathered in Great St. Mary's Church at 2 p.m., just down the road from where Hawking spent years as a director of research for the University of Cambridge.
Church bells tolled as pallbearers carried Hawking's casket inside the church and members of the public who gathered outside the chapel applauded as the funeral procession passed.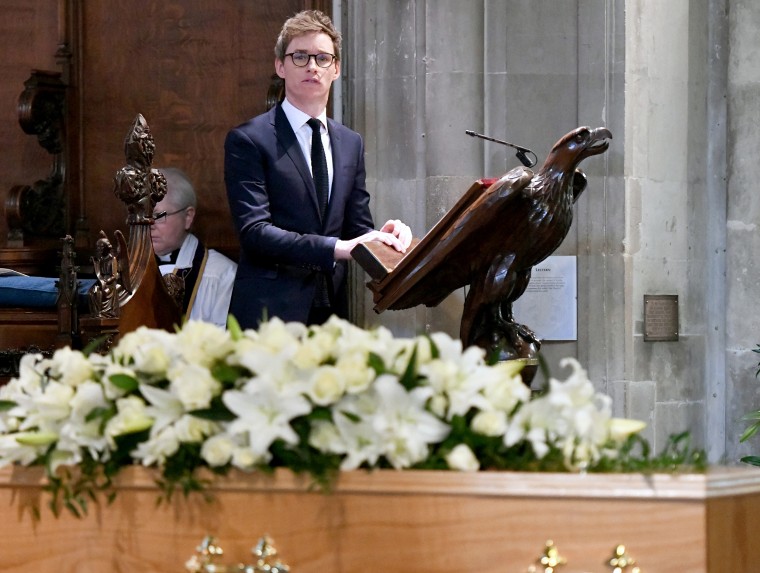 Actor Eddie Redmayne, who won an Academy Award for his portrayal of Hawking in the 2014 biographical film "The Theory of Everything," gave a reading from Ecclesiastes during the service, while eulogies were read by a former student and a family member.
Later in the year, Westminster Abbey will host a Service of Thanksgiving in Hawking's honor, to place his ashes in the Abbey near Sir Isaac Newton's grave.
Hawking lived approximately 55 years with amyotrophic lateral sclerosis, or ALS — decades longer than doctors predicted when they initially diagnosed him. He died March 14 at the age of 76.
"My expectations were reduced to zero when I was 21," said Hawking in 2004, in an interview with New York Times Magazine. "Everything since then has been a bonus."
Hawking was an atheist, and he spoke in stark terms on his beliefs about life and death.
"No one created the universe and no one directs our fate," Hawking said on Discovery Channel's "Curiosity" in 2001. "This leads me to a profound realization that there probably is no heaven and no afterlife either. We have this one life to appreciate the grand design of the universe and for that, I am extremely grateful."
He shared his insights on the universe, black holes, gravity and more in his accessibly written 1988 bestseller "A Brief History of Time," which earned him an international reputation.
Local visitors who wanted to offer condolences to Hawking's family signed a book located at Gonville and Caius College, where Hawking worked as a fellow for over 50 years, just across the way from Great St. Mary's. The Gonville and Caius College website also hosts an online collection of condolences.
"He was an integral and highly recognizable part of the university and the city," Hawking's children said in a statement. "For this reason, we have decided to hold his funeral in the city that he loved so much and which loved him. Our father's life and work meant many things to many people, both religious and non-religious. So, the service will be both inclusive and traditional, reflecting the breadth and diversity of his life."