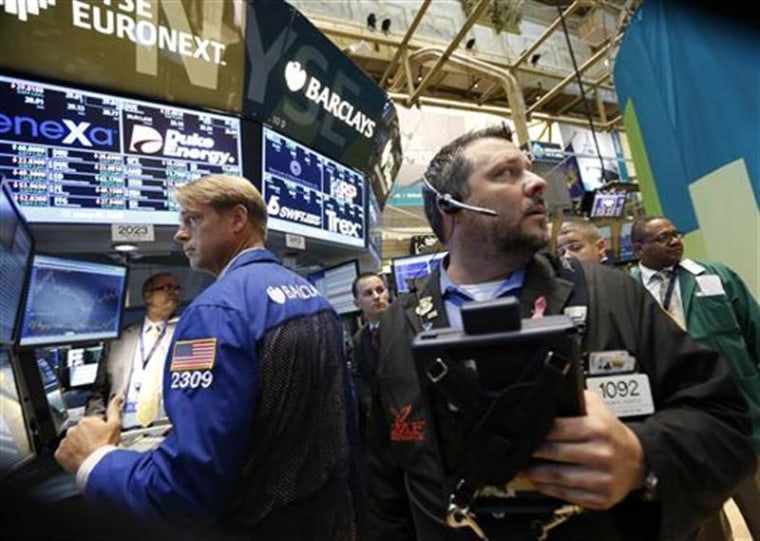 Stocks fell Friday after a Spanish region asked Madrid for financial aid, rekindling fears about Europe's debt crisis and prompting traders to cash in three days of gains.
The news that Valencia would seek a bailout interrupted a period of relative calm for Wall Street and raised the specter that the euro zone's fourth-largest economy would itself eventually need to be rescued.
The Dow Jones industrial average closed down 121 points. Bank shares, sensitive to signs of trouble in Europe, were among the biggest losers.
The euro slid broadly, setting a two-year low against the dollar. The single currency fell as low as $1.2143, its weakest level since mid-June 2010. Spanish benchmark bond yields hit euro-era highs. The yield on the 10-year bond reached 7.3 percent.
"Any time the euro lets go so does the market come under pressure," said Paul Mendelsohn, chief investment strategist at Windham Financial Services in Charlotte, Vermont. "This morning the headlines and the news hit and boom, everybody is selling everything."
The news overshadowed another round of strong-than-expected corporate earnings, including a profit beat at General Electric and strong advertising revenue at Google.
Europe had been on the back burner for much of July, allowing Wall Street to move higher. Since early June the S&P 500 has gained 7 percent, helped by a deal to save Spanish banks and a European Union summit that pointed to greater cooperation.
The resurfacing of euro zone debt problems in the headlines was a reminder that the bloc's problems are far from over.
"It looks as if Europe is taking center stage again, with Spain as the main act," said Quincy Krosby, market strategist at Prudential Financial in Newark, New Jersey.
The S&P on Thursday hit a 2-1/2 month high as record high prices in Treasuries kept yield-seekers focused on stocks despite a softening economy. Bets on further Federal Reserve action in support of the economy are also credited for helping equities hold amid poor economic data.
Microsoft on Thursday adjusted earnings and revenue that beat expectations, but its first-ever quarterly loss discouraged investors.
Kayak Software shares soared on their Nasdaq debut and Palo Alto Networks also jumped.
Reuters contributed to this report.