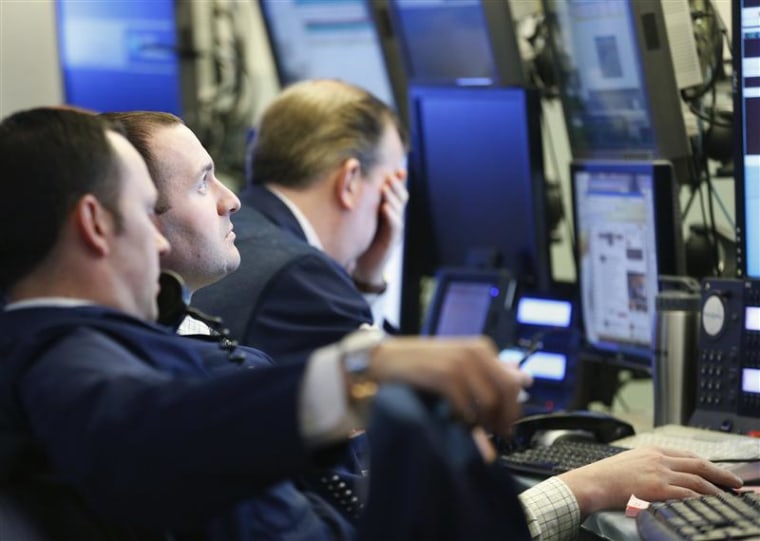 Stocks tumbled Thursday on weak manufacturing data in the United States and around the globe and after Goldman Sachs made a bearish call on the S&P 500 index.
The Dow Jones industrial average closed the day down 251 points, while the Nasdaq composite lost 71 points and the S&P 500 declined 30 points.
All three major indexes lost their gains for the week. The day's decline was the worst since June 1 when the S&P 500 fell 2.5 percent.
The selloff accelerated as Goldman Sachs recommended that its clients build short positions in the S&P 500, which it expects to fall further. All three major stock indexes are on track to post their worst daily loss since June 1.
"We are recommending a short position in the S&P 500 index with a target of 1,285 (roughly 5 percent below current levels)," Goldman Sachs said in a note.
Another factor in the market decline: An expected downgrade of five large U.S. banks by Moody's. The downgrade will raise the banks' cost of capital.
The investment bank cited Thursday's report from the Philadelphia Federal Reserve Bank whose mid-Atlantic factory index registered a minus 16.6, an unexpected contraction in the region's business activity in June.
Other data on Thursday showed business activity across the euro zone shrank for a fifth straight month in June and Chinese manufacturing contracted, while weaker overseas demand slowed growth by U.S. factories.
In addition, U.S. home re-sales fell in May and the four-week moving average for new unemployment insurance claims rose last week to the highest level since early December.
Energy and materials company shares led declines on Wall Street as commodity prices fell. U.S. crude futures slipped below $80 a barrel for the first time since October and copper tumbled.
"Markets are worried about the slowdown, not only in U.S. figures but all around the world," said Jeffrey Saut, chief investment strategist at Raymond James Financial in St. Petersburg, Florida. "The market was extremely overbought coming into this week, and the news gave it an excuse to sell off."
Softening data globally lifted hopes of central bank action to support the economy. The U.S. Federal Reserve announced on Wednesday it would extend one monetary stimulus program and said it was ready to do more to help economic growth if necessary.
"Although yesterday's FOMC delivered easing as expected, with a dovish statement, positive risk sentiment ahead of the FOMC had already buoyed markets. And we now think, with incremental US monetary policy on hold, the market will need to confront a deteriorating growth picture near term," Goldman Sachs said.
Reuters contributed to this report.