LONDON – A controversial four-lane highway will be constructed under Stonehenge, planners announced Thursday in an effort to solve a decades-old traffic problem at the ancient British monument.
A new 1.8 mile tunnel would remove the sight and sound of traffic for visitors to the prehistoric landmark, England's Department for Transport said.
The World Heritage Site is among Britain's top tourist attractions and pulls in in more than 1.3 million visitor annually.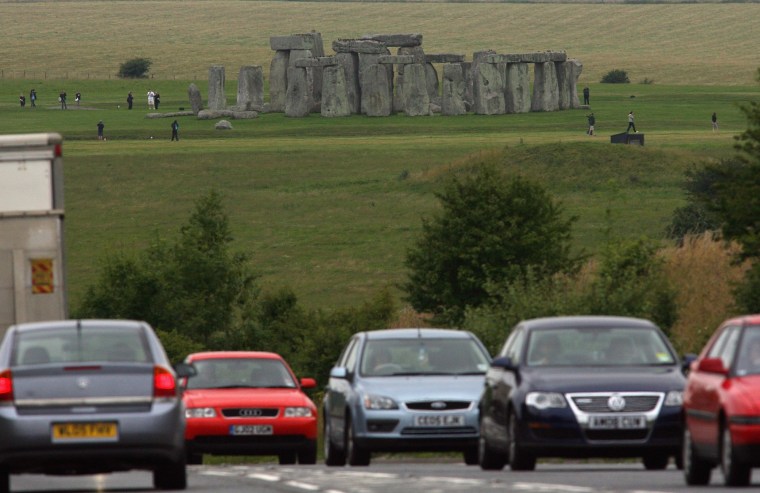 However, it sits yards from the busy A303 — a historic road linking London with southwest England that has grown increasingly traffic-choked. The stretch of highway nearest Stonehenge is single-lane, creating a notorious bottleneck and prompting many drivers to slow down to get a look.
Plans for a tunnel at the Wiltshire site were first made almost 30 years ago but have been repeatedly shelved amid concerns about the environmental impact.
Campaign group Stonehenge Alliance says the latest scheme, which would carry two lanes in each direction, would do "irreparable damage to the landscape" and it wants a much longer tunnel that would minimize the road's impact.
Supporters of the government plan include heritage charity, National Trust. Helen Ghosh, director general, said in a statement: "I know there will be some sadness that people will no longer be able to see the stones from the road, but visitors will once again be able to hear the sounds of skylarks singing rather than the constant noise of traffic."
She added: "After many false starts and challenges, this does for the first time feel like a real opportunity to tackle the blight of the road that dominates the landscape of Stonehenge."
The Department for Transport said the Stonehenge tunnel was part of a $2.45 billion program of investment in the region and would cut traffic congestion. A public consultation on the scheme will run until March 5.