ISTANBUL — At least 14 people were killed and more than 400 injured when a strong 7.0 magnitude earthquake struck Turkey and neighboring Greece on Friday.
Images posted on social media showed one building in the coastal Turkish city of Izmir entirely collapsed with people climbing over the wreckage that was strewn with what appeared to be clothes and household objects. Video posted on Twitter appeared to show debris strewn across a central Izmir boulevard.
It was not clear how many people were trapped under the rubble in Izmir,the city's mayor, Tunç Soyer, told NBC News. Soyer said at least 20 buildings had collapsed in the city, which is Turkey's third-largest after Istanbul and the capital, Ankara.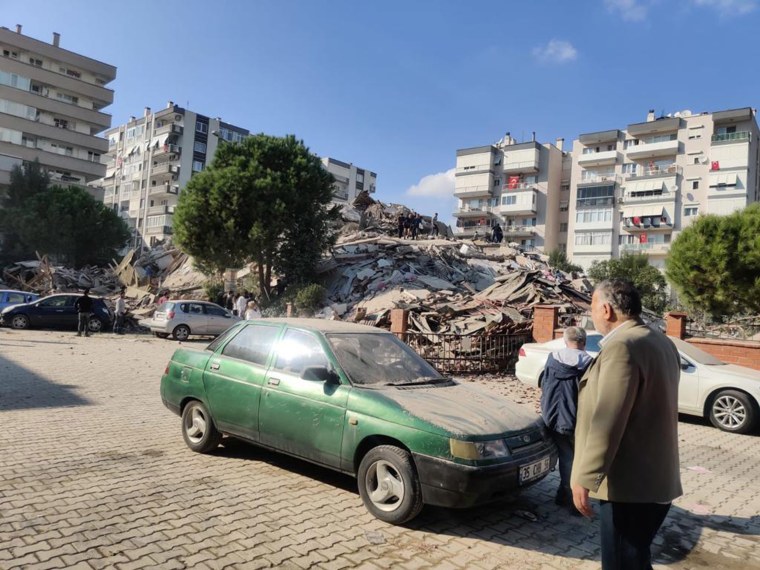 Twelve people were killed in Turkey, including one who drowned, and 419 were injured, according to Turkey's Disaster and Emergency Management Presidency, or AFAD.
Turkish President Recep Tayyip Erdogan said more 438 people were injured and that rescue operations continued in 17 buildings.
Turkey's Health Minister Fahrettin Koca tweeted that nearly 40 ambulances, 35 emergency rescue teams and two ambulance helicopters were on the scene.
"We are with the people of Izmir," he added.
On Samos, a Greek island, two teenagers died after being struck by a wall that collapsed, according to The Associated Press. Greek Prime Minister Kyriakos Mitsotakis tweeted condolences, saying "words are not enough to describe how one feels about the loss of children."
At least 19 people were injured in Samos, with two, including a 14-year-old, being airlifted to Athens and seven hospitalized on the island, health authorities said, according to the AP.
High tidal waves were seen in both countries and led to flooding on parts of the Izmir coast.
Video posted from Turkish state-run Anadolu Agency appeared to show water gushing through streets in Izmir province bringing with it household furniture.
The Mayor of Seferihisar, Ismail Yetisken, told NBC News that shortly after the earthquake the sea level rose and the water moved cars, furniture, "anything that was on the streets or sidewalks."
Videos shared with NBC News showed what appeared to be boats being moved off their moorings by the waters in Seferihisar Marina.
Residents of Samos, that has a population of about 45,000, were urged to stay away from coastal areas, Eftyhmios Lekkas, head of Greece's organization for anti-seismic planning, told Greece's Skai TV after the quake struck.
"It was a very big earthquake, it's difficult to have a bigger one," said Lekkas.
Download the NBC News app for breaking news and politics
Mitsotakis tweeted Friday that he had called Erdogan to offer his condolences.
"Whatever our differences, these are times when our people need to stand together," he said.
Erdogan tweeted earlier Friday that "with all the means of our state, we stand by our citizens affected by the earthquake."
The Turkish interior ministry said search, rescue and first aid teams were sent to the region immediately. The Turkish Red Crescent said its disaster teams had also taken action following the quake.
The U.S. Geological Survey said the epicenter of the earthquake was 33.5 km (20.8 miles) off Turkey's coast and the depth was 10 km (6.2 miles).
Aziz Akyavas reported from Istanbul. Saphora Smith and Matthew Mulligan reported from London.