Rival armed forces were locked in a deadly battle for control of Sudan on Monday, with nearly 100 civilians killed and the country's capital, Khartoum, rocked by heavy fighting.
Three days of intense clashes between Sudan's military and a powerful paramilitary force has seen airstrikes, shelling and gunfire hit busy neighborhoods across the country as two rival generals vie for power.
The clashes are part of a power struggle between the armed forces, led by Gen. Abdel-Fattah Burhan and the Rapid Support Forces, led by Gen. Mohammed Hamdan Dagalo. Despite mounting international pressure for a cease-fire, the violence threatened to spiral into a deeper conflict that could derail the country's bumpy transition to democracy.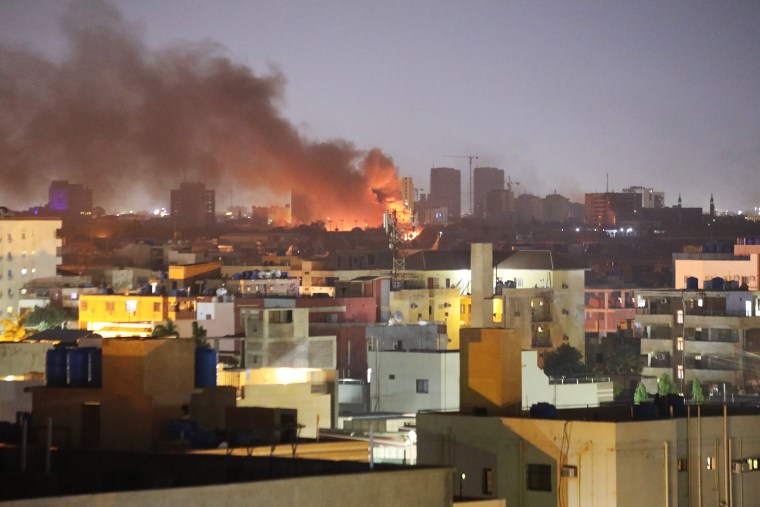 The civilian death toll rose to 97, the Central Committee Of Sudan Doctors said early Monday, with nearly 350 people injured. NBC News has not verified the number and it was unclear how many fighters may have been killed.
Heavy fighting and bombardment were reported Monday in the embattled capital, Khartoum, and nearby areas — a rare outbreak of violence in the bustling city that forced terrified residents to take shelter. Hospitals were hit and several aid groups suspended their vital operations in the country.
"The conflict is everywhere," human rights lawyer Sherif Ali told NBC News by telephone from Khartoum.
"It's madness," said Ali, 40, who fled his apartment in the city center for his extended family around the outskirts after the fighting erupted Saturday. "We woke up that day to fighting and gunshots. We stayed in our houses, no one able to go out. The first time to see such conflict in Sudan," he said.
He described the presence of heavy artillery and fighter jets and said it was hard to decipher which military faction had the upper hand.
Shops are shut and food is running low, he said, with the streets of the capital deserted. The main international airport has also been damaged, with flights suspended.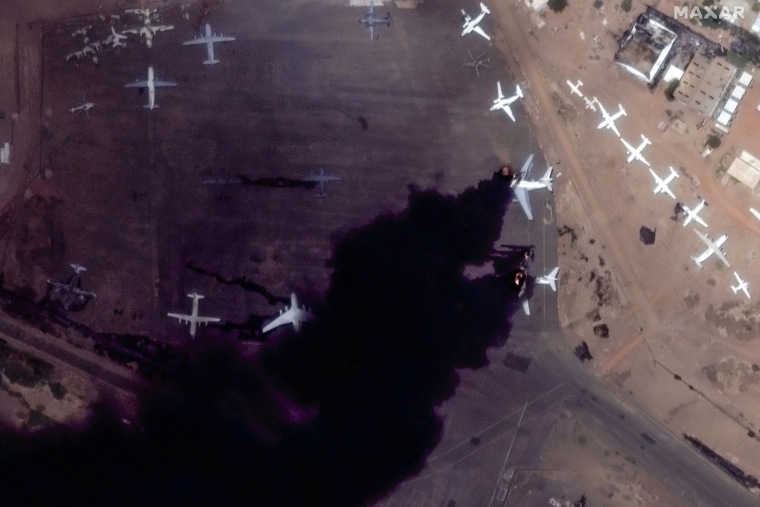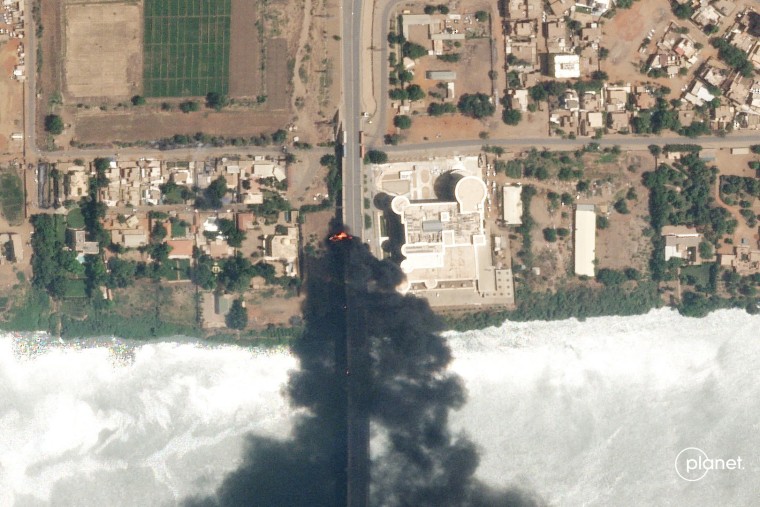 "We could have war," Ali added, voicing a fear that was fueling increasingly urgent calls for a peaceful resolution from the United States and other global powers.
Both the Sudanese military and its partner-turned-rival, the RSF, had claimed gains over the other with boasts on social media and calls for the other side to surrender that suggested limited possibility for an immediate truce.
The state TV broadcaster resumed operations Monday after the military said it had regained control of the building, adding to suggestions that it may have gained the upper hand after launching airstrikes on RSF bases.
Secretary of State Antony Blinken renewed demands for an immediate cease-fire and a return to talks between the two warring factions.
"People in Sudan want the military back in the barracks. They want democracy. They want civilian-led government. Sudan needs to return to that path," he told reporters Monday on the sidelines of a meeting with foreign ministers from the Group of Seven nations in Japan.
A State Department spokesperson said all U.S. government workers in Sudan are "accounted for and safe."
In a rare moment of unity, the U.S., Britain, Russia and China have all called for an end to the violence in the country.
A three-hour cease-fire was announced Sunday to secure passage for civilians and medical workers.
But the battles created more hardships for Sudan where about 16 million people, or one-third of the population, depend on humanitarian assistance. The World Food Program suspended its operations over the weekend after three employees were killed in fighting in the war-torn western region of Darfur.
"Hospitals and health institutions in Khartoum and cities of Sudan have been bombarded by artillery and firearms," said the Sudan Doctors' Syndicate, a pro-democracy group monitoring casualties, adding that multiple medical facilities were evacuated and even stormed by the armed forces.
Medical staff, patients and children were in a "state of confusion and fear," it said, adding hospitals in the capital and surrounding areas were suffering a power outage with generators running out of fuel, putting patients' lives in "severe danger."
The fighting marks a deadly setback for Sudan, a resource-rich nation strategically located at the crossroads of Africa and the Arab world that has been known for its history of military coups and civil conflicts since it gained independence in the 1950s.
Only four years ago, it inspired hope after a popular uprising helped depose longtime autocratic leader Omar al-Bashir. But it was derailed in a 2021 coup attempt, jointly orchestrated by the two generals who were then allies.
The latest violence is the culmination of months of heightened tensions between the two forces that delayed a deal with political parties to get the country back on a path to democratic rule.
A framework agreed upon after negotiations in recent months was vague on key points of dispute, including how the RSF would be integrated into the armed forces and who would have final control.
The eruption of that dispute into armed conflict left residents and tourists alike struggling.
The few stores that were open had empty refrigerators and had either run out of essentials or were selling them at exorbitant prices. "Pepsi is cheaper than water," said Maheen Shajahan, a 22-year-old tourist from southern India.
He had arrived Thursday in the capital, which was now without electricity.
But, Shajahan said, as he returned from the store with some drinking water Monday morning, he heard gunshots near him. He sprinted but was intercepted by armed officers and scrambled for cover, he said.
"It was so scary. I sat inside a bush and hid myself," he said. "I tried to escape by road but the armed person almost 150 meters (about 164 yards) away pointed the gun at me. Then I ran away."