A deadly conflict has suddenly erupted for control of Sudan, a resource-rich but impoverished nation, killing almost 200 civilians and raising fears it could spiral into a bitter civil war that would derail its hopes of democracy and threaten the stability of surrounding countries.
The fighting erupted over the weekend between two rival groups led by two military leaders vying for power, leaving millions caught in the crossfire as airstrikes, shelling and gunfights hit the capital, Khartoum, and other areas.
After a U.S. diplomatic convoy came under attack, Secretary of State Antony Blinken said Tuesday that he had spoken to the leaders of both sides and urged them to agree to a 24-hour cease-fire. Both leaders have agreed — but the news may only offer a temporary halt to an unpredictable clash.
Here's what to know about the fragile and complex situation in Africa's third-largest country, from its warring generals to Russia's Wagner mercenary group.
The rival factions?
The conflict is between the two powerful military leaders who had joined forces to thwart the country's move toward democracy but have since turned into bitter rivals.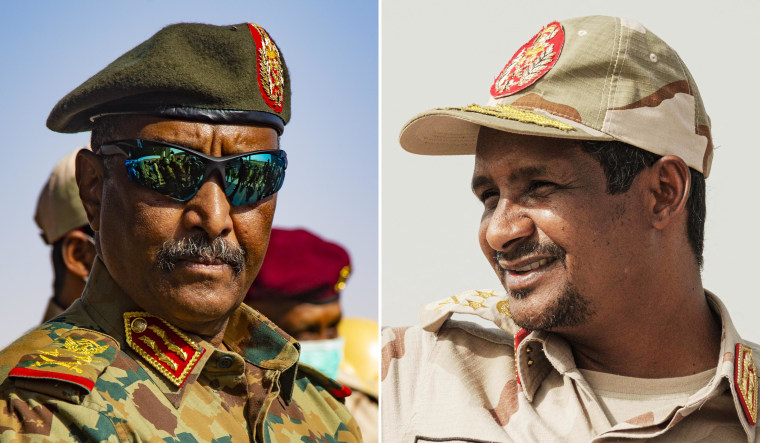 It pits the Sudanese military, controlled by the country's top commander and de facto ruler, Gen. Abdel Fattah Burhan, and his former deputy, Gen. Mohammed Hamdan Dagalo — a former camel dealer widely known as Hemedti — who leads the paramilitary Rapid Support Forces (RSF). 
Both men were leaders in a counterinsurgency against an uprising in Sudan's Darfur region, a conflict that in 2005 saw dictator Omar al-Bashir become the world's first sitting leader to be indicted by the International Criminal Court on suspicion of genocide.
Then they were part of the military establishment that helped oust al-Bashir in 2019 after widespread popular unrest, raising hopes for democracy after his 30 years in power.
But the two generals have remained major political figures in the extremely unstable years since then.
They agreed to rule together in an alliance that saw the military seize power in a coup following the collapse of the Western-backed government of Prime Minister Abdalla Hamdok in 2021. The coup halted the move toward civilian rule and the armed forces have subsequently cracked down on pro-democracy activists.
What led to the outbreak of fighting?
The fighting of the last few days belies a complex national and international picture, in which ethnic and regional loyalties compete to control natural resources amid international influence, with major African and Middle Eastern powers joining the United States and Britain in attempting to steer the country's political future.
Hopes were raised among democracy campaigners in December when both generals signed a framework agreement with some 40 civil groups in which they promised to transition away from military rule.
But now the alliance between the two military leaders has spectacularly broken down over how to manage the transition to a civilian government.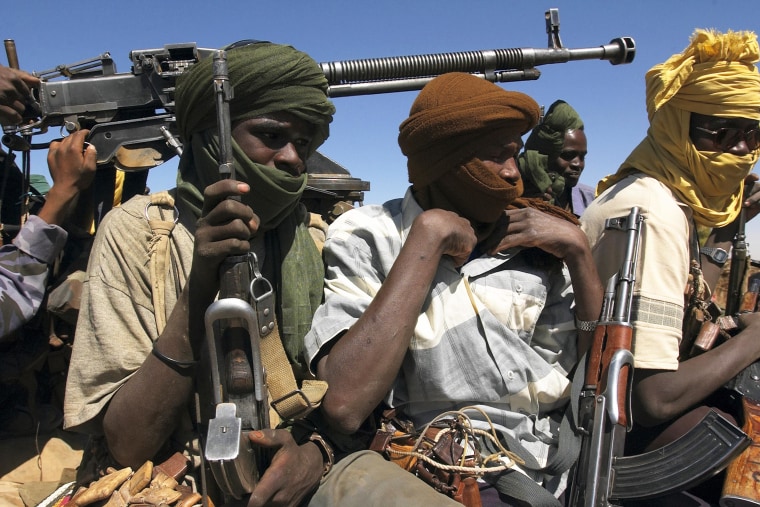 Both sides disagree on how the RSF should be integrated into the military, a key condition of the framework agreement. The army wants the transition to happen in two years, while the RSF said it could take 10 years.
Talks broke down and an April 11 deadline to sign an agreement came and went.
RSF troops were posted across the country last Thursday — witnesses told Reuters that they saw a convoy of RSF vehicles including armored trucks enter Khartoum.
The RSF said this was simply part of its normal duties in collaboration with the regular armed forces, but the Sudanese army issued a rare statement calling the move a "clear violation of law."
What's the situation like on the ground?
Fighting has been fierce in the capital and beyond since Saturday, with fighter jets launching airstrikes, artillery pounding and gunbattles for control of key sites such as military bases, the presidential palace and the state television building.
Both sides accuse the other of being the first to shoot, but the picture is very murky and it's unclear who might have the upper hand.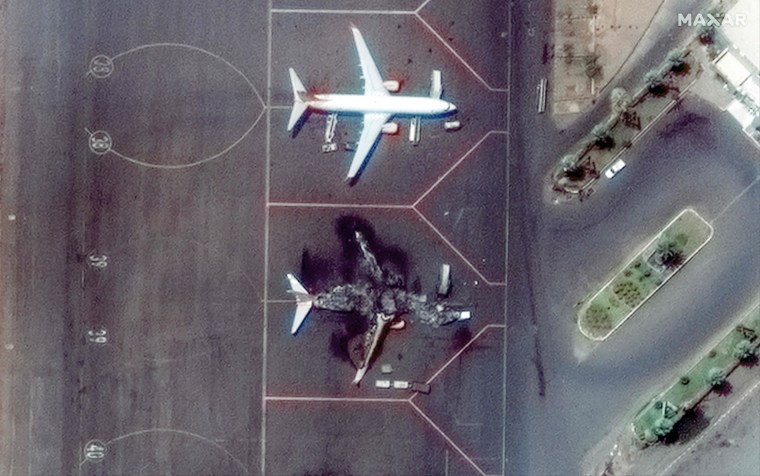 An American travel writer, Lakshmi Parthasarathy, said she was awoken in Khartoum by what she thought was a thunderstorm. "It turned out it was gunshots, bombings, shelling," she told NBC News.
Residents have been forced to shelter in their homes, with shops shut and streets largely deserted.
Fears are rising for the humanitarian situation in the country.
An estimated 15 million people in Sudan face acute food insecurity out of a population of 46.7 million, but the U.N. World Food Program halted its work Sunday after three of its staff members were killed.
And diplomatic workers have also come under fire.
Blinken told reporters Tuesday that a U.S. convoy with diplomatic plates, displaying an American flag, was shot at Monday, although no one was injured.
"Indiscriminate military operations have resulted in significant civilian deaths and injuries, and are recklessly endangering the Sudanese people, diplomats including U.S. personnel, and humanitarian aid workers," he said, reiterating calls for a halt to the fighting. 
What are the global stakes?
Washington has traditionally had limited influence in Sudan, though this began to change after al-Bashir was ousted and the country began to move toward democracy.
Sudan is an important regional political player and also has strategic ports and vast natural resources, such as gold and oil, coveted at home and abroad.
Neighboring Egypt has deep links with the Sudanese military, while both the military and the RSF have forged close ties to regional power players Saudi Arabia and the United Arab Emirates. 
But a growing force in recent years throughout the region has been Russia and the Kremlin-backed mercenary Wagner Group, which is also fighting in eastern Ukraine and has been linked to gold trafficking in Sudan.
Earlier this year Russia finalized a deal with Sudan's military leaders to build a naval base on the country's Red Sea coast, where it would keep up to four ships, including nuclear-powered ones, and up to 300 troops.
Dating back to 2021, the deal was waiting to be ratified by the incoming Sudanese civilian government — an outcome that now looks increasingly unlikely.
"The Russians have been trying to advance relations with both of the military camps over the last three years," said Joseph Siegle, director of research for the Africa Center of Strategic Studies, a think tank in Washington. 
"They've been mostly positive" toward Gen. Abdel Fattah Burhan, he said. "But they have also been especially positive toward Hemedti, who has been the one controlling the gold mines."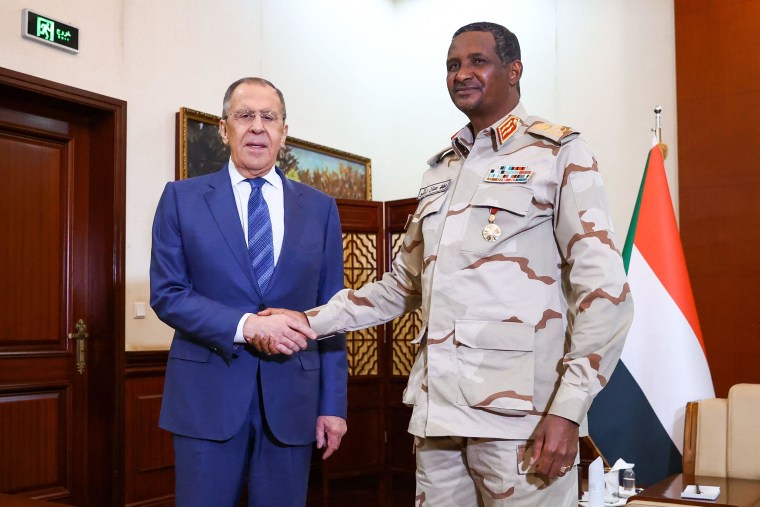 Sudan's economy has been deteriorating, leaving the country's civilians facing hardship and its rulers in a precarious position looking for help from abroad. The military controls most of the country's economy, but the RSF runs major gold mining areas, adding a financial element to a complex political crisis.
"There's 300% inflation, a contracting economy, it's hard to get basic goods and supplies. So there's a lot of economic pressure, and that's the main driving force for the military to consider this transition — they just don't have the credibility or legitimacy," Siegle said of the faltering move toward democracy.
With Sudan's fate uncertain, so is the global fallout.
"The military leadership split upends the calculations and hopes not only of the Sudanese population hoping for democracy and new infusions of foreign assistance, but also of the regional and global players pursuing sometimes competing agendas in Sudan," said the Soufan Center, an intelligence and security consultancy, in a briefing note. 
Either way, it concluded: "A return to stability or civilian rule is unlikely in the near to medium term."