Saudi officials said Tuesday that Sudanese president Omar al-Bashir — who is wanted on genocide charges by an international court — has been invited to an upcoming summit with President Donald Trump and the leaders of Muslim nations.
The invitation was first reported by The Associated Press, citing officials close to Saudi Arabia's king who were not authorized to speak publicly.
A U.S. official told NBC News that the Trump administration opposes invitations or travel by those subject to outstanding International Criminal Court warrants, like Bashir.
"The United States has made its position with respect to Sudanese President Omar al-Bashir's travel clear," the official said.
"While the United States is not a party to the Rome Statute, which is the treaty that established the International Criminal Court, we nevertheless strongly support efforts to hold accountable those responsible for genocide, crimes against humanity, and war crimes, including such acts in Darfur," the U.S. official said.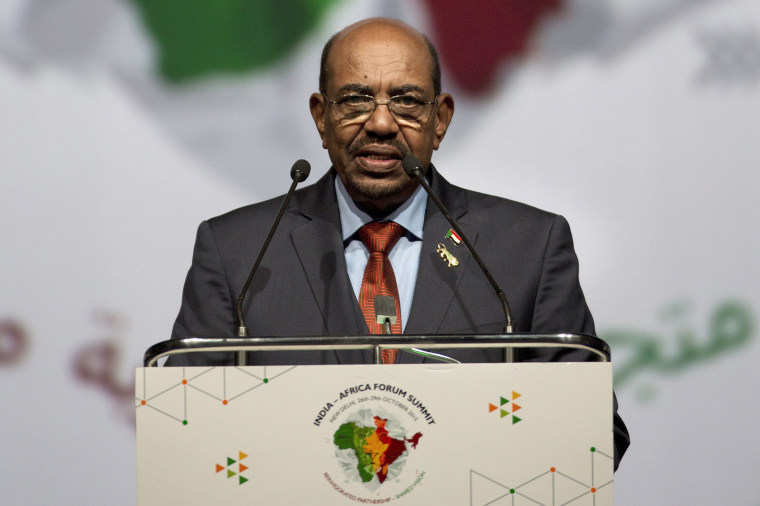 The summit Trump is scheduled to attend on Sunday, during his first overseas trip as president, is being organized by Saudi Arabia and will gather more than 50 top dignitaries from Muslim countries across Asia, Africa and the Middle East.
The International Criminal Court issued one arrest warrant against Bashir in 2009 and another in 2010 for genocide, crimes against humanity and war crimes over atrocities in Darfur. Bashir has evaded arrest for years.
Related: Trump Turns Attention to Yemen, but Is Looking at Iran
In 2015 Bashir avoided arrest while attending an African Union summit in South Africa. A judge barred him from leaving the summit but before the hearing was over Sudan's State Minister for Information Yasser Youssef told Reuters had flown back to Sudan.
At the time of the 2015 summit, the U.S. said it was "deeply concerned" over Bashir's travel to South Africa for the summit, and the ICC urged South Africa to "spare no effort in ensuring the execution of the arrest warrants."
Sudan is a member of a Saudi-led coalition that had been conducting airstrikes against Shiite Houthi rebels in the conflict in Yemen, which borders Saudi Arabia to the south. Bahrain, Kuwait, Qatar, the United Arab Emirates, Egypt, Jordan, Morocco are also members of that coalition.