BAGHDAD — A suicide car bomb exploded at a popular ice cream parlor packed with families breaking their fast as part of the holy month of Ramadan, killing at least 15 people.
People gathering on benches and tables on the sidewalk in front of Alfaqma Ice Cream and nearby restaurants were hit by the blast, which occurred in an ethnically and religiously mixed area of the Iraqi capital.
A Baghdad police official, who spoke to NBC News on the condition of anonymity, put the death toll at 15 and the number of wounded at 47. Citing unidentified police and hospital officials, The Associated Press also reported that 15 people had been killed.
The explosion occurred around midnight local time (5 p.m. ET), the officer said, and targeted restaurants and the famous ice cream parlor in the district of Karada.
Surveillance footage that captured the blast showed a large explosion on a tree-lined street filled with cars.
Other images showed what appeared to be burning buildings, a smoldering car and bodies strewn across the ground.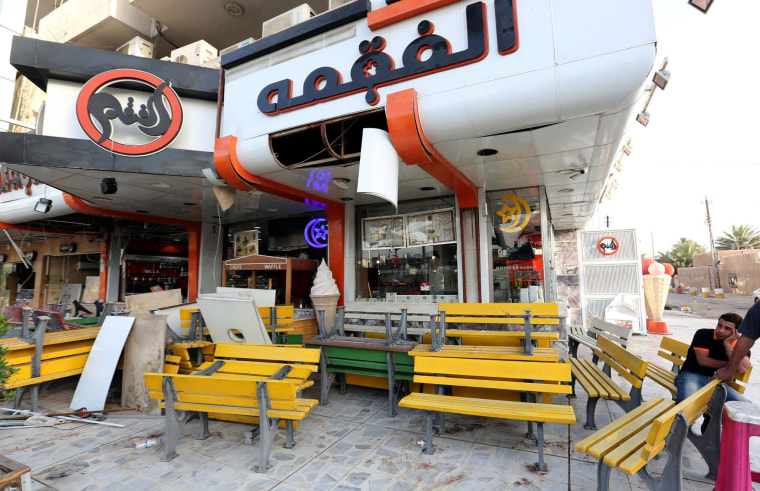 The attack came during the Muslim holy month of Ramadan, when many people stay up past midnight and eat out to prepare to fast.
Sunni Muslim extremist group ISIS released a statement about the attack through an affiliated news agency. However, it did not state that an ISIS member conducted the attack and the group did not produce any evidence it was involved.
A second bomb hit near a government office in Karkh district a few hours later. Reuters reported that seven people were killed and 38 others wounded in that attack.
Brett McGurk, the Special Presidential Envoy for Global Coalition to Counter ISIS, condemned the attack at the ice cream parlor in a tweet.
"ISIS terrorists tonight in Baghdad target children and families enjoying time together at an ice cream shop," he said. "We stand with Iraq against this evil."
"Another terrorist attack on Karada," the former Iraqi ambassador to the United States, Lukman Faily, wrote on Twitter. "This district has paid more than its fair share of tragedy, enough is enough."
An NBC News producer reported from Baghdad. Tim Stelloh reported from San Francisco.