A suicide bombing in the capital of Afghanistan on Saturday killed 80 people and injured more than 230 others, many of whom were taking part in a political demonstration, authorities said.
The blast occurred in Dehmazamg Square near the Kabul Zoo on the main road to Parliament, Health Ministry spokesperson Ismail Kawosi told NBC News.
Three suicide bombers worked in tandem in the attacks, according to the Ministry of the Interior. While one bomb was detonated, a second bomb exploded prematurely and a third bomber was shot dead by police.
PHOTOS: Deadly Blasts Target Kabul Protest March
The attackers "entered the protests and carried out explosions that martyred and wounded a number of citizens, including members of security and defense forces," President Mohammad Ashraf Ghani said in a statement.
He also called for a national day of mourning on Sunday and vowed revenge.
The protesters, mostly ethnic minority Hazaras, were marching to demand that their impoverished home province be included in a major new electricity line, according to The Associated Press.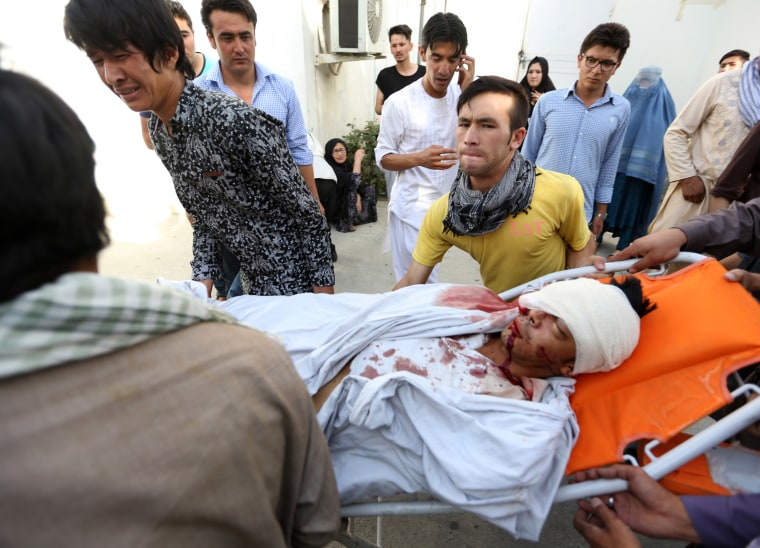 A branch of the terror group ISIS claimed responsibility, according to global security firm and NBC News consultant Flashpoint Intelligence. The claim by ISIS' Khurasan province has not been verified. The governments of Afghanistan and the United States had not responded to the claim as of early Sunday Kabul time.
The government had received intelligence that an attack could take place, and had warned the march organizers, a Ghani spokesman told the AP.
"Terrorists must know that such attacks won't stop Afghans from standing together and making Afghanistan a better place," Abdullah Abdullah, the country's chief executive, said on Twitter.
U.S. State Department spokesman John Kirby said in a statement that the protesters came under attack as they "were gathered together as free citizens, protected by brave security forces who also fell victim in the line of duty."
He added: "Attacks like these only strengthen our resolve to continue our mission in Afghanistan and deepen our support for the people and government there."
"The United States condemns in the strongest terms the horrific attack today in Kabul, Afghanistan, which has left more than 80 dead and hundreds wounded," the White House said in a statement. "We offer our condolences to the families and loved ones of those killed, and a swift recovery to the wounded. This heinous attack was made all the more despicable by the fact that it targeted a peaceful demonstration."
The U.S. has 9,800 troops in Afghanistan working with Afghan forces against the Taliban, ISIS and other insurgent groups.
The commander of those forces, U.S. Army Gen. John Nicholson, said in a statement that the Resolute Support mission condemned the latest attack "and remain firmly committed to supporting our Afghan partners and the National Unity Government," according to the AP.