Updated at 11:24 p.m. ET: Much of the U.S. can expect a summer with temperatures above average and significant wildfire potential, government forecasters warned just as folks in some parts were already feeling the heat: dozens in Colorado fled their homes on Thursday due to a fast-growing fire near Fort Collins, while a historic Arizona mining town remained evacuated as a nearby fire continued to spread. 
"You may see a pretty significant wildfire season developing" across the West, Greg Carbin of the U.S. Storm Prediction Center told reporters. "To see fires to the extent that they are this early isn't a good sign."
"Strong signals" exist especially for the Southwest in terms of a hot summer, added Jon Gottschalck, a forecaster at the U.S. Climate Prediction Center.
The CPC also published a map showing more than two-thirds of the continental U.S. as likely facing a summer with above normal temperatures -- from inland California all the way east to Florida and as far up as the Mid-Atlantic region.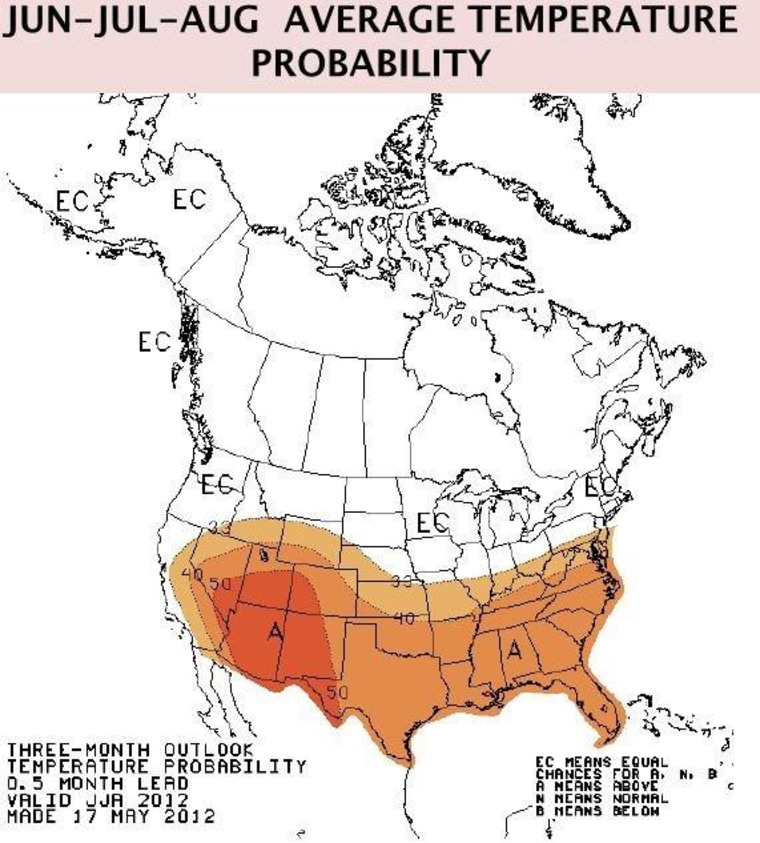 The cyclical La Nina weather pattern, while having dissipated last month, left behind dry soils across much of the country, which makes for less moisture in the air and warmer temperatures, the forecasters said.
Dry soils, and winds that kicked in, have helped spread wildfires in Arizona and Colorado this week.
U.S. Forest Service officials said a blaze about 20 miles northwest of Fort Collins grew from about 1.5 square miles to more than 11 square miles Thursday amid erratic winds gusts of up to 50 mph.

Authorities ordered mandatory evacuations of about 80 homes near Poudre Canyon earlier in the day, even going door to door to issue warnings.

Residents of about 65 of those homes were allowed to return by early evening, with instructions to be ready to leave again if conditions change.
Story: Steep terrain makes Colorado fire a tough one
Strong gusts have also fanned a fire in northern Arizona that earlier this week forced 350 residents of Crown King to flee.
Three wildfires in other parts of the state continue to burn as well, but no structures are threatened.
Strong wind gusts are expected Friday as well.
"High-end critical conditions will quickly develop by late morning to early afternoon across the Southwest," the National Weather service said in an alert.
More content from msnbc.com and NBC News: