TIXTLA, Mexico — As the bullets crackled in the air and police bundled students into the backs of police cars, Eusebio ran with all his strength.
Shots were being fired at those trying to escape, but Eusebio was afraid of being taken by the officers, who were accompanied by men in plainclothes with rifles.
"It was terrifying but I just wanted to get away. I had a bad feeling about these police," says Eusebio, a 19-year-old student at a university for rural schoolteachers in Tixtla, in southern Guerrero state.
That feeling likely saved Eusebio's life. On Sunday, Guerrero State Prosecutor Iñaky Blanco said alleged drug cartel assassins confessed they'd worked with police to murder detained students late last month. The suspects also led officials from the prosecutor's office to pits where 28 charred bodies were found.
Prosecutors are comparing the DNA of the victims with that of families of 43 students who went missing during the shooting on Sept. 26 in the town of Iguala.
The 19-year-old student described his fight for survival to GlobalPostduring an interview at his university. Eusebio is just a nickname. He asked that his real name not be published because he fears repercussions from what he says is a corrupt web of police and narco traffickers.
His account is supported by state officials who have arrested more than 20 police officers and alleged cartel members in connection with the shooting.
The revelations of such a terrible case of violence and corruption are a major embarrassment for President Enrique Peña Nieto, who has been trying to overhaul Mexico's image from one of gangster bloodshed to one of reform and investment.
The Sept. 26 events began for Eusebio at 6 p.m., when he set off from his university with about 120 students. They were going to Iguala — an hour's drive away — to collect money on the streets for their studies. Mostly the sons of poor farmers, the Tixtla students rely on collections to help pay for food and learning materials.
The students are also known for their noisy protests, typically against policies like the government's controversial education reforms. Once in Iguala they went to the bus station and absconded with three coaches — they wanted the vehicles for transportation to schools and to a march in Mexico City on Oct. 2, a date that commemorates a student massacre in the capital city back in 1968.
Students across Mexico often take commercial buses without permission for their marches, normally returning them to their owners. The practice is largely tolerated, and Eusebio claims they would pay the drivers with money from their collections. However, bus companies sometimes complain about this as a problem for their operations.
Eusebio was traveling in one of these buses toward Iguala's northern exit at about 9 p.m. when the path was blocked by a police car. Students ran out of the bus to try to get the police to move. According to witnesses, officers immediately fired at the students.
"The shooting carried on for a long time. More police arrived and were firing at us. I lay down in the back of the bus. Some people threw stones back. But what good are stones against guns? None of us were armed."
At least one student was shot dead and others were injured by bullets in this first barrage of shooting. The firing finally subsided and an ambulance came to take the injured. Some local journalists also arrived and students began giving statements to them about the killing.
But the bloodshed had only begun.
More police officers arrived, accompanied by gunmen in plainclothes. Prosecutors have now identified these shooters as members of a cell of assassins called "Guerreros Unidos" or "Warriors United," who work for the Beltran Leyva cartel. The cartel's head Hector Beltran Leyva was arrested last week following the incident.
"There was gunfire coming from all directions and police or gunmen blocking the exits"
The police and hit men shot dead another two students at the scene, and bullets injured several others, including one who was shot in the face. A taxi driver and his passenger were also struck dead by bullets.
Amid the firing, police officers grabbed students and bundled them into their patrol cars, piling up the detainees face down.
"They were hitting the students as they took them. People were also scared about being shot so they gave themselves up. They thought they would just be arrested. But something else awaited them," Eusebio says.
He sensed something was wrong and ran for his life.
"There was gunfire coming from all directions and police or gunmen blocking the exits. But another student and I managed to find a way out through an alley. We ran onto another street and there was a man outside his house. He was suspicious at first but we explained we were just students and he let us go into his house. We stayed there until the morning. He saved us," Eusebio says.
The next morning Eusebio and other students assembled, cautiously, at the prosecutor's office in Iguala. They wanted to help their classmates who had been detained.
However, on a nearby street was a horrific sign: the corpse of one of the students whom they believed had been detained. His face was sliced off.
"It was the symbol of the cartel assassins," Eusebio says.
When students reassembled back in Tixtla, it turned out 43 of them were missing. The president dispatched federal police and soldiers to the state and arrested local police officers and some alleged cartel operatives. The Iguala mayor has gone on the run.
On Saturday, investigators found six pits with 28 bodies in fields on the outskirts of Iguala. They continue to search the area for more.
While prosecutors have named the alleged perpetrators of the atrocity, they have yet to explain why the police and cartel members reacted so violently.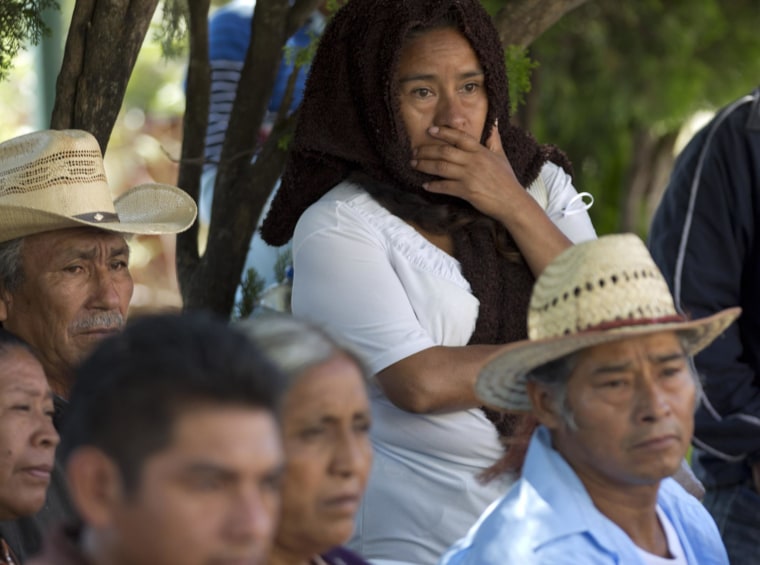 Eusebio believes the bloodshed is the result of already repressive authorities working with drug cartels, which pushes the violence to new levels.
"This is narco politics. The police have always attacked us. But now that they work with cartels, those attacks become massacres."
On Monday, President Peña Nieto called for a thorough investigation into the incident, which he called "outrageous, painful and unacceptable," and for all perpetrators to be punished.
The state prosecutors have said the remains are very damaged and that identifying them could take several weeks.
The relatives, like this uncle of a disappeared student who spoke to GlobalPost late Sunday, want answers now.
This story originally appeared at GlobalPost.
More from GlobalPost: