LONDON — A van plowed into pedestrians near a London mosque early Monday, injuring 10 people in what the city's mayor called a "horrific terrorist attack."
It appeared to be the third incident in as many months in the British capital involving a vehicle being driven into a crowd.
All the victims were Muslims, police said. Worshippers had just finished prayers during the holy month of Ramadan when the vehicle slammed into people walking in the Finsbury Park neighborhood at 12:20 a.m. local time (7:20 p.m. ET).
Two witnesses told NBC News that the driver laughed after crashing the van.
A middle-aged man was pulled from the vehicle and detained by people in the area, eyewitnesses and officials said. The suspect, identified by British media as Darren Osborne, a 47-year-old father of four who lived in Cardiff, Wales, was initially arrested on suspicion of attempted murder.
Osborne was later charged with the commission, preparation or instigation of terrorism including murder and attempted murder.
Reached by phone, Osborne's mother told NBC News' U.K. partner, ITN, that she wouldn't defend him.
"He's my son and it's a terrible terrible shock and it's not just robbing the bank," said the woman, who did not want to give her name. "Its an atrocity and I just ... can't cope with it."
Reuters reported that a Muslim neighbor of Osborne's described him as a pleasant, "everyday guy" who she'd never heard utter anti-Muslim rhetoric.
"It's just a shock that he's done what he's done," said the neighbor, identified by Reuters as Khadijah.
After Osborne was pulled from the van, the imam of the nearby Muslim Welfare House, Mohammed Mahmoud, said he intervened to calm angry witnesses who had pinned him to the ground.
"I just told people that there is no point in people hurting him," he said Monday. "That we should wait for the police to come and they could deal with it."
Before the attack unfolded, a crowd had already gathered because a man had collapsed in the street. He was being given first aid when the vehicle crashed into the group.
The man later died, Metropolitan Police Deputy Assistant Commissioner Neil Basu told reporters.
However, while he had initially been considered a victim of the attack, Basu said it was unclear whether his death was directly caused by it.
PHOTOS: Van Hits Worshippers Near London Mosque
"Given the methodology ... this had all the hallmarks of a terrorist incident, " Basu added. "This is an attack against London and all Londoners and we should all stand together against extremists whatever their cause."
British Prime Minister Theresa May described the attack as "sickening," adding that it "targeted the ordinary and the innocent going about their daily lives, this time British Muslims as they left a mosque after prayers."
In a statement, the U.S. State Department condemned the attack and commended the work of first responders and bystanders, while White House Press Secretary Sean Spicer said President Donald Trump was receiving regular updates on the attack.
"We've made it very clear to our British allies that we stand ready to provide any support and assistance that they may need," Spicer said, according to Reuters.
"Their restraint in the circumstances was commendable"
Saeed Hasm watched the incident play out.
"We saw the van speeding up and we thought maybe he was late for work or wanting to catch the traffic light, but suddenly he turned to the mosque side," Hasm, who works at the London's Qatari Embassy, told NBC News. "He hit the people, there were three people on the floor, then he moved on and there were another five or six on the floor."
Hasm said he and others attempted to get the driver out of the vehicle "but before we get him out of the car he started fighting with us and spitting with us. He bit my thumb as well."
He added the suspect "was a very strong guy, another five guys came and held him."
"People were very angry," Hasm recalled. "They were smashing bottles, they wanted to hit him but we told them, 'Don't do it, don't do it. Let the police come.'"
Ibn Omar, 25, who lives nearby, saw the aftermath of the attack.
"From the way the terrorist individual was behaving I could see he was laughing and ridiculing Muslims," he said. "People were getting ready to hurt him, they were angry, but other people said, 'That's not how we should be doing it, we need to wait for the police to come.'"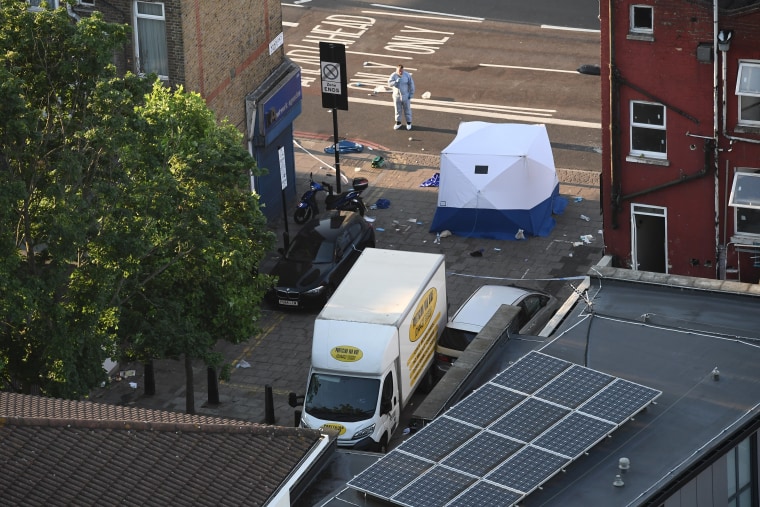 Omar added: "This was an attack on Muslims in this community, it is obvious. These were people just trying to practice their religion, 10 days before the end of the holy month of Ramadan."
Another witness, who would only give his first name — which was also Omar, said he chased the driver down a dead-end road.
"We grabbed him and me and my friends pinned him to the floor," he said. "The guy was laughing."
Witness Khalid Amin told the BBC that he heard the suspect shout that he wanted to "kill all Muslims."
"Literally he said that, word by word," Amin said.
London Mayor Sadiq Khan said it was "clearly a deliberate attack on innocent Londoners, many of whom were finishing prayers during the holy month of Ramadan."
Related: 'Confusion and Anger' Grip Muslims After London Attack
Basu, the deputy assistant police commissioner who also serves as senior national coordinator for counter-terrorism policing in the U.K., added: "I would like to thank those people who helped police in detaining the man and worked with officers to calmly and quickly get him into our custody. Their restraint in the circumstances was commendable."
Although some eyewitnesses accused authorities of being slow to react, police said their officers were in the area when the attack unfolded and "responded instantly." More police arrived within 10 minutes, the force added.
The incident occurred outside of the Muslim Welfare House, a charity, community center and mosque.
The site is not far from the Finsbury Park Mosque, a major house of worship for Muslims.
Eight people were being treated at hospitals, and two others were treated at the scene, officials said.
The suspect was taken to a hospital as a precaution and will undergo a mental health assessment, authorities said.
Basu highlighted that "extra policing resources have been deployed across London in order to reassure communities, especially those observing Ramadan."
Home Secretary Amber Rudd, the lawmaker in charge of security in England and Wales, added: "We must all continue to stand together, resolute, against all those who try to divide us and spread hate and fear."
Shiraz Kothia, a member of the London Muslim Community Forum, told NBC News that he was concerned the attack would "escalate" tenstion.
He added: "We all need to remain calm."
The incident follows a string of attacks in recent months in England. Between two vehicle-and-knife rampages on London and Westminster bridges, and a suicide bombing outside an Ariana Grande concert in Manchester, 33 people have been killed since March.
The nearby Finsbury Park Mosque was once led by Abu Hamza al-Masri, whose extremist sermons were heard by Zacarias Moussaoui, one of the architects of the terrorist attacks of Sept. 11, 2001; Richard Reid, the so-called shoe bomber who tried detonate explosives in his shoes on a jetliner in December 2001; and Mohammed Sidique Khan, who is believed to have orchestrated the July 7, 2005, bombings that killed 52 people in London.
An informer for Britain's MI5 domestic intelligence agency once called the Finsbury Park Mosque "an al Qaeda camp in the heart of London." One book branded it as a "suicide factory."
But in 2015, the mosque reopened for what it described as a "new era" devoted to serving the local community.
Lucy Kafanov, Nick Bailey, Alexander Smith, Will Clark, Saphora Smith and Jason Cumming reported from London. Tim Stelloh reported from Alameda, California. Alex Johnson reported from Los Angeles. E.D. Cauchi and Rima Abdelkader reported from New York.