MAIDUGURI, Nigeria — Suspected Islamist militants have killed at least 85 people in northeastern Nigeria, witnesses and officials said on Sunday, in a further setback to President Goodluck Jonathan's military campaign.
Twin bomb blasts in the city of Maiduguri killed at least 46 people on Saturday evening while, around 30 miles away, dozens of gunmen were razing a farming village, shooting dead another 39.
The attacks will heap pressure on Jonathan, whose intensified military push to end the Islamist sect Boko Haram's four-and-a-half-year-old insurgency has been running for almost a year.
While the bloodshed has not diminished, the army had at least had some success in confining it to remote rural areas in recent months, so that the attack on a densely populated market area in Maiduguri will be seen as a setback.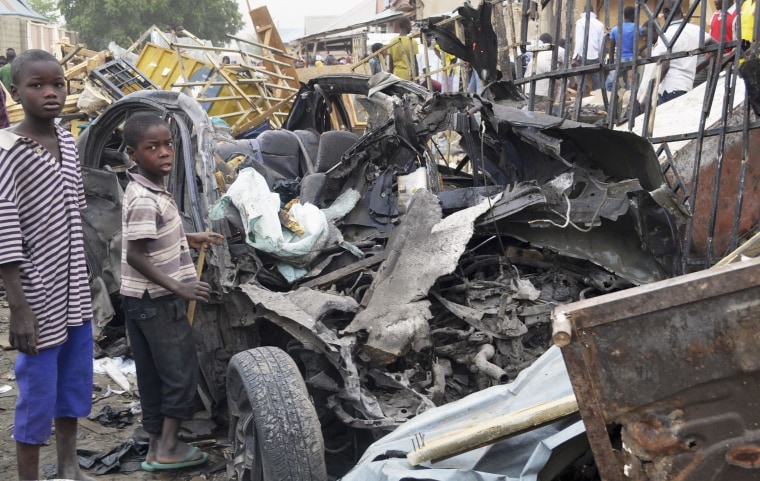 Boko Haram, which has killed thousands in its fight for an Islamic state in northern Nigeria and become the biggest threat to security in Africa's top oil producer, is increasingly targeting the civilian population.
The attack on the village of Mainok on Saturday evening is typical of recent raids by Boko Haram as its fighters continue to target anyone they view as supporting the government's effort to end its insurgency.
"They were shooting sporadically and throwing explosives on buildings. I counted 39 bodies this morning," Mainok resident Mansur Buba told reporters in Maiduguri. "I fled the place because nobody is safe."
Mustapha Musa, another resident, said the village was in ruins with every house burned to the ground.
An emergency relief official confirmed the death toll as 39 but asked not to be named because he was not authorized to speak officially.
There was global outrage last week when dozens of school children were shot or burned to death in a rural region near the northeastern city of Damaturu.
— Reuters