Nobody beats Sweden on the rebound from a Women's World Cup semifinal loss. Not even the tournament hosts.
The Swedish women extended their perfect record in World Cup third-place matches to four, with Fridolina Rolfo and Kosovare Asllani scoring Saturday in a clinical 2-0 win over Australia.
"It feels amazing. We showed from minute one, we were the better team," Rolfo said. "We deserve this medal."
It was a disappointing finish for the Matildas, who captivated their country during their run to the semifinals for the first time.
The tournament co-hosted by Australia and New Zealand has set attendance records, and two of Australia's matches became the most-watched programs on domestic commercial TV in 20 years.
With the Sydney Opera House lit up in the green-and-gold colors of Australia and supporters flocking to fan zones to watch on giant screens in cities across the country, there was still hope of some kind of medal for the Matildas.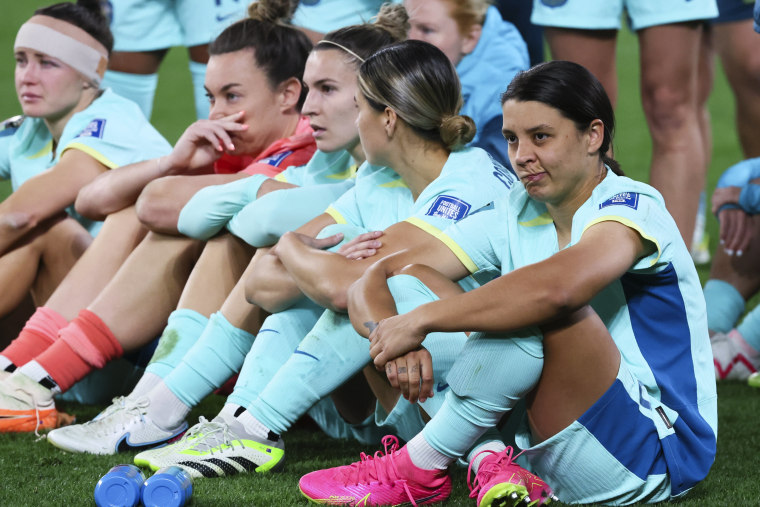 Ultimately, it ended with back-to-back losses to the No. 3- and No. 4-ranked teams in the world even with star striker Sam Kerr back in the starting lineup.
"We wanted to win, we wanted to have some hardware to take home. Wasn't to be," Kerr said. But, "the way the fans have got behind us, the way girls have carried themselves, I think we've proven to the world we are a footballing nation.
"We couldn't get it done tonight, but hopefully we've inspired people for many years to come."
European champion England and Spain are meeting in the final in Sydney on Sunday, and Sweden's win means European nations will finish first, second and third.
Sweden was dominant for most of the match, staying compact and organized and exploiting holes in the defense.
Rolfo converted from the penalty spot with a low, curling left-foot shot in the 30th minute after Australian defender Clare Hunt was penalized after a VAR review for tripping up Stina Blackstenius.
Asllani's well-timed strike to finish off a long-range Swedish counterattack in the 62nd sealed the win.
Goalkeeper Zecira Musovic kept another clean sheet in outstanding tournament for Sweden, blocking Kerr's angled right-foot strike in first-half stoppage time and again stopping Clare Polkinghorne's shot from right in front in the 70th.
Kerr missed Australia's wins over Ireland and Canada and upset loss to Nigeria in the group stage after injuring her left calf muscle on the eve of the tournament. She made a tentative, late return in the round-of-16 win over Denmark and went on as a second-half substitute in the dramatic, penalty shootout win over France in the quarterfinals. She started on Saturday in an unchanged Australian lineup following Wednesday's 3-1 semifinal loss to England.
Kerr injured her right leg in a tackle in the 75th minute and limped off the field for some quick treatment but returned to continue playing.
A 2-1 loss to Spain in Auckland sent Sweden into familiar territory. The Swedes, runners-up in 2003, beat Germany in 1991, France in 2011 and England four years ago in their previous bronze-medal matches. They were were also silver medalists at the Tokyo Olympics and the Rio Games in 2016.
While the Swedish squad was taking bows in front of their clusters of fans in the capacity, almost 50,000-strong crowd, the Matildas did a lap to say thanks.