LONDON — Sweden's tallest peak is on course to lose that title as a persistent heat wave melts away inches of the glacier atop it daily.
The height of Kebnekaise mountain dropped by 13 feet during July, according to the latest measurements.
Weekly temperatures in parts of northern Europe could reach as much as 18 degrees above normal levels through early August, according to forecasters — with hot conditions also contributing to wildfires raging north of the Arctic Circle.
Gunhild Ninis Rosqvist, a professor of geography at the University of Sweden, said she was "surprised" to find the glacier receding so quickly "even though it has been ridiculously warm" this summer.
"When we got up there, I could see the surface of the glacier looked different than I've ever seen it before," she added.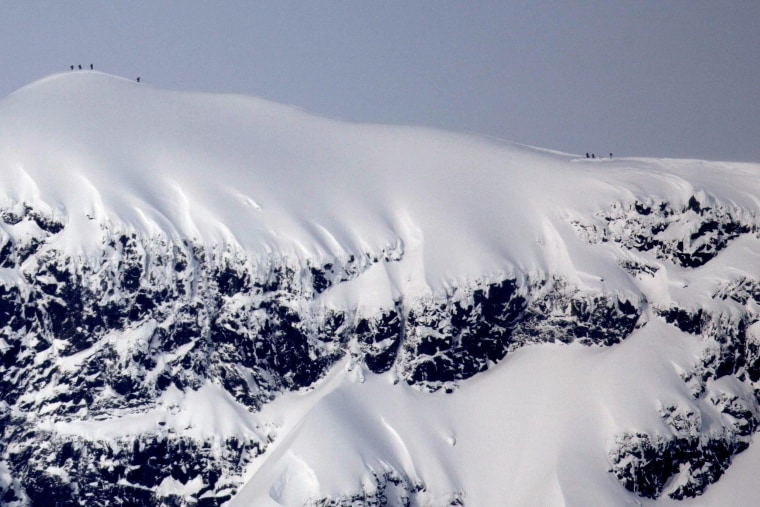 Kebnekaise's south peak was measured at 6,893 feet above sea level on July 2. It was down to 6,879 feet by July 31, meaning an average loss of about 5.5 inches of the glacier daily.
The south peak is now just 7.8 inches taller than the typically much shorter north peak, which has less snow and ice atop it.
Rosqvist said if melting continues at the same pace, the south peak will no longer be Sweden's highest point at some point later this month.
In Kiruna, a town east of Kebnekaise that is located north of the Arctic Circle, temperatures were expected to reach 66 degrees on Thursday, according to the World Meteorological Organisation. That's well above the average August high of 57 degrees.
The mercury isn't expected to cool significantly on the continent any time soon. In central Portugal, temperatures are forecast to reach 125 degrees this weekend — potentially the highest level ever recorded in Europe.
Rosqvist said if climate change means summers like this become the norm, the glacier on Kebnekaise could disappear in 30 years.
The hot temperatures have also contributed to Sweden's worst wildfire season in history, according to the World Meteorological Organisation, with more than 74,000 acres burned.
More than 50 fires broke out in July fueled by "exceptionally hot" conditions and precipitation at unusually low levels. The WMO said parts of southern Sweden are experiencing the driest summer on record.
And the Kvikkjokk-Arrenjarka weather station, which sits on the same latitude as northern Alaska, reported a record high of 90.5 degrees last month.
Rosqvist said she hopes the extreme weather serves as wake-up call and a sign that changes are needed to address climate change immediately.
"The awareness is quite high but it's somehow difficult to get going to change the way we live," she said. "I'm concerned we're not moving forward more rapidly."