STOCKHOLM — Pär Holmgren can be forgiven for looking haggard as he steps off the train in central Stockholm. After all, he's withstood a 24-hour commute from his job in Strasbourg, France — some 850 miles away from his home.
Since getting elected into the European Parliament in May, Holmgren, 54, has made the grueling round-trip journey to either Strasbourg or Brussels, the two cities where the Parliament sits, every week.
"The alternative of going by plane doesn't really exist in my mind," he said. "To me, there aren't any airplanes going between Stockholm and Strasbourg."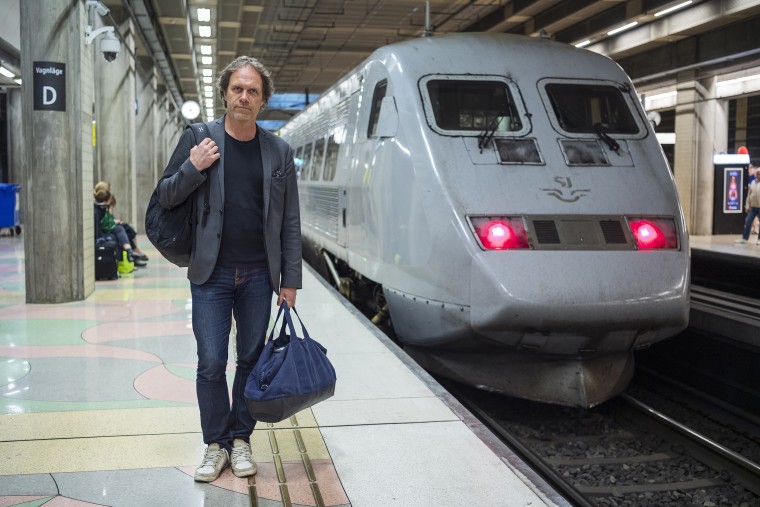 The TV personality-turned-politician is part of a growing wave of Swedes who've given up flying because of carbon emissions produced by air travel.
In fact, almost 1 in 4 Swedes chose not to fly over the past year, a recent survey commissioned by the WWF Sweden conservation group has found.
Climate experts say aviation accounts for 4 to 5 percent of human-produced greenhouse gas emissions coming from energy, but air travel is often the biggest source of personal carbon emissions for high-income individuals and frequent flyers.
"Flying is an extremely carbon-intensive activity, and every flight avoided is a substantial emissions savings," said Kimberly Nicholas, a climate change researcher and lecturer at Lund University in Sweden.
Annual emissions produced by every person on the planet must stay below 2.1 tons of carbon dioxide (CO2) by the year 2050 if the warming of the planet is to be kept below 2°C (3.6°F) — the maximum limit laid out in the 2015 Paris climate accord, she said.
And it is very easy to hit the individual limit under the pact: Nicholas said just one round-trip transatlantic flight (between London and New York, for example) is estimated to emit about 1.6 tons of CO2 on average — more than three-quarters of that annual carbon budget.
On average, Nicholas said one would have to avoid eating meat for two years or recycle all household waste for eight years to save the equivalent climate pollution of taking one such flight.
But while the science behind the damaging effects of flying on the global climate has been available for a while, it appears a number of factors have coalesced to create a greater awareness in Sweden over the past year.
Devastating wildfires and an unusually hot summer ramped up public discussion about climate change in 2018.
A general election last fall also helped to keep climate issues top of the agenda.
But many of those who are quitting flying say Greta Thunberg, a 16-year-old schoolgirl from Stockholm, has had the biggest impact on them.
Greta became famous last year for her solitary sit-in protests outside the Swedish Parliament to demand immediate action on climate change.
She refuses to fly, taking trains to climate conferences and speaking engagements around Europe instead.
She plans to take a ship to attend a United Nations summit meeting on global warming in New York later this month.
Her mother, Malena Ernman, a well-known Swedish opera singer, also took a public pledge to give up flying, effectively ending her international career.
Fellow professional musician Stina Hellberg Agback said Ernman's decision inspired her to quit flying too.
"As a musician, I knew exactly how much she was giving up," the harpist told NBC News over a cup of tea just steps away from the Parliament building where Greta has been holding her protests.
In 2018, the harpist turned down an opportunity to tour the United States because it would mean flying.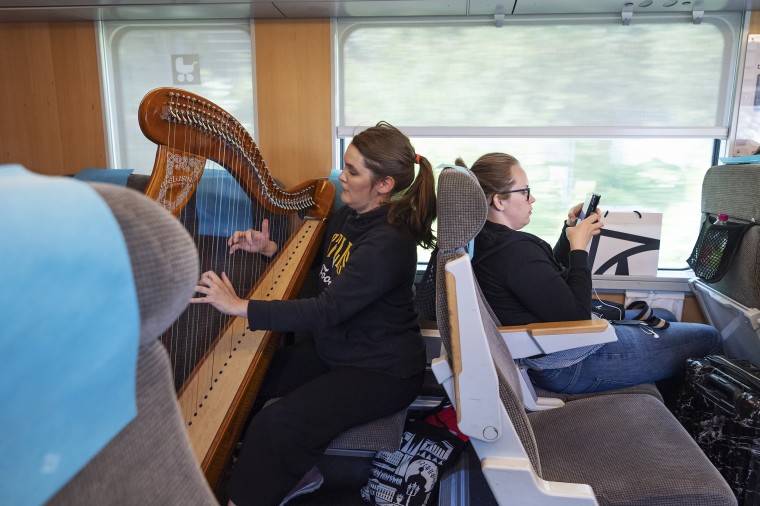 "It's something that you don't just say no to," she admits, explaining that musicians have to travel to get international recognition.
Her concern about climate took precedence, she said.
"I don't feel that it's important to have the biggest career possible anymore," she said. "It's important to make a difference in more important matters than music. I want to be on the right side of history."
Nicholas, the climate academic, said Sweden is at the forefront of a growing global movement recognizing the extremely high climate damage from flying.
"In Swedish media and society, we are seeing a change in attitudes and behavior," she said.
Swedes are finding low-carbon adventures closer to home, Nicholas added, and creative ways to travel.
The country's national railway service, SJ, said a record number of passengers — 31.8 million people — traveled with them last year.
Passenger numbers were up 10 percent in the first quarter of this year compared to the same time last year.
Meanwhile, the number of passengers at Swedish airports fell by 4.4 percent in the first three months of this year, the Swedish Transport Agency said. A number of factors other than increased general environmental awareness could be behind this shift, the agency said, so a definitive link to the country's anti-flying movement has not been established.
For those opting for the trains, the commitment can mean a serious strain on their wallets and schedules.
Going somewhere by train can cost several times more than flying.
Even in Europe, where train infrastructure is well developed, a return train trip from London to Madrid in October, for example, would set you back just over $680 and take nearly 30 hours of total travel time, whereas going there and back by plane would cost as little as $45 and take five hours of total flying time.
Still, the no-flying movement has also taken off online.
Buzzwords like "flygskam" — flight shame in Swedish — call out jet-setting Instagram influencers who rack up thousands of air miles. More recently, the virtuous use terms like tågskryt — train bragging — to highlight their train adventures and ways of avoiding flying.
On Facebook, almost 100,000 people are members of a group that shares train travel tips.
As many as 15,000 Swedes also pledged "to stay on the ground" last year, part of a namesake campaign to get people to publicly quit flying for a year as a way to motivate others. Its founder, Maja Rosén, told NBC News, they are aiming to reach 100,000 pledges this year.
Helen Tronstad, 66, waves at a pine forest behind her summer cottage outside of Stockholm.
"When all of this is at stake, you really have to think about your flying carefully," she said.
The retired meteorologist embarked on an ambitious journey last year, covering more than 19,000 miles by train from Stockholm to Bangkok — something that would have taken just 10 hours by plane.
She said when she left Sweden last September, Greta was just starting her protests, but as she reached Thailand in November, something back home changed.
As the awareness about the harmful effects of flying grew in Sweden, she says her train adventures were garnering a lot of attention, thanks to her social media posts from the road.
Tronstad now travels only by train or in her methane-powered car.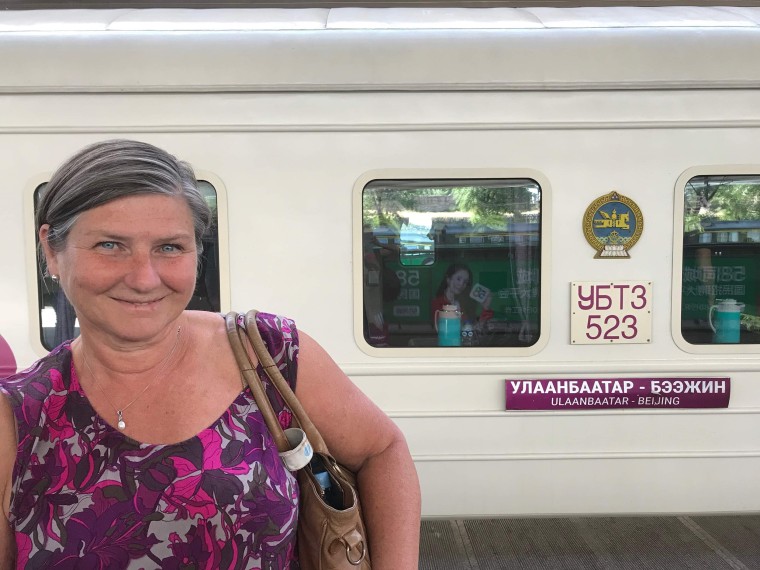 "The travel I do is really something I want to do because it is an investment of time and money. You ask yourself the question — do I really need to go?" she said.
Trains are a much more climate-friendly travel option than airplanes, experts say, especially in countries like Sweden where almost all electricity is green and nearly all rail track is electrified making its trains virtually zero-carbon.
Even when trains are run on of fossil fuels, their superior efficiency means they emit far less carbon per passenger mile than flying, according to climate academic Raymond Pierrehumbert at Oxford University.
Getting from point A to B via ship is also an alternative — albeit a very niche one at the moment.
Kajsa Fernström Nåtby, a 25-year-old from Stockholm who studies at the London School of Economics, doesn't fly anymore. In 2018, she faced a "a moral dilemma" when she was offered an internship at the United Nations in New York.
She ended up flying to the U.S., but felt so guilty she decided to go home in a more sustainable way: a cargo ship.
It took her 12 days to cross the Atlantic Ocean and then another three days to make her way home to Sweden by train.
"I watched a lot of sunsets and read a lot of books," Fernström Nåtby said.
She used to fly with her family a lot when she was younger, but she now refuses to follow.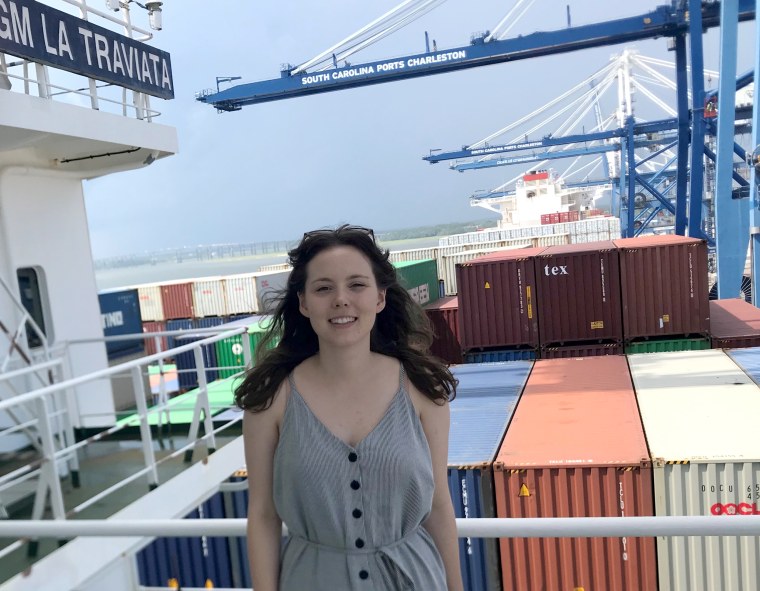 "If they want to travel with me, we have to go somewhere accessible by train."
A number of cargo shipping companies have told NBC News that they offer to transport civilian passengers. Increasingly, many of them come on board for environmental reasons.
"Cargo ships are by far the most efficient way to travel," said Piers Forster, a professor of climate physics at the University of Leeds. "They are essentially zero carbon for personal travel, as the extra weight of the person and their luggage is minimal."
In all, Fernström Nåtby said she spent about 30 days in transit trying to steer clear of airplanes last year. Aside from carbon emissions, this has had an impact on the way she sees the world.
"I have come to have a very different relationship with distances," she said.