The world gets a little smaller on Wednesday with the unveiling of the longest and deepest railway tunnel ever constructed — a feat of engineering under the Alps that will slash journey times across Europe.
The Gotthard Base Tunnel (GBT) in Switzerland is the product of 17 years of work, including cutting through solid rock at depths of up to 7,500 feet. It cost $12 billion — as well as the lives of eight workers.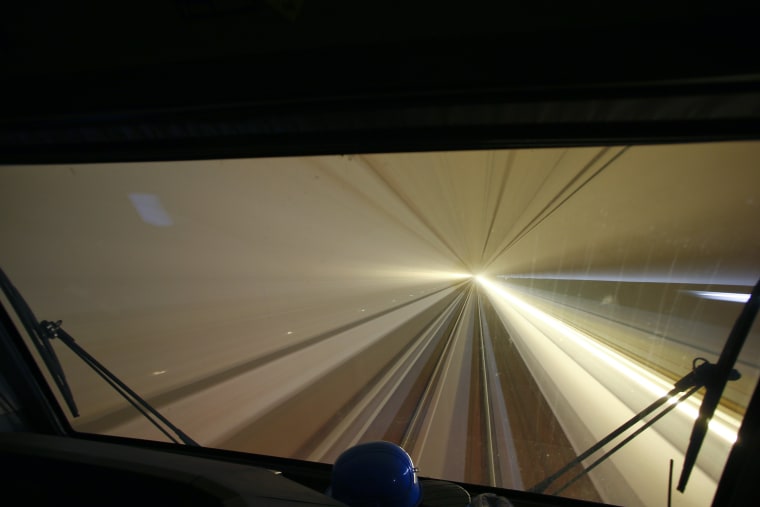 Thanks to the micro-climates in the Alpine region, the weather is often different at either entrance. Inside, it contains enough copper cable to stretch from New York City to San Antonio, Texas.
The project also marks the removal of one of the continent's most stubborn natural barriers to trade and tourism: the lack of a high-speed route through a mountain range that lies at the crossroads of four countries.
German Chancellor Angela Merkel, French President François Hollande and Italian Prime Minister Matteo Renzi are due to attend the ritzy ceremony Wednesday to inaugurate the 35.5-mile tunnel.
Testing of new trains will begin within days, with scheduled services introduced from December.
"It is an incredible project, a huge achievement," said Claire Smith, a former geotechnical engineer who is now editor of Britain's Ground Engineering magazine.
Several existing tunnels take trains or cars and trucks under the Alps, but all are choked by traffic levels well above their design capacity.
The new route has much lower gradients that will allow passenger trains to travel at up to 155 miles per hour, reducing the journey times between Zurich, Switzerland, and Milan, Italy, from just over four hours to two-and-a-half hours.
The twin tunnels — one for each direction — will also more than double the haulage capacity on Switzerland's north-south freight corridor from 22 million tons a year to at least 44 million tons. That should reduce pollution in the Alpine air by switching goods from trucks to trains, as well as lowering the risk of fiery road tunnel crashes that have already claimed scores of lives.
The grand ambition of the GBT project is reflected in the scale of its construction. It required the excavation of 31 million tons of rock — enough to build the equivalent of five of Egypt's Giza pyramids — using giant boring machines that were the length of almost four NFL football fields.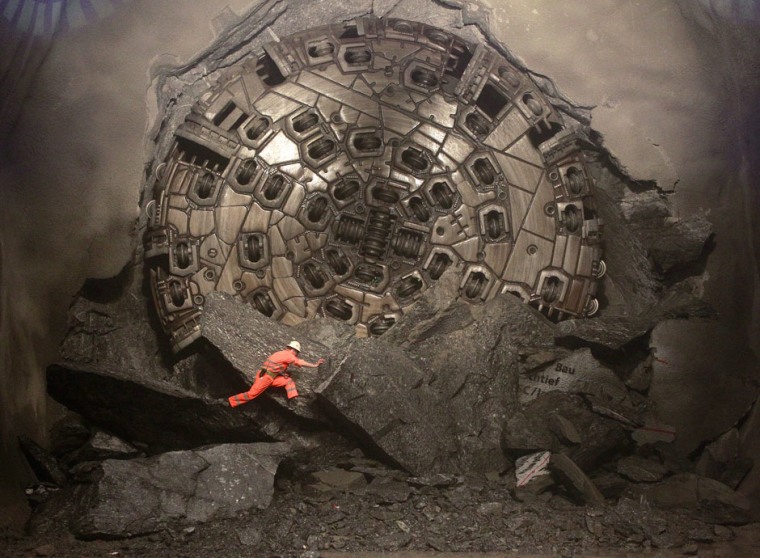 "They have been boring through really hard rock," said Smith, adding that the tunnels have had to be ventilated to regulate natural temperatures inside the mountain of up to 100 degrees.
"This isn't like a [subway] line running a few meters below the surface, we're talking depths that are measured in kilometers. Working down there is like going down a mine, it gets warmer as you go further in."
In fact, it is the deepest rail tunnel in the world and the longest of its kind. (One wholly-underground subway line in Guangzhou, China covers a total of 37.5 miles.)
It exceeds the 33.5-mile Seikan tunnel in Japan and the 31.3-mile underwater Channel Tunnel linking England with France. It is 10 times longer than Boston's Thomas P. "Tip" O'Neill, Jr. Tunnel.
The GBT also has a continuous escape shaft parallel to the twin tunnels, a grim reminder of the risk posed by fires deep underground.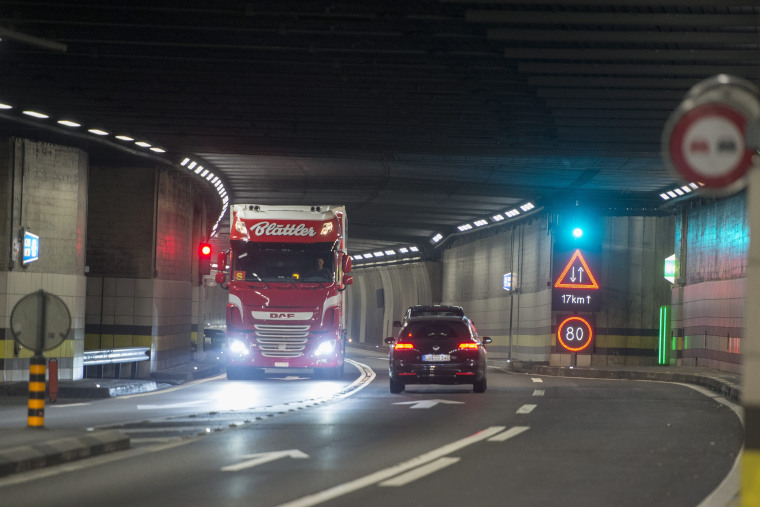 In November 2000, 155 skiers and snowboarders were killed in a cable-car disaster in the Austrian Alpine resort of Kaprun in which incoming air from the tunnel entrance turned a small blaze into a raging inferno through a "furnace effect." In 1999, a truck caught fire in the Mont Blanc road tunnel between France and Italy, causing a fiery pile-up that killed 39 people and took three days to extinguish. And in 2001, a truck crash in the single-lane Gotthard road tunnel caused a similar fire that killed 10 people.
"We had to design doors that can be opened by a child and that at the same time will stop the spread of fire and smoke," Peter Schuster of the engineering firm Ernst Basler & Partner told Swissinfo. "They have to work even if there is no electricity, and stand up to the wave of pressure, equal to ten tons, caused by trains going by."
However, plans for a spectacular station in the middle of the tunnel, linked to the above mountainside by a record-setting elevator, were shelved in 2007 as uneconomical.
Alongside world leaders at Wednesday's ceremony will be hundreds of winners of a ballot to join the first official ride along the tracks, as well as local residents.
"The communities at either end have been living with the construction for a whole generation so this is an exciting moment for them, too," Smith added. "It's been a big part of their lives for a long time."
After the official opening, work will continue on improvements to the rest of the rail line to further cut journey times.
And the maximum benefits of the GBT won't be realized until another tunnel at Ceneri, to the south, is opened in 2020. That will allow trains to haul tractor-trailers with a height of up to 13 feet, according to the Rail Journal.