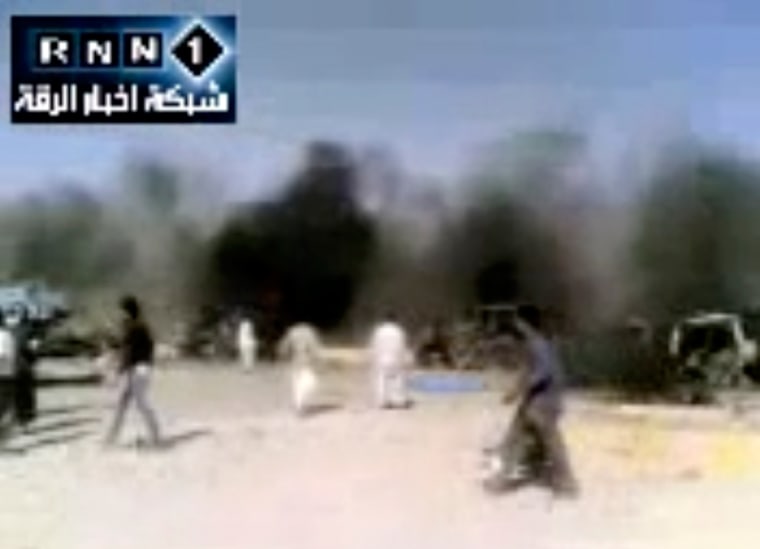 Scores of people were killed and wounded in a series of airstrikes— including one that hit a gas station — across Syria Thursday, according to activists.
Mousab Azzawi, of the British-based Syrian Network for Human Rights, told NBC News that there had been a marked escalation in air attacks by forces loyal to President Bashar Assad.
He said his group had the names of 129 people who had been killed in places such as Homs, Aleppo, Hama, Idlib and suburbs of Damascus, but that he expected the death toll to rise as they were trying to verify 82 other names of people said to have been killed.
An airstrike on the town of Ain Issa, about 25 miles from the Turkish border, was said by activists to have hit a gas station, killing anywhere between 10 and 150 people, according to different reports.
Syria: Army chopper hits airliner with 200 aboard
Azzawi said they had confirmed the names of 10 people killed in that attack and were working to verify 18 others. His group uses a network of people on the ground who attempt to confirm reports of deaths with family members or medical staff.
"The regime today has been escalating the airstrikes on every province in the country," he said. "If you look about the map, there is no province spared today from being attacked … the regime is trying to go further on the military solution and thinking in that way he'll be able to crack down on the rebels."
Barrels of TNT
Azzawi said Assad's forces could not afford bombs, but were instead using planes to drop barrels filled with TNT explosives "in a very primitive way."
He said he feared the final death toll from Thursday's attacks would be 200 or 300.
Obaida Fares, a member of the opposition Syrian National Council and a human rights activist, told NBCNews.com that they had confirmed 50 deaths in the Ain Issa attack, which he said hit the Hisham gas station.
Report: Iran ships arms, personnel to Syria via Iraqi airspace
He said there had been "many" airstrikes across Syria, but had not noticed a marked increase Thursday. Fares said they were still trying to confirm numbers of dead throughout the country and described the Ain Issa airstrike as "the main one."
Another SNC member, Obeida Nahas, added that the death toll at Ain Issa "is expected to be high, because the raid took place on the only [gas] station that had supplies and people were queuing to buy fuel."
NYT: Schools re-open in war-torn Syria but students stay away
Nahas said earlier that they had heard reports from activists on the ground in Syria that up to 150 people had been killed, but added that the Syrian National Council had not been able to verify those claims.
Another group of anti-regime activists, the Local Coordination Committees, reported intense attacks by warplanes on the gas station.  That group did not give a death toll, saying only that many people were killed or wounded. It said more than 70 wounded people were taken to a hospital in the provincial capital of Raqqa.
NBC News' Ian Johnston, The Associated Press and Reuters contributed to this report.
More world stories from NBC News: