MOSCOW — Vladimir Putin met with Syrian President Bashar Assad on Monday ahead of a summit between Russia, Turkey and Iran and a new round of Syria peace talks in Geneva.
The Kremlin said in a statement released early Tuesday that the two leaders held bilateral talks in the Black Sea resort of Sochi and then met with Russian military chiefs.
Assad has only ventured outside his war-ravaged nation twice since the conflict began — both times to Russia. This week's visit to meet the Russian president is his second since the crisis began in March 2011 leading to a civil war that has killed some 400,000 and resulted in millions of refugees.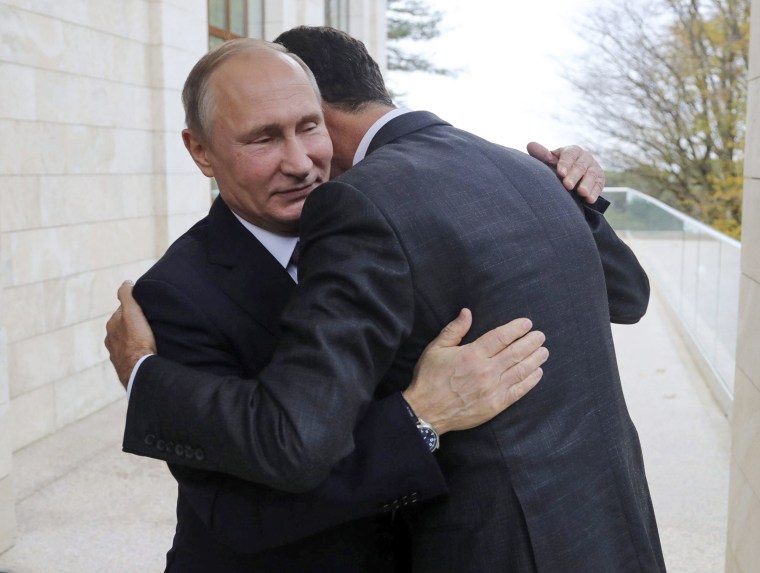 Russian television showed footage of Putin and Assad entering a meeting with the top brass of Russia's defense ministry and the General Staff.
"I asked the Syrian president to stop by," Putin told the Russian generals. He then referred to Assad and said: "I would like to introduce you to people who played a key role in saving Syria."
Russia is actively trying to build an international consensus around a peace deal for Syria, over two years after Moscow began a military intervention that turned the tide of the conflict in Assad's favor.
Putin also said Russia is getting ready to scale down its operation in Syria.
"Regarding our joint operation to fight terrorists in Syria, this military operation is indeed coming to an end," he told Assad in televised remarks. "I'm pleased to see your willingness to work with everyone who wants peace and settlement."
The meeting in Sochi comes ahead of a summit scheduled on Wednesday in Russia between the presidents of Iran, Russia and Turkey.
Iran and Russia have been Assad's main backers while Turkey supports the opposition.
Putin said he would follow up his talks with Assad with phone calls to President Donald Trump and to Middle Eastern leaders.
Putin and Assad last met on Oct. 20, 2015, in Moscow, a few weeks after Russia launched its military operation in Syria, which has beaten back anti-Assad rebels and propped up struggling government forces.
Underscoring the importance of the Russian military in propping up Assad's rule, Putin presented the Syrian leader to a gathering of his top military command, who were also assembled at his Sochi residence.
"On behalf of the entire Syrian people, I express my gratitude for what you have done," Assad told the roomful of Russian military officers. "We will not forget it."
Assad's opponents, and Western governments, have accused Russia of killing significant numbers of Syrian civilians with its airstrikes. Moscow denies the allegations.