BEIRUT — President Bashar al-Assad vowed to fight on in what he called Syria's war against terrorism, showing no sign of compromise Tuesday in his first major address since peace talks broke down in April.
Assad said he would win back "every inch" of Syria and said Aleppo would be a graveyard for the hopes and dreams of Turkish President Tayyip Erdogan, a major sponsor of the insurgents battling to topple him.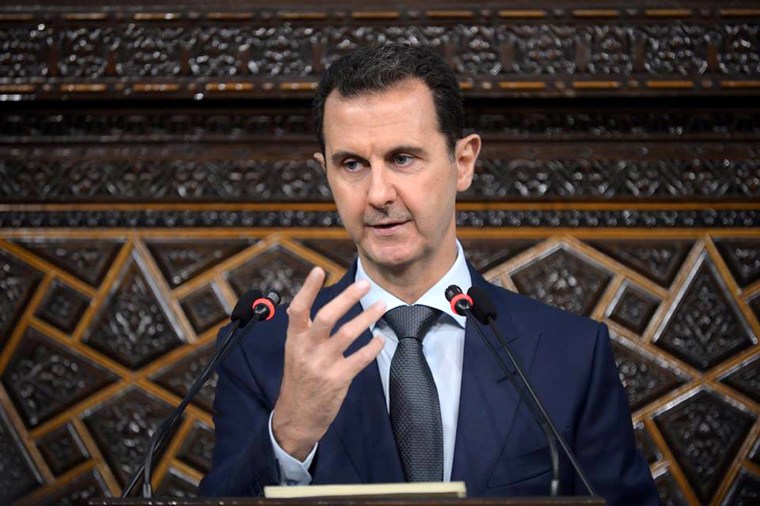 "Our war against terrorism is continuing," Assad said in a speech to parliament broadcast by state TV. "As we liberated Tadmur (Palmyra) and before it many areas, we will liberate every inch of Syria from their hands. Our only option is victory, otherwise Syria will not continue."
Related: Syrian Forces Retake Ancient City From ISIS
The Syrian army and allied militia, aided by Russian air strikes, recovered control of Palmyra from ISIS in March. In addition to the war with Islamic State, Assad is fighting insurgents who include groups that have received support from his foreign enemies, Turkey included.
The war has greatly diminished Assad's control of Syria, with ISIS, an array of rebel groups, and a powerful Kurdish militia establishing authority over wide parts of the country.
Assad accused Erdogan of recently sending thousands of militants to Aleppo, a province of northern Syria bordering Turkey where the ancient city of the same name is located.
Aleppo and the surrounding area is divided between areas of government and rebel control, and escalating fighting there helped bring about the failure of a cessation of hostilities agreed in February.
Assad thanked Russia, Iran, China and the Lebanese Shi'ite group Hezbollah for the support they had provided.
Alluding to suggestions of divisions in the alliance, particularly between Iran and Russia, Assad said people should not listen to reports about "differences, struggles and divisions."