DAMASCUS — Syria's president criticized the lack of experience in U.S. presidential politics, telling NBC News it is "dangerous" for the country.
NBC News sat down with President Bashar al-Assad at his office on Wednesday for a wide-ranging interview on ISIS, Syria's civil war and the U.S. presidential election.
Candidates Hillary Clinton and Donald Trump have traded blows over U.S. policy in Syria — with the former secretary of state a vocal advocate for Assad's removal while Trump has cited ISIS' defeat as a higher priority, amid withering critiques of his foreign-policy proposals.
Syria's president made little distinction between the two candidates, however, when asked if he was worried about Trump's lack of foreign policy experience.
"Who had this experience before? Obama? Or George Bush? Or (Bill) Clinton before? None of them had any experience," he told NBC News. "This is the problem with the United States."
He said a "few years" in Congress or foreign affairs doesn't count — and that having someone without experience in the White House "of course it is dangerous for the country generally."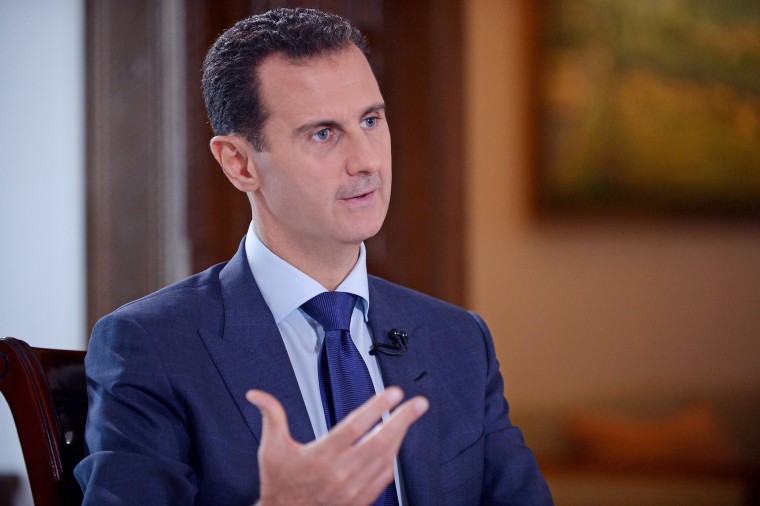 Assad has clung to his grip on power for 16 years — the last six of which have been amidst a bloody civil war.
More than 250,000 people have died in the conflict, though the U.N. stopped keeping track of the toll.
The Syrian president has been accused of deliberately targeting civilians, executions, torture and crimes against humanity.
However, Assad flatly rejected the suggestion he had blood on his hands — or was a brutal dictator.
"I hope that history will see me as the man who protected his country, from the terrorism and from the intervention, and saved its sovereignty," he told NBC News. "When you protect your country from the terrorists, and you kill terrorists, and you defeat terrorists, you're not brutal. You are a patriot."
The full interview will air on MSNBC on Thursday.