Nearly 100 people died in Syrian government airstrikes on a market northeast of Damascus over the weekend, activists said.
The death toll from Sunday's attack made it one of the deadliest in recent memory in Syria's ongoing civil war and comes as embattled President Bashar Assad has been losing ground to rebel fighters.
The Syrian Observatory for Human Rights said 96 civilians — including four children and three women — were killed in a market in the rebel-held city of Douma. More than 200 were wounded, the observatory added, calling it a "massacre."
The Local Coordination Committees, another activist group, told NBC News that the death toll had topped 100 and injured more than 300. Conflicting death tolls are common in the aftermath of airstrikes.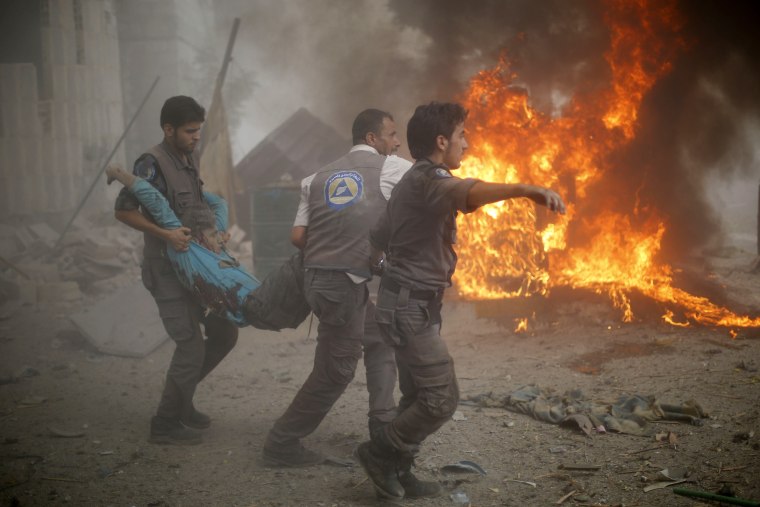 Amateur video purportedly from the aftermath shows huge plumes of gray smoke and numerous buildings reduced to rubble.
"Every time people who were in panic thought that the airstrikes finished, and went to help the wounded and bring out the dead, another airstrike hit the same location," said Ayman Abu Anas, one of the founders of the Local Coordination Committee. "People were too afraid to search for their families and relatives. People were afraid to help."
He told NBC News that around 9 missiles had hit the market and the wounded had overwhelmed local hospitals.
"People were lying on the floors — no medicine and not enough medical equipment," he said. "A lot of the injured were taken to other rebel-held areas to take care of them and because it's safer."
A Douma-based activist who goes by the name of Mazen al-Shami told The Associated Press via Skype that mosque loudspeakers issued calls for residents to donate blood.
"The situation is catastrophic," he said.
The Turkey-based National Coalition for Syrian Revolutionary and Opposition Forces accused Assad of firing on a busy marketplace to inflict "as many civilian casualties as possible."
"Targeting densely populated areas is undoubtedly a war crime and a violation of international law," the anti-Assad political opposition group said.
The United Nations special envoy for Syria, Staffan de Mistura, said the government's bombing of Douma was "devastating" and "unacceptable."
"Hitting crowded civilian markets, killing almost one hundred of its own citizens by a government is unacceptable in any circumstances," Mistura said in a statement.
Last week, Doctors Without Borders accused regime aircraft of targeting hospitals in rebel-held areas.
Assad's forces have been handed numerous setbacks in recent months, including losing the city of Idlib in the northeast to rebels and the central city of Palmyra to ISIS.
Last month Assad acknowledged that his troops were running short on manpower but said "defeat does not exist in the dictionary of the Syrian Arab army."