Aisha has turned to faith to protect her and her six children. She has run out of other options.
"We are asking God for mercy and protection from the bombing and the airstrikes," said the 48-year-old, who added that she has not seen her husband in two years. "God is all we have left, God is the only one on our side."
Aisha fled to Idlib from Aleppo as the Syrian city fell to government forces in July 2016.
Now, as the country's main remaining rebel-held enclave faces the prospect of an imminent government offensive, she's constantly afraid for her children.
"If I take them with me outside, I am scared. If I leave them inside the house, I'm also scared," said Aisha, who asked that only her first name be used to protect her and her family from retaliation. "Wherever I go, I will still be scared for their lives."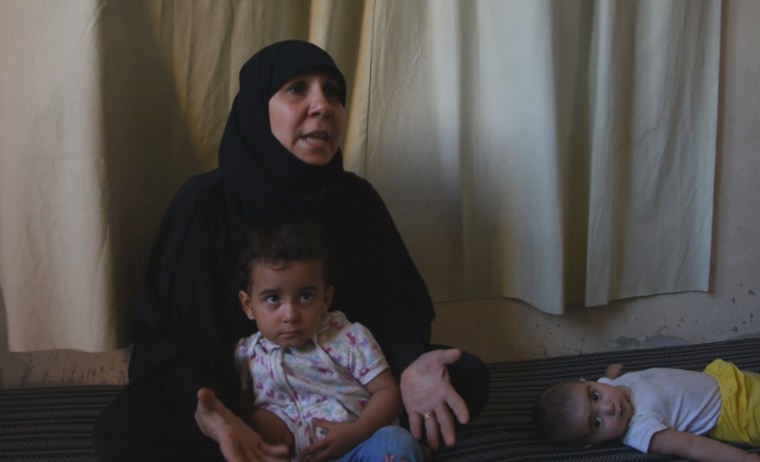 Some 7 million people have been driven from their homes across the country, and around 400,000 are believed to have been killed during the revolt to oust President Bashar al-Assad.
Last week, regime airstrikes swept Idlib — home to fighters and civilians displaced during the seven years of civil war. On Tuesday Assad's main backer, Russia, hinted an offensive to retake the region was imminent.
With the backing of Russia and Iran, Assad has won back much of Syria. However, the presence of rebels backed by Turkey in Idlib complicates his government's effort to retake the rest of the country.
Turkey's position within the complex web of alliances in the conflict is largely aimed at halting the advance of U.S.-allied Kurdish fighters it sees as terrorists.
The U.S. also has around 2,000 of its own forces on the ground in Syria fighting Islamic State. The Trump administration announced on Friday that it is ending funding for stabilization projects in the country as it moves to extricate the U.S. from the conflict, citing increased contributions from anti-Islamic State coalition partners.
Syria and Russia have been accused of indiscriminately bombing civilians as they look to press their advantage and wipe out the last pockets of resistance. So there is good reason to worry for the residents of Idlib, which is run by a collection of rebel groups believed to be dominated by jihadists.
Humanitarian organizations are raising the alarm over Idlib, which is home to close to 3 million — many of whom, like Aisha, are originally from other parts of the country.
The head of the United Nations humanitarian task force for Syria, Jan Egeland, has warned of a "bloodbath" in the area.
"People who are promoting the reconciliation with the regime — we are arresting them, and our security apparatus is looking for these people."
David Miliband, former British Foreign Secretary and the head of the International Rescue Committee, recently warned that "the worst may be yet to come" for those living in Idlib.
The region in the northwest of the country "is where there is the greatest risk of a new humanitarian disaster," he recently wrote in a Washington Post article calling for a concerted international response to the crisis.
Last week the Syrian air force dropped leaflets urging residents to give up and agree to a return of state rule, saying that the war was nearing its end.
This is not something Mohamad abu Baker says he is ready to consider.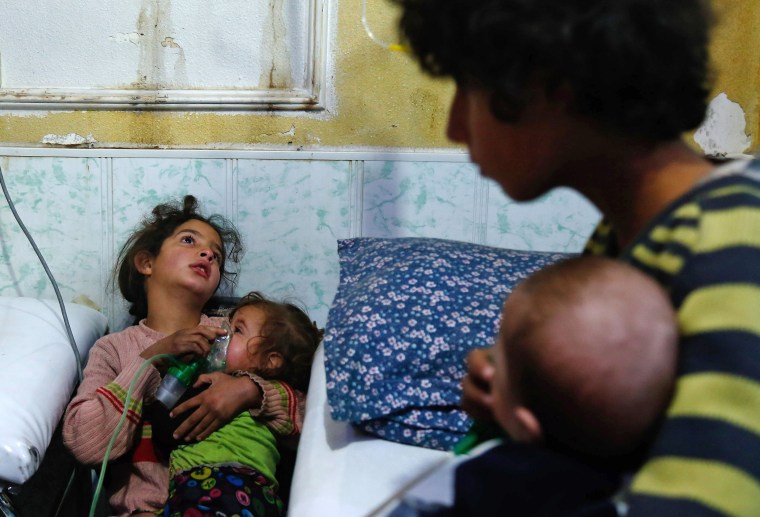 "Ghouta failed because of the reconciliation that was offered by the regime," said the commander with the National Liberation Front, a Turkish-backed coalition of rebel groups.
He was referring to eastern Ghouta, another rebel-held area close to the capital Damascus that finally fell to Assad in April after years of relentless shelling and suspected chemical attacks. Rebels and civilians from Ghouta and other areas went to Idlib under "reconciliation agreements" with the regime. Now they fear being wiped out.
"The regime was preparing for this 'reconciliation' for years. In Idlib we learned from past lessons, from other cities that failed," he said.
He and his comrades don't just place their faith in God — they're rounding up those who try to make deals with the government and "spread rumors."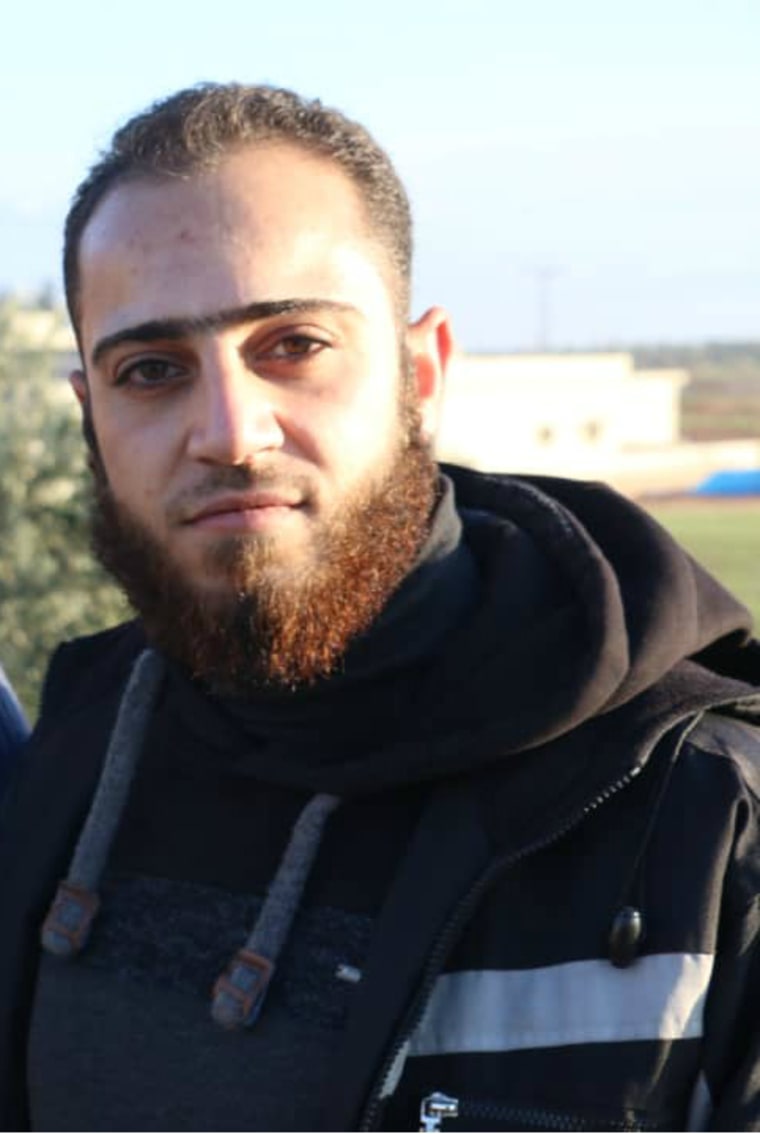 "People who are promoting the reconciliation with the regime — we are arresting them, and our security apparatus is looking for these people," he added.
Fighters are also preparing "tunnels, traps and pits" to "defeat the regime if they come to attack us," said abu Baker.
As abu Baker prepares for all-out war, Turkey's foreign minister said he hoped for a peaceful solution.
Egeland, the U.N. humanitarian adviser, last week said that Russia and Iran — as well as Turkey — had agreed to "do their utmost to avoid" a battle in Idlib.
Turkey has backed some rebel groups and built 12 observation posts around the city. Foreign Minister Mevlut Cavusoglu said it was important to distinguish between "terrorists," rebel fighters and civilians.
"We need to determine these terrorist (groups) and eliminate them with intelligence and military forces," he said on Tuesday ahead of talks with Russian Foreign Minister Sergei Lavrov. "It would be a massacre to bomb Idlib, civilians, hospitals, schools just because there are terrorists."
Still, Lavrov indicated that Moscow would support Syrian operations to protect itself from terrorists — a term the Assad government uses to refer to all rebels.
"The Syrian army has every right to suppress any such actions," he said.
Civilians like Aisha feel they have nowhere to flee. She and others fear detention and worse in government-run areas. Turkey, meanwhile, has closed its border to refugees.
As forces beyond her control determine her and her family's future, Aisha continues to have faith that God will protect them.
But she absolutely rules out dealing with Assad's government.
"The survivors from my family are a lot fewer than the number of those who have been killed. We have lost a lot," she said. "All we can do is pray to God to end our disaster and get rid of Bashar. He killed our children and ruined our country. Why should we reconcile with him?"