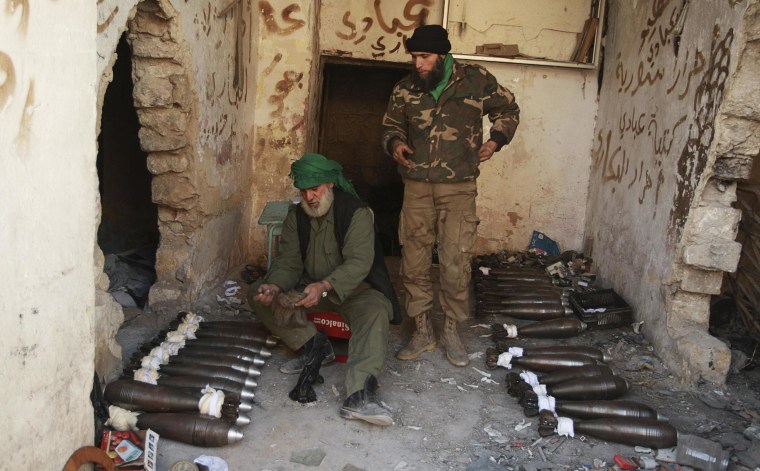 BEIRUT — A suicide bomber blew himself up at the gates of a Syrian prison Thursday and rebels stormed in behind him, freeing hundreds of inmates as part of an offensive aimed at capturing key government symbols around the northern city of Aleppo, activists said.
Government forces, meanwhile, dropped crude "barrel bombs" in deadly airstrikes as both sides escalated their fight for the strategic city ahead of a second round of peace talks set for next week. Opposition leaders threatened to suspend the talks over the barrel bombings.
In the past six days alone, the makeshift weapons — containers packed with explosives, fuel and scrap metal — have killed more than 250 people in Aleppo, including 73 children, according to the Britain-based Syrian Observatory for Human Rights.
They include at least 11 who died Thursday — six of them from the same family — in the opposition-held neighborhood of Masaken Hanano.
Videos uploaded by activists showed the aftermath, including men weeping amid ravaged buildings and corpses covered with blankets on the pavement.
"Be careful. There's a corpse under your feet. .. It's a child!" someone shouted. The videos were consistent with reporting by The Associated Press.
In other developments, Syrian President Bashar Assad's government said it has reached an agreement with the United Nations to let hundreds of trapped civilians leave besieged parts of the city of Homs and permit U.N. humanitarian relief convoys to enter.
In Washington, U.S. State Department spokesman Jen Psaki welcomed the agreement, which is expected to be carried out on Friday, but warned: "We should not be giving credit to a regime just for providing food for a few days to people who are starving, given that's the right moral thing to do. This is something they should have been doing all along."
--The Associated Press