BEIRUT, Lebanon — Abdul Halim al-Attar, a refugee from Syria who was photographed selling pens in the streets of Beirut, is now running three businesses in the city after an online crowdfunding campaign in his name collected $191,000.
The 33-year-old father of two opened a bakery two months ago and has since added a kebab shop and a small restaurant to his business venture. He employs 16 Syrian refugees.
The photograph of al-Attar carrying his sleeping daughter on his shoulder while trying to sell pens to passing motorists in the scorching heat went viral this past summer and touched people across the world.
One of those moved by his plight was an online journalist and web developer in Norway, Gissur Simonarson, who created a Twitter account under the name @buy_pens and an Indiegogo campaign to raise $5,000 for al-Attar and his family. When it closed three months later, the campaign had collected almost forty times more: $188,685. Another $2,324 in donations has trickled in since then.
"Not only did my life change, but also the lives of my children and the lives of people in Syria whom I helped," he said. Al-Attar said he gave away about $25,000 to friends and relatives in Syria.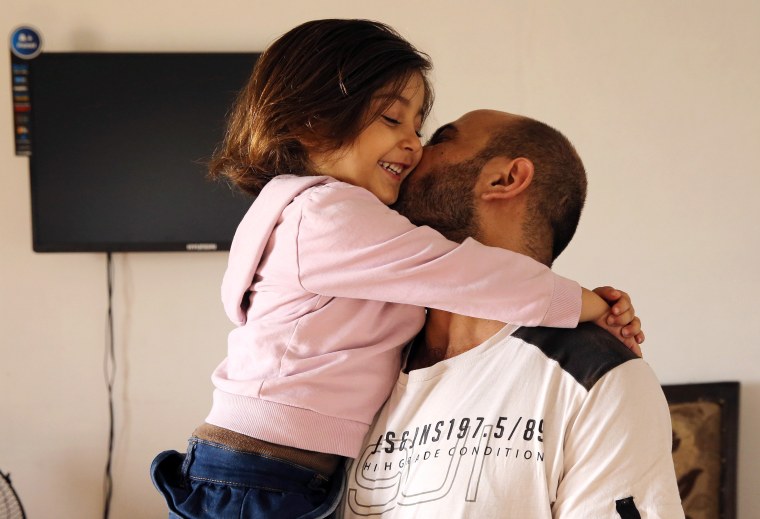 Al-Attar also quickly built a better life for himself and his family in Beirut. His wife returned to Syria and they are currently separated.
In addition to the food businesses, al-Attar moved his children from the one bedroom that they all shared to a two-bedroom apartment in an unfinished building overlooking the highway in southern Beirut.
The apartment is noisy and sparse, but 4-year-old Reem, who was draped over her father's shoulder in the viral photo, proudly displays her new toys: plastic kitchenware, a swing and a stuffed bear that seems to be her favorite. Her brother, 9-year-old Abdullelah, is back in school after three years of absence.
For al-Attar, it's a long way from Yarmouk, the Palestinian refugee camp on the southern edge of Damascus where he was employed at a chocolate factory. The camp is now devastated by fighting. Although he is from Syria, al-Attar is Palestinian and does not have Syrian citizenship.
Getting the funds to al-Attar has been a struggle. So far he has only received 40 percent of roughly $168,000, after Indiegogo and Paypal took out about $20,000 in processing and banking fees. PayPal does not operate in Lebanon, so at the moment the cash is brought over to Lebanon bit-by-bit by a friend of the campaign who can make withdrawals in Dubai.
"Seeing that he opened a restaurant and his kids look well taken care of, I'm really happy," Simonarson said in a phone interview from Oslo. But he also said he was disheartened "after seeing how difficult the disbursement has been, and complications with refugees not being able to open a bank account in Lebanon. I think that will be my last fundraiser."
Despite his frustration and the uncertainty about when and whether he'll receive the rest of his money, al-Attar feels grateful. He is breaking even with steady orders of fresh bread and shawarmas from nearby workers and families in the working class neighborhood of Ared Jaloul.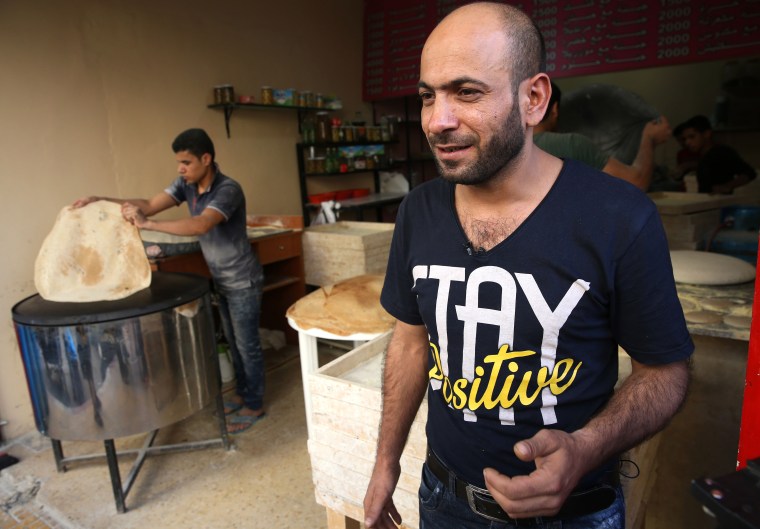 "I had to invest the money, otherwise it will be lost," he said, bagging a roasted chicken sandwich.
He sported a T-shirt reading "Stay positive," and a large smile. "When God wants to grant you something, you'll get it," he said.
He and his 16 employees are lucky to have jobs in Lebanon. There are about 1.2 million registered Syrian refugees in the country, most of them struggling to find work. Only a third of all Syrian refugees in Lebanon have some form of employment, according to a 2014 report by the International Labour Organization.
Al-Attar is also getting used to his newfound status. Once an anonymous street vendor, he now feels like a member of his community. Lebanese and Syrians alike are nicer to him.
"They just greet me better now when they see me. They respect me more," he said with a smile.