AGUASCALIENTES, Mexico — The lunchtime feast of tacos and chilaquiles turns into a cultural exchange. Cuisine comparison moves to talk about the plurality of appearances within Mexico and how some Mexicans could pass for being from the Middle East.
"Jose, you could be Lebanese. Adrian, you could be Syrian and you Daniel — Egyptian, definitely Egyptian," said Jackdar Mohammed. Everyone laughs.
This sort of easy banter has eased the 24-year-old Syrian's transition from the country of his birth to life in Mexico.
Mohammed, originally from Damascus, Syria, moved to Mexico earlier this year with the help of the Habesha Project, a small, locally-based NGO. Since 2015, the organization has been working with 10 Syrians whose studies were interrupted by the civil war, giving them a chance to enrol in top Mexican universities and start a new life.
Things have come a long way since the project's conception in a refugee camp in northern Iraq. Adrián Meléndez, a Mexican aid worker, had spent several years working in similar camps throughout the Middle East and observed that they were brimming with talented young Syrians with untapped potential — Mohammed among them.
Meléndez first recruited Mohammed to work alongside him as an assistant in the camp, then informed him of his plans.
"I said, 'I'm launching this project, give me some time, I will come back and I will make sure that you get to Mexico and you go to university,'" says Meléndez. "And for me it was very personal because he was left behind but I wanted to keep my promise to him."
It was not until three years later that Meléndez was able to fulfill that promise. In the meantime, Mohammed faced the agonizing decision of whether to wait or join his family on a harrowing journey across the Mediterranean Sea to Europe. He decided to wait in Iraq, clinging to the dream of starting again.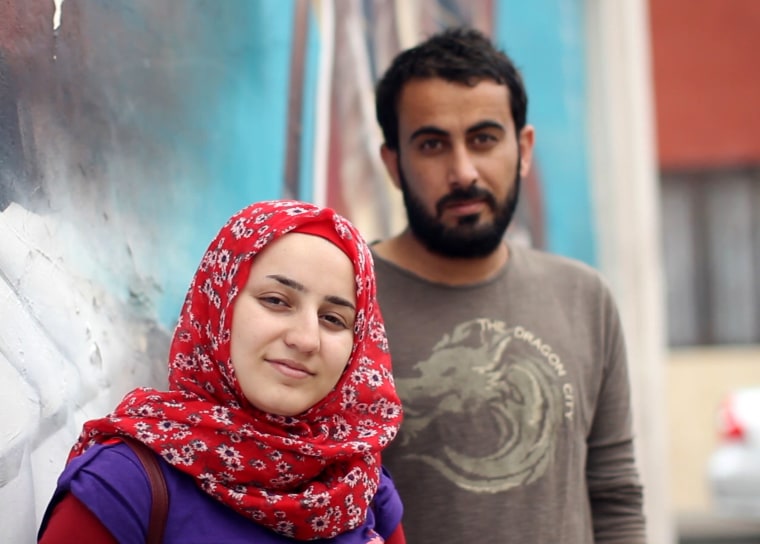 However, being accepted by the Habesha Project was just the first hurdle. The second was passing the rigorous background and health checks. The recruitment criteria, which includes being recommended by an international institution, is designed to select an elite force of students from diverse regional and academic backgrounds.
"We choose them like little pearls and we take care of them so well," says Meléndez. "We make sure that today there's a psychologist and tomorrow there's a mathematics professor. And finally they will go to universities that 99 percent of Mexicans would like to attend."
For the chosen few, the journey begins with flights via Beirut, Moscow and Havana in order to sidestep the stringent visa restrictions of most Western countries.
"When I arrived, I was surprised to see it's a big welcome," says Mohammed. "Like you know, 'You are welcome in my country' and these two or three words for Syrians at this time, it's like you've heard 'Okay, you have a million dollars.'"
Welcomes are an integral part of the Habesha Project experience. Historically, Mexico has welcomed dissidents and immigrants who have been turned away by other countries. And many in Mexico — which sends more migrants to the U.S. than any other country — have a personal and visceral understanding of being on the receiving end of tough immigration laws.
"Mexico really has this diplomatic tradition of being open to refugees and people in conflict situations."
The project broadcasts openness with the slogan "here there are no walls," which it has turned into Twitter hashtag #aquinohaymuros — a tacit jab at President Donald Trump's border wall expansion plans. José Múzquiz , who also works at the Habesha Project, says the phrase also has a deeply rooted historical context.
"I think it comes more from the hospitality tradition in Mexico which we have, and not only in a social sense," he says.
"Yes, Mexicans are very hospitable. I mean as a country we received lots of refugees from the Spanish civil war and they helped build for example a lot of businesses here in Mexico," he says. "We also received people during the Central American wars, and also the Lebanese and the Haitians. And so Mexico really has this diplomatic tradition of being open to refugees and people in conflict situations."
The students' new lives are now in Aguascalientes, where colonial churches tower over colorful murals and the sounds of street musicians echo in the distance. It has escaped much of the deadly drugs related violence that beset pockets of the country in recent years.
The leisurely pace of life is a distinct change for Samah Abdul Hamid.
The 27-year-old from Homs, Syria, is immersed in her first year of the project's intensive Spanish language and cultural assimilation program. After that, she plans on completing a degree in Fine Arts that complements her bohemian sense of style.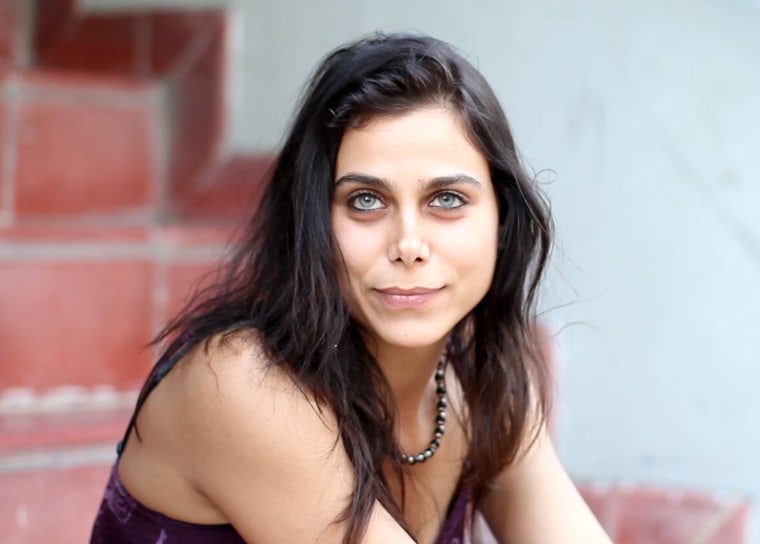 As she breezes in and out of the Habesha Project building and gets ready to meet friends, it is clear that she has adapted to her new environment. Yet her journey has been a tumultuous one.
After graduating from the University of Fine Arts in Damascus in 2011, her admission onto a master's course coincided with the start of the Syrian war. She couldn't finish "because maybe you can find an explosion on your way to the university," she says.
The Habesha Project gave her the educational breakthrough she needed, but the move to Mexico didn't faze her. "Actually I didn't have any perceptions [about Mexico]. Because you know, it was overwhelming … I didn't want to put myself in the expectation zone so I thought it's fine, something good's happening, let's see how this country looks like and actually it's really nice here."
Abdul Hamid and her Habesha Project peers are in Mexico on student visas, thus avoiding the refugee status stigma that many Syrians have experienced in Europe, and Meléndez says the country is an ideal place to resettle.
"Here there are no stereotypes about Syrians," he says. "There are no stereotypes about Muslims. So it's very easy for them to come and people will be welcoming. It means we are able to create our own narrative about Syria, about Islam about Middle East cultures because we don't have one."
"The brothers of some of these students are fighting with the regime in Aleppo and there are others who have lost their houses because of the regime in Aleppo."
However, local critics have questioned the disparity between the support bestowed upon the Syrian arrivals and the migrants from Central American countries who are often the target of abuse and corruption at the hands of police.
Múzquiz, the project coordinator, insists the Habesha Project stands in solidarity with grassroots organizations who support Central American migrants. "Supporting our cause doesn't take from any other cause," he says.
Increased awareness of the Habesha Project has led to financial backing and high-profile supporters, such as the popular Mexican actor, Luis Gerardo Méndez. The students also now have a platform to educate people across the country about the war in Syria by attending talks and sharing their story.
Sharing stories is a recurrent pastime for the students. As evening draws in, the students congregate in the project's courtyard, play music, laugh and debate — but never about politics.
"The brothers of some of these students are fighting with the regime in Aleppo, and there are others who have lost their houses because of the regime in Aleppo," explains Meléndez. "So it's a very sensitive situation when you think 'Oh your brother actually destroyed my house.' We talk about football and we talk about food."
Instead, the group remains united by common experience. A newly-formed family whose bond crosses political divides.