Syrian government troops have launched a ground offensive in eastern Ghouta, witnesses said, clashing with rebel forces hours after the U.N. Security Council unanimously passed a resolution calling for a 30-day cease-fire across Syria.
Witnesses told NBC News that within minutes of the resolution being passed on Saturday, warplanes were targeting residential neighborhoods in the region, where civilians sheltered in basements.
Syrian civil defense workers, known as the White Helmets, said Sunday that there had been "renewed aerial and artillery bombardment of most of the cities and towns of East Ghouta."
They reported on Twitter that two civilians had been killed in the cities of Saqba and Hamouriya, while many others had been injured. NBC News could not verify the reports. The London-based Syrian Observatory for Human Rights said warplanes hit the town of Shifouniyeh in the rebel enclave.
Noor Adam, who lives 500 meters from the frontline near Damascus, told NBC News that many people in his neighborhood were hiding underground. "The basements are full of children and women," he said, adding that he could hear the clashes between the Syrian army and rebel fighters.
Witnesses said that hospitals were full, while one doctor, Abo Zaher, who lives in eastern Ghouta, told NBC News two medical centers had been hit in airstrikes on Sunday.
Saturday's Security Council resolution followed seven days of air strikes and shelling by the Syrian government and its allies, in what has been one of the fiercest air-assaults of the seven-year war, according to the Syrian Observatory for Human Rights.
Several previous cease-fires have unraveled quickly in Syria, where government forces have gained the upper hand with the help of key allies Iran and Russia.
The leaders of Germany and France urged Russian President Vladimir Putin in a telephone call to put "maximum" pressure on the Syrian government to stop fighting in eastern Ghouta, a German government spokesman said on Sunday.
Chancellor Angela Merkel and President Emmanuel Macron made clear that a cease-fire was the basis for progress towards a political solution in the framework of the U.N.-led Geneva peace process, the German spokesman said.
Russia's foreign ministry said Sunday that it was counting on foreign supporters of anti-government forces in Syria to ensure that the cease-fire was observed.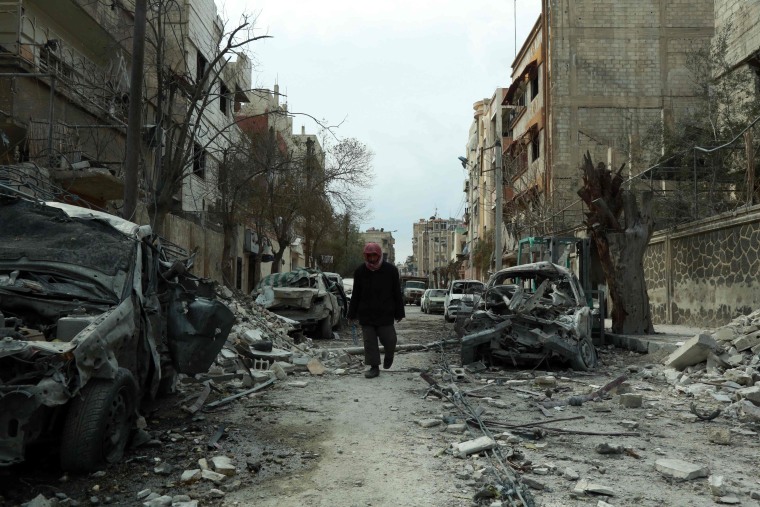 "We count upon foreign patrons of anti-government militant groups ... to ensure that their charges stop combat activities in the interests of the quickest and safe transit of humanitarian convoys," the ministry said on its website.
Ingy Sedky, a spokesperson for the International Committee of the Red Cross (ICRC), said it appeared to be relatively calm across Damascus compared with recent days, but that airplanes could be heard overhead.
Sedky said the ICRC were currently unable to deliver aid to eastern Ghoutta due to security concerns and it was still unclear when they would be able to launch an aid convoy.
"While the cease-fire is a positive step, what is more important for us now is to obtain the necessary security guarantees from all sides who are fighting in eastern Ghouta in order to be able to proceed and deliver aid. It is very hard to know when this can happen," she told NBC News.
Meanwhile, Pope Francis denounced the "inhuman" violence in Syria Sunday, backing the cease-fire so that food and medicine can reach desperate Syrians and the sick and wounded can be evacuated.
Francis led thousands of people in St. Peter's Square in praying for an "immediate" end to hostilities.
"The month of February has been one of the most violent in seven years of conflict: hundreds, thousands of civilian victims, children, women and the elderly, hospitals have been hit, people can't get food. All this is inhuman," he said, adding, "You can't fight evil with evil."