Syrian President Bashar Assad's forces claimed victory in a major battle for a strategically important city on Wednesday, but rebels insisted they were still fighting despite a deluge of missiles.
The Free Syrian Army said they were being massacred in the city, but that its forces were hanging on and engaged in "big battles."
The road around the city is a key supply line from Assad's Alawite strongholds on the Mediterranean coast to the capital Damascus. Fighters from Lebanon's Hezbollah movement were involved in the government's attack, the rebels said.
Syria's SANA news agency said on its website that its forces had brought "security and stability to the whole city."
It said Al Qusair was taken after "the killing of a big number of terrorists and the surrender of others."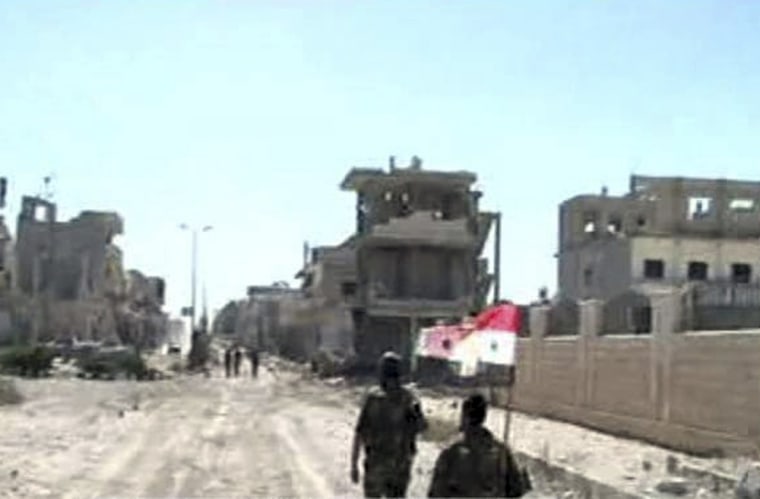 "This is a clear message to all those who share in the aggression on Syria ... that we will continue our string of victories until we regain every inch of Syrian land,'' said a statement by the armed forces command read out on state television. "We will not hesitate to crush with an iron fist those who attack us. ... Their fate is surrender or death."
A spokeswoman for the Syrian National Coalition said by phone that Assad's forces had taken the eastern and southern neighborhoods, but the Free Syrian Army still controlled the north and the Dabaa area.
And Fahad alMasri, a spokesman for the Free Syrian Army, said Assad's regime was "a big liar."
"The Hezbollah fighters are trying to enter the south of Al Qusair. There are big battles going on now. They (Syrian forces) are trying to allow Hezbollah to advance by heavy bombing and extreme violence," he said by phone.
"They have been firing 50 missiles a minute since yesterday. It is a massacre. They have raped women and killed and wounded dozens today," he added.
He said pictures on Syrian television that were purported to be of Syrian forces in Al Qusair were of other towns.
"I don't know which. They are waging a psychological campaign," alMasri said.
He said that 70 Hezbollah fighters were killed on Wednesday.
Hezbollah's Secretary-General, Hassan Nasrallah, is expected to give a speech in the coming few days that will outline his organization's Syrian strategy. He is expected to address whether it will provide greater support for Assad's regime.
Related: