LONDON – The voting has already started. So great was the crush to get inside the first polling station to open that troops beat back the voters, fire crews sprayed them with water to prevent them collapsing in the sweltering heat and part of the city was shut down.
It was a remarkable scene Wednesday, all the more so since it took place not in Syria itself, but in neighboring Lebanon. The city was Beirut and the voters were tens of thousands of the one million refugees who've fled into Lebanon from Syria. But what was really remarkable was that they had a choice at all.
News Analysis
When Syrians go to the polls on June 3, it will be the first time in Syria's history that a presidential election has been held with more than one candidate. Traditionally it has been a referendum, with only one result, the re-election of the president.
The last time President Bashar Assad faced a popular vote, seven years ago, 97 percent of voters backed the proposition that he should continue as president for a second term.
And he was undoubtedly popular then. Not 97 percent popular, but enough to win a majority.
It was Assad himself who proposed the change two years ago, a change that might have staved off revolution had he suggested it years earlier.
All but guaranteed…
From the comments of the crowd of voters in Beirut on Wednesday the result of this election is hardly in doubt. Most voters couldn't remember the names of the two candidates opposing Assad.
And no wonder. Both are little known members of Syria's parliament, one from a party that won just two seats in the country's 250 seat legislature.
Twenty-one other candidates were deemed ineligible to run for office and were rejected by the country's Supreme Court.
Election rules, requiring candidates to have lived in Syria for at least a decade, effectively bar key opposition figures living in exile among the estimated 2.5 million refugees scattered across the region from standing.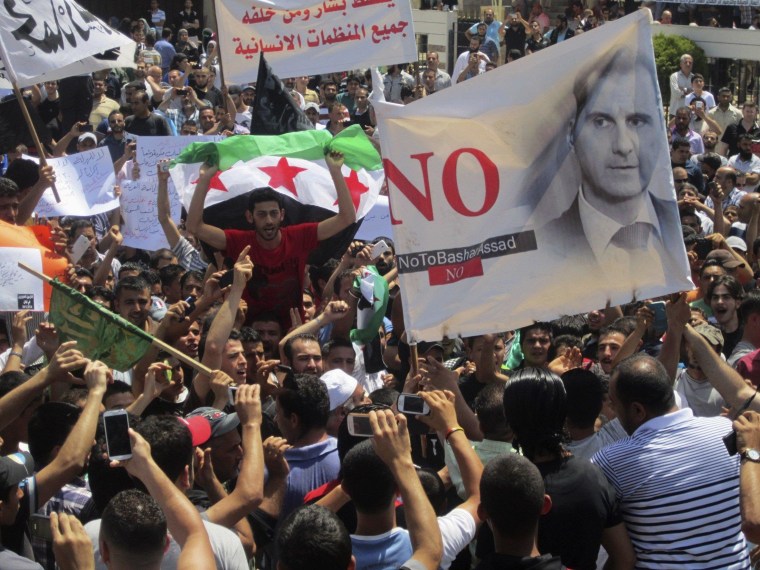 Most of those who oppose Assad – politicians, fighters and voters – will boycott the election. They say it's a sham, almost certain to be rigged, no matter who stands.
No one outside Syria considers this election wholly free and fair. How could it be, held in the midst of a brutal civil war, in which a third of the population is displaced?
Polling stations are being set up in areas under government control, but not in rebel-held territory, making voting impossible for millions, even if they wanted to take part.
Tens of thousands of those whose names are on voter lists won't be casting their ballot because they're dead, victims of a civil war that has now claimed well over 160,000 deaths, according to the Syrian Observatory for Human Rights, based in Britain.
The United Nations reported in July that at least 100,000 people had been killed, but the U.N. stopped updating its count after that because it could no longer verify its information.
There will be no international observers to watch ballots being cast and counted. Few will give this election their seal of approval.
And yet it is significant all the same.
Hanging on, despite the odds
Three years ago, when the Arab Spring threatened to sweep away every repressive regime in the Middle East, Assad declared that he and his country would be immune.
His confidence appeared ill-judged, his demeanor that of a man in denial.
As revolution blew in across Syria's borders and city after city rose up, analysts declared that Assad's future wasn't in doubt; he didn't have one.
U.S. President Barack Obama himself said in October 2012 during the presidential debates with Mitt Romney, "I am confident that Assad's days are numbered."
So the fact that he will almost certainly be re-elected next week is extraordinary.
To borrow a phrase or two from that analyst of Latin American dictators Gabriel Garcia Marquez, the "Chronicle of a Death Foretold" has been replaced by "The Autumn of the Patriarch."
The Arab Spring is dead and Bashar is back.
In truth of course, he never went away.
When the votes have been counted (assuming that electoral formality is adhered to) it will be the unlikeliest of comebacks, because for several months over the course of the revolution it looked like Assad was finished.
When a bomb exploded inside a top level meeting of his national security team in July 2012, killing his brother-in-law and his defense minister, the president's grip on power seemed shaky.
When Syria's second city Aleppo was overrun by rebels, Assad's days appeared numbered.
But he has weathered every storm and in the last few weeks he has seen the city that represents the heart of the revolution, Homs, retaken by his army.
The rebels who vowed to fight until he fell are retreating and his opponents are in disarray across the country.
The election has been condemned by Syria's neighbors in the Arab League and by the Secretary General of the United Nations Ban Ki-Moon. He said it could torpedo efforts to broker a deal to end the civil war. Since making those comments, the talks have collapsed anyway and the man he appointed to seek peace, Lakhdar Brahimi, has resigned in failure.
From the ruins of his country and amid the howls of protest from outside and the screams of his suffering people inside Syria, Assad will almost certainly emerge triumphant at the end of next week; his election victory a foregone conclusion.
What does it mean?
The real question is what does this mean, for Syria and for the outside world?
If he wins, it gives him a third seven-year term, meaning he can remain president until 2021. But under the terms of the new constitution, which allow a newly elected president to serve two terms, he might stand again and serve until 2028.
Either way – and barring assassination or some other untimely demise – he will remain in office long after Obama has left the White House; indeed he may prove to be a thorn in the side of not one but two of Obama's successors.
The West will have to live with a leader who is popular with significant sections of the Syrian people, not only his own Alawite sect, but Christians and many Sunni Muslims who now fear the rise of al-Qaeda linked militias and see Assad's iron fist as, ironically, the only way of preserving a more tolerant Syria.
When Assad took power in 2000, none foresaw such a scenario. He was the innocent looking eye surgeon, hauled back from a suburban life in London after the death of his father, to wear the mantle of a president. With his beautiful English wife, Asma, and his engaging smile, he seemed to herald a new era for Syria. Reform was in the air. Syria's future seemed bright.
Today, Assad's smile has dimmed, his wife is a recluse and his country is in turmoil, much of it in the hands of Islamist extremists.
But he has the upper hand in the country's war and next week he will claim electoral victory and a mandate to rule Syria as he sees fit.
Russia will endorse it and continue to support Assad as a useful, if weakened tool.
The West will condemn it and the U.S. may step up training and weapons supplies to the rebels who want to see Assad dead.
Millions of Syrians will shudder at the thought of what seven more years of Assad might really mean.
Because within a week the election will be over; but the war is not.