More than 130 people were still trapped Sunday morning in the wreckage of a Taiwan apartment building that collapsed during a 6.4 magnitude earthquake in Tainan the day before, officials said.
At daybreak Sunday, the Central Emergency Operation Center in Taipei said 18 people had been killed and another 505 injured during the quake that struck southeast of Tainan just before 4 a.m. local time Saturday (3 p.m. Friday ET).
A total of 132 people are believed trapped in the collapsed building.
Tainan Mayor Lai Ching-te said Sunday morning that there are still an estimated 103 people trapped deeper beneath the 16-story residential building Weiguan Jinlong.
Rescuers were struggling to determine if they should use heavy machinery to reach those 103 people, because doing so could put the lives of 29 others trapped at risk.
Crews had a better idea of where those 29 people were located, as compared with the rest, and Lai said the focus of the rescue work is to determine the condition of the 29 people and when to use the heavy machines.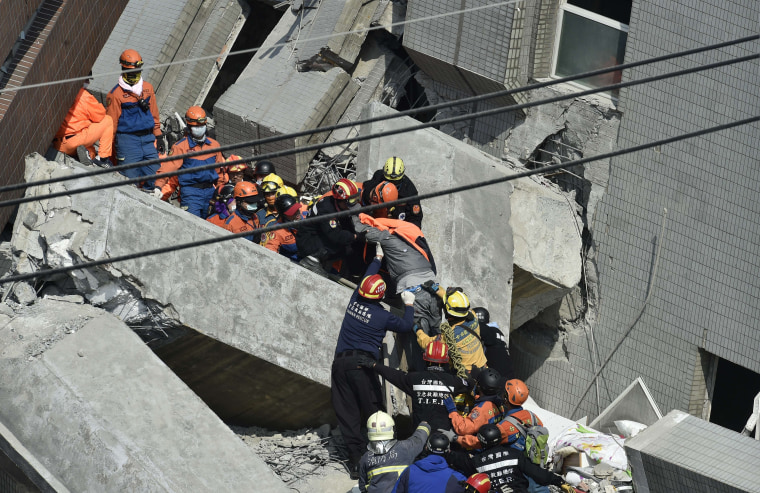 Authorities said the building had 96 apartments and 256 registered residents, though more people were inside when it collapsed.
Rescuers wearing red and yellow overalls pulled more than 240 survivors from the ruins and inserted huge supports under slabs of leaning concrete as they searched for additional survivors.
Buildings in nine other locations in the city of 2 million people had collapsed and five were left tilting at alarming angles, a government emergency center said on Saturday.
The dead taken from another collapsed building, the Wei-guan Golden Dragon Building, on Saturday included a 10-day-old girl who was found in her dead father's arms, local media reported.