PESHAWAR, Pakistan — The Taliban and the Afghan government have restarted talks aimed at ending that country's 15-year war, senior members of the insurgent group told NBC News Tuesday.
At least one American official participated in three rounds of "informal meetings" held during the second week of October in Doha, Qatar, two of the Taliban commanders said on condition of anonymity.
The Taliban has an office in the Gulf state of Qatar, which has hosted similar negotiations in the past.
Mullah Manan Akhund, the younger brother of late Taliban leader Mullah Omar and the group's deputy leader, was among the officials to participate in the talks.
A total of six Taliban officials or commanders — two in each Afghanistan and Qatar, and one in each Pakistan and the United Arab Emirates — confirmed the meetings to NBC News. Two of the sources said they themselves had attended in the talks.
All spoke on condition of anonymity because they are not authorized to speak to the media.
Related: Taliban Watches Clinton, Trump from Secret Location
State Department Deputy Spokesperson Mark Toner would not comment specifically on the report, although he said the U.S. was "committed to promoting a negotiated settlement to end the Afghan conflict."
"As a general rule, we do not comment on our diplomatic contacts on this subject. A peace accord is the only pathway to ensuring peace and stability in Afghanistan, and we have long supported an Afghan-led, Afghan-owned process for a negotiated resolution of the conflict."
The Taliban's spokesman, Zabihullah Mujahid, denied the meetings had taken place, calling the reports "propaganda launched by their enemy to create divisions."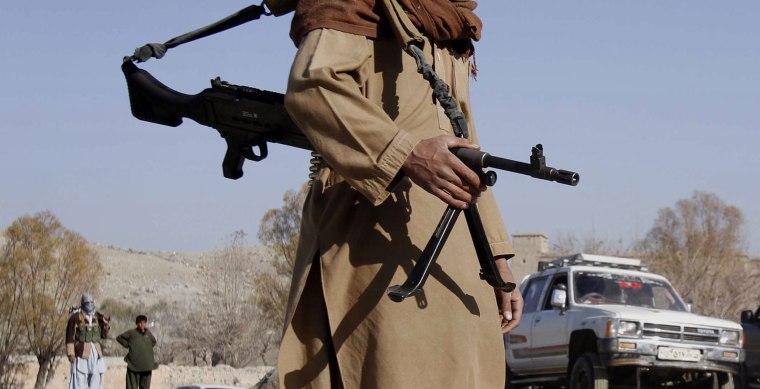 The Taliban often denies reports and delays news releases, most notably when they announced the passing of the group's founder Mullah Omar three years after his actual death.
Afghan officials were not immediately available for comment.
Similar secret talks brokered by Pakistan failed after Taliban leader Mullah Akhtar Mansour was killed in a U.S. drone strike in in May.
Related: Afghan Anti-Warlord Campaigner Blames U.S. for Violence
One Taliban member who traveled from the U.A.E. to participate called the meetings a "waste of time."
The Taliban leader told NBC News that U.S. and Afghan officials reiterated demands the Taliban announce a ceasefire, lay down arms and start official peace talks for resolution of the Afghan conflict.
Fighting under the group's new leader Haibatullah Akhundzada has intensified, with the Taliban briefly capturing the northern city of Kunduz and threatening Helmand's provincial capital Lashkar Gah.
Nearly 13,000 international troops are still in Afghanistan — just under 10,000 of the American. This is down from a height of 140,000 NATO soldiers who were station in the country in 2011.