KABUL — Taliban fighters stopped vehicles and detained at least 25 people in the latest in a series of abductions on Afghanistan's highways in recent weeks, officials said Tuesday.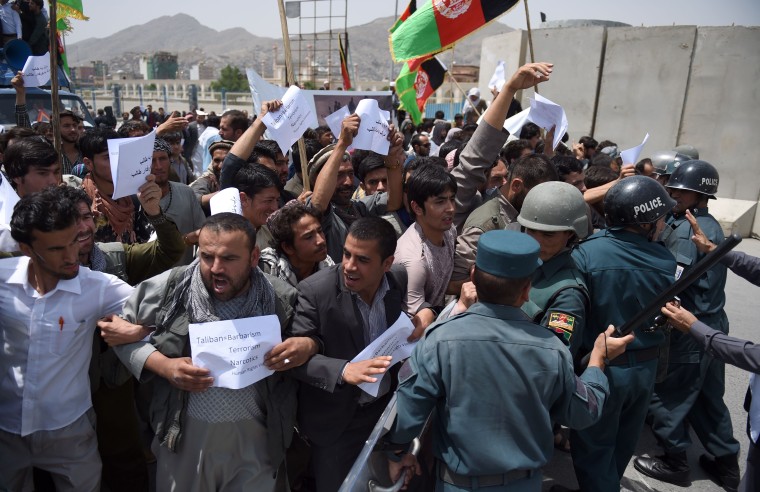 He said 25 men had been taken away and were being held by the Taliban. Police and army forces were searching for the men.
Omar Zwak, a spokesman for the governor in the southern province of Helmand, said 18 women and children were released by the Taliban after the Islamist group's fighters stopped a number of buses and cars near the town of Gereshk, on the main highway linking Kabul with the south.
Qari Yousuf Ahmadi, a Taliban spokesman, said in a statement 27 people had been taken from three buses and were currently being investigated.
"Those who are innocent will be released but those who are working for the slave administration of Kabul's security organs will be submitted to the Islamic Emirate's courts," he said, using the term the Taliban use to describe themselves.
Related: Rivals ISIS, Taliban Claim They Carried Out Same Attack
The kidnappings follow a series of similar incidents in other parts of the country, underlining the precarious security on Afghanistan's main highways, which are vital lifelines in a country where many cannot afford to travel by air.
Before the latest abduction, more than 200 people were reported to have been kidnapped on the road since the end of May, with at least another 21 murdered in northern and eastern Afghanistan.
Related: Kabul Kidnap Attempt Targeted American, Expats: U.S. Embassy
Such incidents have led some officials and travelers to question a NATO-backed strategy that has reduced the number of security checkpoints in order to free up police and soldiers to go after the Taliban.
The Taliban have had to cope with the loss of their former leader Mullah Akhtar Mansour in a U.S. drone strike last month but the insurgency has shown little sign of slowing under new leader Mullah Haibatullah Akhundzada.