Taliban chief Mullah Akhtar Mansoor was targeted by a U.S. airstrike Saturday along the Afghanistan-Pakistan border and was "likely killed," senior defense officials told NBC News.
Officials were trying to confirm whether he was indeed killed by the strike, which was authorized by President Barack Obama.
The senior defense officials told NBC News that Mansoor and another Taliban combatant were "likely killed" by the airstrikes from "multiple" U.S. drones that struck a vehicle in which they were riding in a remote area of Pakistan, southwest of the town of Ahmad Wal.
A senior defense official claimed there was "no collateral damage" — meaning no civilians killed in the strikes.
The White House is awaiting official confirmation of Mansoor's death before releasing their own statement about the strike, a senior White House official said.
If confirmed, the death would be a serious blow to the organization. Mansoor became its leader last July, when it was revealed that reclusive long-time head, Mullah Omar, had died two years prior. Mansoor had been his deputy.
Related: What You Didn't Know About Taliban's New Leader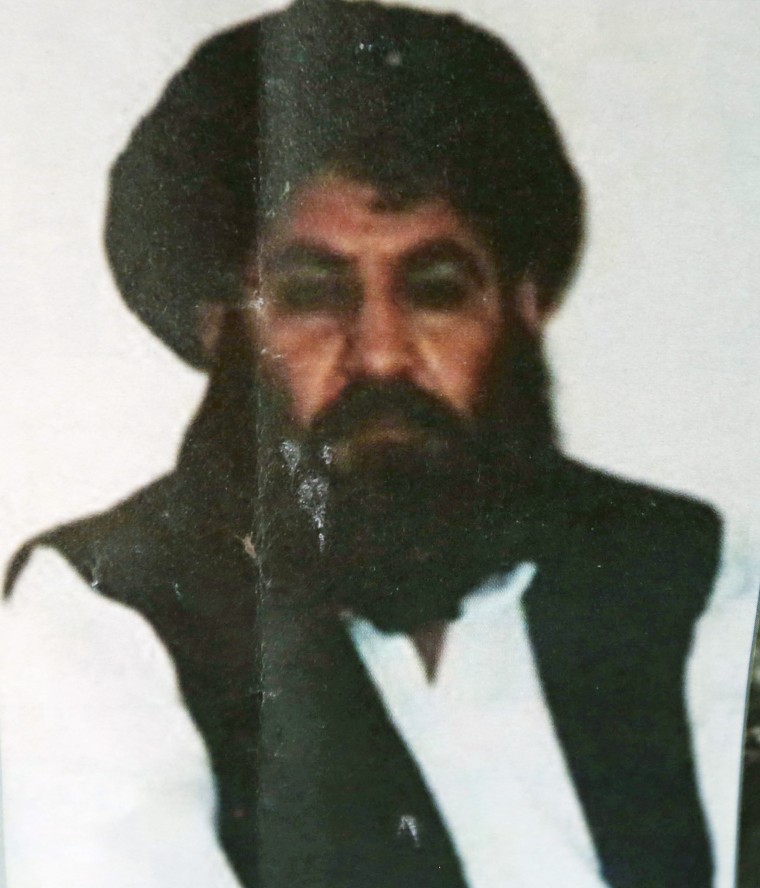 The Taliban quickly issued a statement denying that Mansoor was killed, even before the Pentagon made its announcement Saturday that a U.S. airstrike targeted him. A Taliban commander close to Mansoor denied he was dead, and told NBC News members of Mansoor's family said Saturday that he was fine.
The Taliban in the past has denied the deaths of senior Taliban members. Another Taliban member told NBC News that a senior Taliban figure was killed two or three days ago but didn't provide any information about his identity.
That abrupt shift in leadership from Mullah Omar to Mansoor raised hopes that a weakened Taliban would be willing to make concessions in Afghan peace talks.
Instead, Mansoor appointed new top deputies and won a string of battlefield victories, the most notable of which was Kunduz in northern Afghanistan last September — one of the most stunning setbacks since U.S.-backed forces invaded in 2001.
Mansoor "has been an obstacle to peace and reconciliation between the Government of Afghanistan and the Taliban, prohibiting Taliban leaders from participating in peace talks with the Afghan government that could lead to an end to the conflict," a Pentagon statement earlier Saturday said.
Speculation had mounted for years that Mansoor's predecessor, the one-eyed Mullah, had died. But it wasn't until July 29, 2015, that a spokesman for Afghanistan's National Directorate of Security confirmed that he was dead.
"According to our intelligence, Mullah Omar has died in a hospital in Pakistan a couple years ago," Abdul spokesman Hassib Sediqi told NBC News at the time. The government said he died of hepatitis B but his death was hidden in order not to disrupt peace negotiations, an intelligence source said then.
The militancy only seemed to unify itself even more after Mansoor took over, with relatives of Omar supporting him.
Sen. John McCain, chairman of the Senate Armed Services Committee, welcomed news of Mansoor's possible death Saturday and said, "I hope this strike against the Taliban's top leader will lead the administration to reconsider its policy of prohibiting U.S. forces from targeting the Taliban."
"Our troops are in Afghanistan today for the same reason they deployed there in 2001 — to prevent Afghanistan from becoming a safe haven for global terrorists," McCain said in a statement. "The Taliban remains allied with these terrorists, including al-Qaeda and the Haqqani network, and it is the one force most able and willing to turn Afghanistan into a terrorist safe haven once again."