The Taliban is emerging from months of turmoil after July's revelation that reclusive, long-time leader Mullah Omar was dead. News of his passing had been hidden from the rank-and-file for two years.
The ensuing uncertainty — and the naming of Omar's deputy, Mullah Akhtar Mohammad Mansour, as the new leader — raised hopes that the militancy was wounded and could be forced into concessions at peace talks.
Instead, the new Taliban chief consolidated his control with the appointment of top deputies and the rolling out of an apparent PR campaign. A spate of battlefield victories followed. By the time Kunduz in northern Afghanistan fell to the militants on Sept. 28 — their first captured city since U.S.-backed forces invaded 14 years ago — it was clear that the reconstituted Taliban is a force to be reckoned with.
That was underscored Thursday when President Barack Obama announced that the U.S. plans to keep 5,500 troops across Afghanistan into 2017, instead of drawing down to 1,000. It was a sure sign that things are not going well for the government of U.S. ally Ashraf Ghani and his fight against the insurgency.
Changes at the top of the Taliban are key to helping understand that shift in U.S. policy. Here, NBC News' teams in Afghanistan and Pakistan explain the significance of who's who in the revived Taliban.
New supreme commander
Little was known about Mullah Akhtar Mohammad Mansour when supporters unveiled the Taliban's former aviation minister as the group's new leader. According to an official Taliban release, he was born in 1965 in the southern province of Kandahar and now has two wives. According to the the militants, Mansoor started his militant career in 1979 during the Soviet occupation of Afghanistan by joining a religious-cum-jihadi organization, Harakat-e Inqilab-e Islami.
Mansour's appointment caused uproar after it emerged he had lied for two years in order to conceal his predecessor's death. Others objected to his selection, saying he was too soft.
"His opponents used to blame Mansour for favoring peace talks with the U.S. and Afghan government instead of fighting," one Taliban commander based in Afghanistan's Helmand province told NBC News on condition of anonymity. "But by capturing Kunduz and hoisting the Taliban's white flag on the government buildings he proved he preferred to fight ... and showed that he had the guts to succeed Omar and lead the movement."
Two other senior Taliban members praised the fact that Mansour appeared to be open to fighting and negotiating. After all, he was behind the establishment of the group's operations in Qatar in 2012 that led talks with the U.S. and the Afghan government.
"It was Mansour who helped open the Taliban political office in Qatar in order to negotiate with U.S.," a senior member of his rival faction told NBC News also on condition of anonymity.
While the Taliban were largely driven out of Kunduz, their operation has been widely seen as a success.
Mansour's openness in releasing biographical information and a photo of himself, in contrast to secretive Mullah Omar, has also been praised by rank-and-file.
"As compared to other members of the Afghan Islamic Emirate, Mullah Mansour is quite different. He isn't a common cleric. He has a vision and believes in arguments," a Taliban member close to Mansour said.
Still, many in the Afghan establishment have a hard time trusting Mansour because of his ties to Pakistan, which they accuse of meddling in Afghanistan and even controlling the militancy altogether.
Deadly deputy
The impression that Mansour is too close to Pakistan was only reinforced by the decision to appoint as his deputy Sirajuddin Haqqani, the operational commander of the dreaded network of the same name. The powerful and dangerous militant group is considered very close to Pakistani intelligence, and is classified Foreign Terrorist Organization by the U.S.
Sirajuddin Haqqani is the son of former veteran Afghan mujahedeen commander Maulvi Jalaluddin Haqqani and so comes from virtual terrorist royalty. In 2011, then-Chairman of the Joint Chiefs of Staff Admiral Mike Mullen described the Haqqanis as a "veritable arm of the Pakistani intelligence."
Related: The Biggest Names on U.S. Terror Hit List
While the U.S. dropped the public criticism of Pakistan's involvement with the Taliban — which it has accused of sheltering and funding the Taliban — President Obama's National Security Adviser Susan Rice pressured Islamabad to do more to reign in the militants during a recent visit, according the The Wall Street Journal and other reports.
The Afghan government says the Taliban is indeed stronger with the Haqqanis in the mix.
"The Haqqanis have always been the most lethal and deadly group among militants, and they are much stronger now as they have become part of the leadership in the main Taliban group," Interior Ministry spokesman Sediq Sediqqi told NBC News.
Deputy no. 2
Mansour's second deputy, Sheikh Haibatullah Akhundzada, runs a large madrasa, or religious school, in Pakistan's lawless Balochistan province. As one of Mansour's teachers, he has great influence over the group's leadership.
Akhundzada served as a judge during the Taliban regime. After the group fell in 2001, he was made shadow chief justice and has issued religious edits or "fatwas" justifying terrorist operations.
Mansour's challengers
While Mansour managed to convince Mullah Omar's son Mullah Yaqoob and the late Taliban leader's younger brother Mullah Manan to overcome initial opposition to his leadership, he still faces serious opposition from some powerful militant commanders. Among them are former Guantanamo Bay detainee Abdul Qayyum Zakir, Omar's former deputy Mullah Hasan Rahmani, ex-head of the Taliban's Qatar-based political section Tayyab Agha, and former Taliban governor Mullah Abdul Manan Niazi, among others.
They blame Mansour for grabbing the Taliban leadership before it could be properly decided on by the group's leadership, and keeping fighters in dark for more than two years about Omar's death.
"Mansour has never fought for single day, neither against foreign forces nor Afghan troops," said Niazi, a spokesman of anti-Mansour faction. "He has no contribution in Taliban victory over Kunduz. The Taliban had been in Kunduz for the past eight months."
He added that they would soon hold a meeting and appoint their own leader instead of Mansour.
ISIS encroachment
Mansour and the Taliban as a whole are also contending with a deadly threat from fighters who have pledged their loyalty to ISIS.
Reports of infighting among militants surfaced after ISIS announced in January that it had created a council for the province of Khorasan — a historic name of the territory covering modern-day Afghanistan, Pakistan and surrounding areas. The commanders and fighters are thought to be disaffected Taliban fighters augmented by militants from other Central Asian countries and China.
Nosy neighbors
Pakistan's involvement with the Afghan Taliban is much-discussed in Afghanistan but not publicly acknowledged in Islamabad. The government has been pushing an aggressive offensive against its own branch of the Taliban, and was instrumental in bringing the militants to the negotiating table in early July.
But their alleged ongoing involvement is criticized in Kabul.
"The reported division among the Taliban has not been real, at least in the operational level. Not only their attacks did not subside, but increased," said Sediqqi, the spokesman for Afghanistan's Interior Ministry. "That is because the actual control is not in Taliban leaders, it is in Pakistan and they merely carry out the Pakistani military's directives."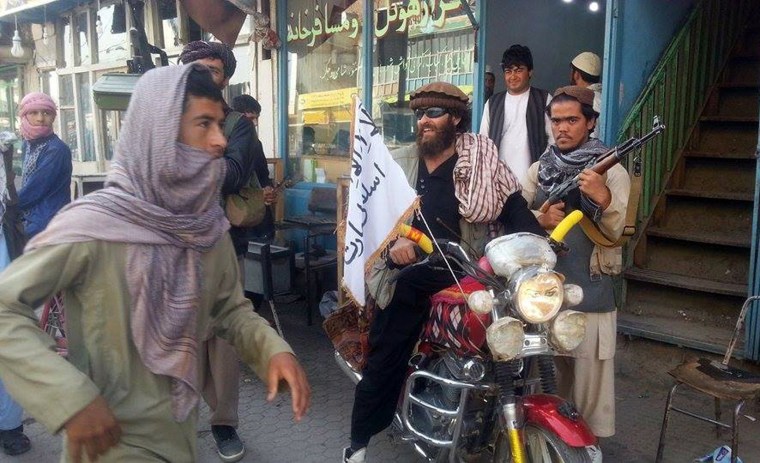 Pakistani officials roundly reject allegations they control the Afghan Taliban.
"The allegations leveled by an Afghan official are totally unfounded, baseless, uncalled for and mischievous," a spokesman for Pakistan army's Inter-services Public Relations (ISPR) said in a written statement. "While Pakistan has already supported Afghan-led and Afghan-owned peace process and condemned Kunduz attack, such allegations are not even comprehensible."
American about-face
Obama's announcement that the U.S. plans to keep 5,5000 troops across Afghanistan into 2017 — a reversal to a decision to leave only 1,000 soldiers on the ground after 2015 — will have been greeted with sighs of relief in Kabul. Afghan forces struggled and often failed to hold ground after American troops ended their combat mission in the country last year.
"Our troops will focus on training Afghans and counter-terrorism operations," Obama said Thursday while announcing the decision. "Afghanistan is a key piece in the network of counter-terrorism partnerships that we need from South Asia to Africa to deal more broadly with terrorist threats quickly and prevent attacks against our homeland."
The government of Ashraf Ghani immediately welcomed the U.S. move.
"The government of the Islamic Republic of Afghanistan ... welcomes President Obama's decision on continuation of cooperation of that country with the people of Afghanistan, especially in the area of security," president's office said in a statement.
"The leadership of the government of Afghanistan remains determined to strengthen the relations in the area of fighting terrorism now more than ever," it added.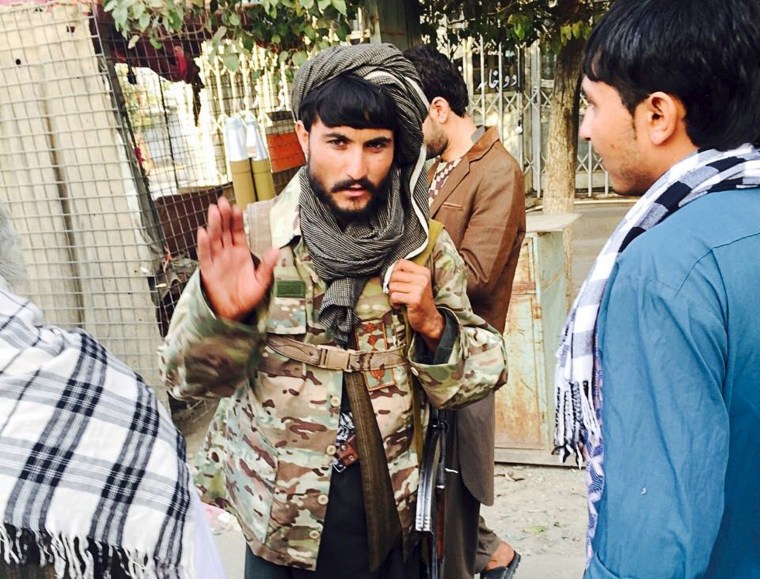 The Taliban, meanwhile, scoffed at the American decision with typical bravado.
"Our jihad will continue until the last occupying soldier is kicked out of the country. America chose to come, but we will determine the time of their withdrawal," Zabihullah Mujahid, a Taliban spokesman, tweeted after the announcement.