An American woman being held hostage with her Canadian husband and two children — both born in captivity — pleaded with the American and Canadian governments for help in a newly released Taliban propaganda video.
The video appeared to show Caitlan Coleman and her husband Joshua Boyle, who were kidnapped while hiking in Afghanistan in late 2012.
Coleman, who appears to be reading from a script, called their captivity "the Kafkaesque nightmare in which we find ourselves" and asks that governments on both sides intervene to work towards their release. She says the video was taken on Dec. 3.
She addressed both President Barack Obama and President-elect Donald Trump directly in the video.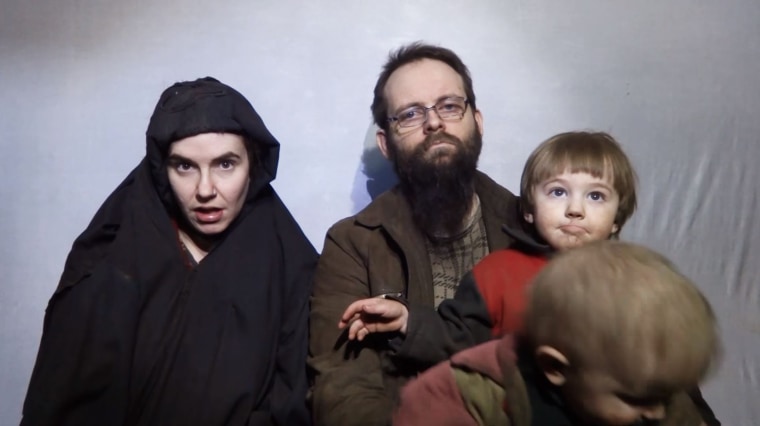 To Obama, she said, "Please don't become the next Jimmy Carter. Just give the offenders something so they and you can save face and we can leave the region permanently."
Then, addressing Trump, she said, "We ask that you are merciful to their people and God willing they will release us."
NBC News cannot verify the circumstances under which the Taliban video was made and there is a good chance the couple was forced to say things from a script prepared by their captors.
Two young children appear in the video with Coleman and Boyle, and Coleman has told her family that she gave birth to two children in captivity, according to the Associated Press.
A senior Taliban member told NBC News Coleman was pregnant when she was first kidnapped.
"When we captured the couple in 2013 in Afghanistan's Wardag area, the woman was pregnant and later delivered another son when they had converted to Islam in our custody", said one senior Taliban member holding the couple on condition of anonymity.
Related: Videos Showing Missing Couple Held in Afghanistan Made Public
State Department Spokesman John Kirby called the video "despicable" on Tuesday, adding that the government remained "gravely concerned about the family's welfare."
"It's obviously reprehensible to hold them in the first place, let's put that aside, they need to be released period," Kirby said at the State Department briefing Tuesday afternoon. "But to include children in the video is specifically despicable."
Kirby added that the administration never stops working "through diplomatic channels to secure the release of Americans being held overseas."
"We want to see them all safely returned and I can assure you that this administration will continue to work very, very hard to see that outcome," he said.
Canadian Global Affairs spokesman Michael O'Shaughnessy told the AP that his government was aware of the latest video.
"We are deeply concerned for the safety and well-being of Joshua Boyle, Caitlan Coleman and their young children and call for their unconditional release," O'Shaughnessy said.
Editor's Note: An earlier version of this story said Kirby spoke on Monday, but he spoke on Tuesday.