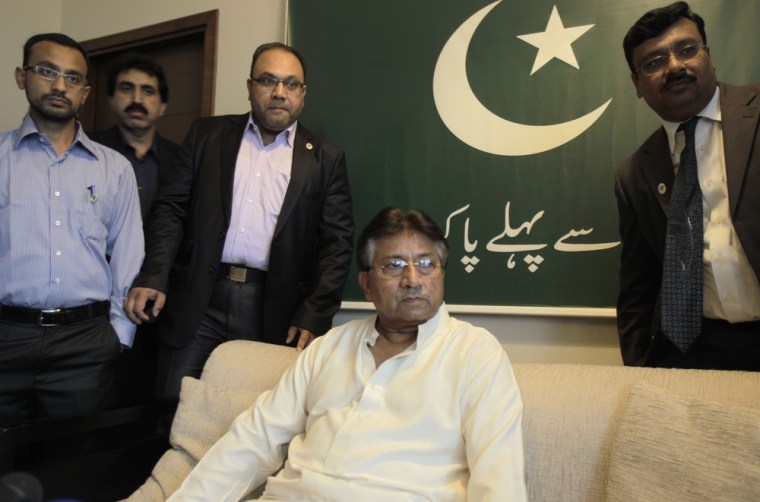 KARACHI, Pakistan - Pakistan's ex-president Pervez Musharraf who returned home Sunday after four years in self-exile, was forced to cancel a welcome rally after a video allegedly showing Taliban suicide bombers preparing to target the former leader was released. 
"The threat by the Taliban to General Musharraf's life is real, very real. There are increasing chances every hour that something could happen," said retired Maj. Gen. Rashid Qureshi, his former military spokesperson and now a member of Musharraf's political party, the All Pakistan Muslim League.
Musharraf had been expected to address supporters in Karachi, where he arrived from Dubai.
A video allegedly showing a squad of Pakistani Taliban suicide bombers being trained to target Musharraf was released on Saturday. Like threats in the past, they reiterated that they would kill Musharraf, who is blamed by Islamist militants for supporting the American "war on terror" in Afghanistan and Pakistan.
After landing in Karachi today afternoon, Musharraf was expected to briefly address a crowd, and will then be moved to an undisclosed location.
Photos: Victims of Pakistan bomb attack mourned
His lawyer and party leader, Ahmad Raza Qasuri, said the former president will have a busy few days "dealing with the legal mess of three very serious cases that have been waiting for him."
On Friday his legal team won him no-arrest bail for three different cases – one that charges him as a conspirator of the murder of former prime minister Benazir Bhutto in 2007, the killing of Akbar Bugti, a separatist politician, in 2006, and for forcibly detaining several judges in 2007 who wouldn't anoint his military rule.
The bail, according to Qasuri, was going to ensure that Musharraf was not arrested on arrival. The country's interior ministry had warned that Musharraf would be arrested as soon as he set foot in Pakistan.
According to the lawyer, Qasuri, Musharraf will have to travel to "unsavory and unsafe places like Quetta [in Balochistan] to face the courts, which shows that he understands the risks of returning back here."
Meanwhile, Pakistan has a new prime minister for the next two months until elections are held.
Mir Hazar Khan Khoso, a former judge, was appointed into the caretaker role by the non-political and unelected Election Commission of the country after weeks of unsuccessful between the outgoing government of the Pakistan People's Party (PPP) headed by President Asif Ali Zardari, and the opposition Pakistan Muslim League - Nawaz (PML-N) of former prime minister Nawaz Sharif failed to produce any results.
Pakistan is scheduled to hold elections on May 11 as it undergoes the first, undisturbed democratic transition in its history, which saw the government of the PPP recently complete the first tenure of any elected government.
All previous elected governments of Pakistan have been overthrown by coups and/or assassination. 
Related:
Malala Yousafzai, Pakistani teen shot by Taliban, back at school -- in UK
Pakistan captures suspect in death of journalist Daniel Pearl, officials say
Tough neighborhood: Can Waziristan militancy be dismantled, and society built?