ALABINO FIRING RANGE, Russia — Half-a-dozen of tanks rumbled across moats and trenches outside the Russian capital, firing off shells in a mighty show of force.
"It's a real battle!" an announcer thundered over the loudspeakers.
Thankfully, he was wrong.
The tanks chasing each other across the countryside were competing in Russia's third annual Tank Biathlon — and battling for medals not territory.
Russia won in all 13 categories to remain undisputed champions in the two-week competition that ended Sunday. The host has also won every single challenge since the event's inception in 2013. Seventeen countries participated this year, including China, India, Venezuela, Angola and Nicaragua.
No Western nation sent a team, although Moscow's top brass formally challenged the United States in 2013.
"A shame there's no Ukraine," said one of a couple thousand spectators, flashing a sly grin. Ukraine is battling a pro-Moscow insurgency that the West says is backed by Russian troops. Tank battles are ubiquitous across the front line in eastern Ukraine, though Moscow insists it is not involved.
"Polite green men" — a nickname for Russian special forces that are widely believed to have helped take over Ukraine's Crimea peninsula last year — grace many a T-shirt in Russia, including a few at the event.
Related: U.S. Says Russia Is Boosting Air Defenses Inside Ukraine
The tank biathlon finals were largely a family attraction, with parents bringing a host of excited small children to the show.
"Mommy, do you mean Russia can be second?" a six-year-old boy named Tikhon asked after Kazakhstan briefly took the lead.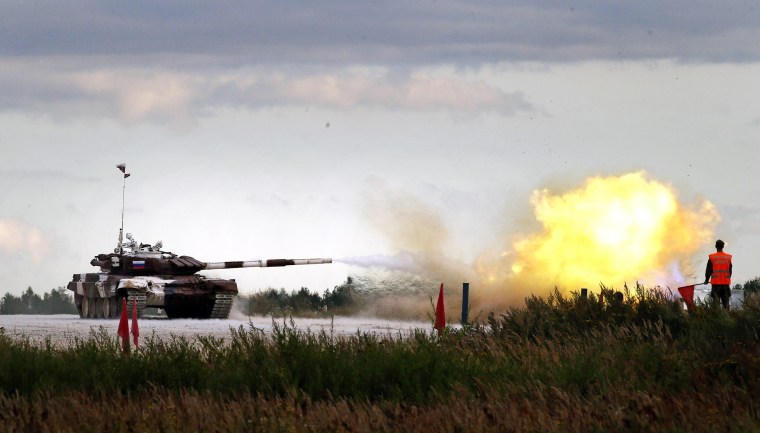 Others, however, tried rooting for Russia's rivals.
"What, can't I support China?" another boy asked — only to erupt into chants of "Russia! Russia!" seconds later.
"We think it is very healthy to bring kids here," said spectator Yulia Shoshina, 37, a mother of two. "They need to soak in the patriotic spirit."
"But we only want them to soak in the sport, the biathlon," her partner Alexander Soroka added quickly.
The "sport" is still a risky business: During the semi-finals, the Kuwaiti team's tank flipped over when trying to complete a sharp turn.