"The Hunger Games — Mockingjay," "Mission: Impossible 6," "Jackie," "Despicable Me" and the next "Fantastic Beasts" movie appear to be about as Hollywood as it gets. But French flair is at the heart of them all.
Tax rebates, stunning architecture, local expertise and "savoir-faire" are attracting a growing number of filmmakers to Paris.
The "City of Love" served as a movie backdrop for 4,500 shooting days last year, a 43 percent increase on 2016, while the overall number of films shot in Paris in 2017 surpassed the 1,000 mark for the first time, jumping by 23 percent.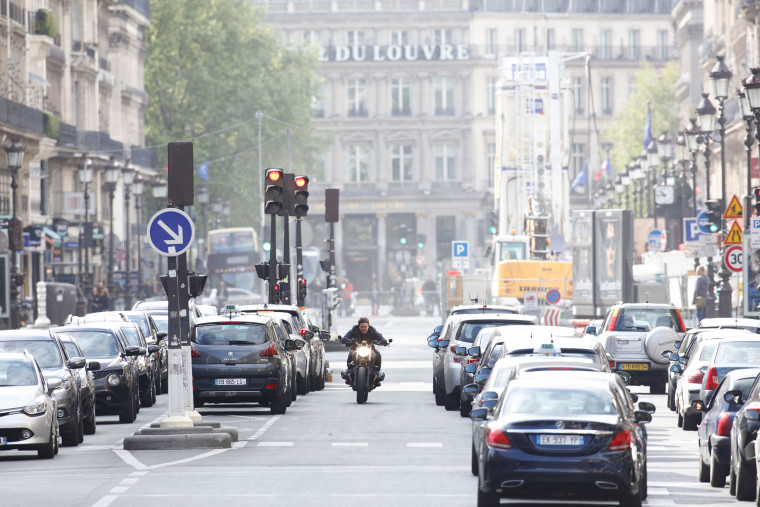 A tax-relief system introduced in 2009, and then boosted in 2016, has been a big factor. The program allows foreign filmmakers to reclaim up to 30 percent of production costs incurred in France.
"That has had a significant effect on the amount of foreign productions coming to France," said John Bernard, a producer whose company Peninsula Film worked on the third and fourth installments of "The Hunger Games" series as well as the upcoming "Fifty Shades Freed." (NBC News is a sister company of Universal Pictures, which is behind movies including "Despicable Me" and "Fifty Shades Freed.")
Foreign investment in France's movie industry more than doubled to 139 million euros ($173 million) in 2016 — from just 57 million euros ($71 million) the previous year.
But the tax situation is only part of the equation.
"Paris is a very film-friendly city," said Valérie Lépine-Karnik, the chief executive of the national film commission.
She highlighted how accommodating the French capital had been for the production of the series finale of Netflix's "Sense8" TV series and "Mission: Impossible 6."Both are due to be released this year.
For "Sense8," permission was granted for a massive fireworks display at the Eiffel Tower.
And despite the country being on high alert due to terrorist threats and the run-up to last year's presidential election, entire areas of Paris were blocked off for the sake of Tom Cruise's next "Mission: Impossible" film.
"There's a beautiful scene that we wouldn't have been able to shoot without the support of the air force," added Raphael Benoliel, the owner of Firstep, a French production company that worked on the movie.
Benoliel said that the level of talent available in France also made the country attractive.
"The major difference that foreign directors have pointed out to me is that in France, cinema is not just an industry, it's above all art," he told NBC News. "So technicians see their work as a passion, an art form, and you can feel it in their work."
With around 5,000 crew members hired locally to work on "Mission: Impossible 6," officials estimate the film had an economic impact of around 25 million euros ($35 million) over a seven-week period.
However, there are challenges associated with France's film industry — including more stringent labor laws than in some other places.
"Here, a 12-hour work day is the absolute limit and you even need special paperwork," Benoliel said, adding that in countries like Britain, "a 12-hour work day is the norm."
But Lépine-Karnik said such issues were unlikely to keep filmmakers from embracing the city.
"Paris will always be Paris," she said.