PARIS — Thousands of French police were deployed Saturday on Paris' famed Champs-Elysee Avenue to contain another round of demonstrations against gas tax hikes.
Police launched tear gas and water cannon as some of the so-called Yellow Jackets protesting President Emmanuel Macron's economic reforms tried to force their way across official lines.
Hundreds of demonstrators milled around at the top of the Champs-Elysee. Access to the major thoroughfare was closed to cars and monitored by police with identity checks and bag inspections.
Police barricaded entrances to the Arc de Triomphe and other landmarks.
The roadblocks didn't slow the protesters who set fires in the soaked streets and formed human barricades against officers.
Interior Minister Christophe Castaner said on Twitter that while 200 people were protesting peacefully, 1,500 others outside the perimeter were causing more serious disruptions. Paris police said at least 20 people were injured, including six officers, and more than 120 people were arrested.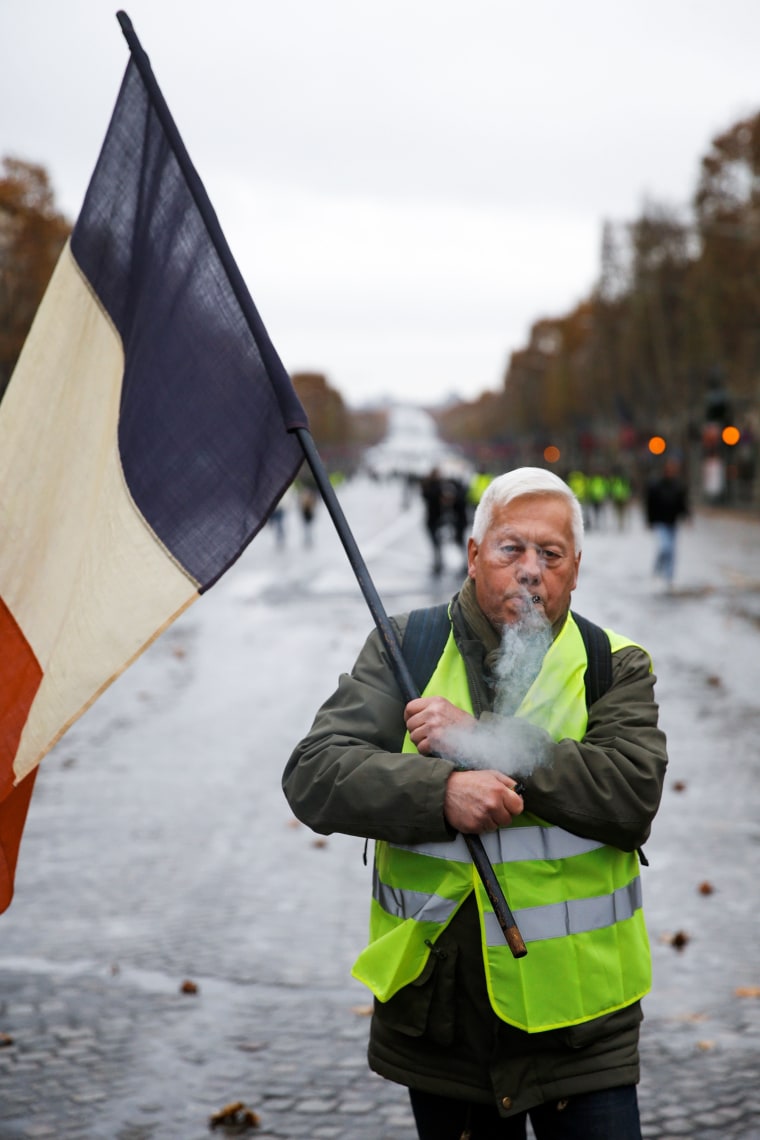 The movement has been organized largely over social media. Analysts have told NBC News it's likely being propelled by the disenfranchised middle class.
Almost eight in ten people in France support the Yellow Jacket protesters, according to a poll published French media on Friday.
Despite the chaos Saturday, the clashes paled in comparison to a previous protest that saw 280,000 people take to the streets and block motorways across the country on Nov. 17.
Several recent incidents have turned violent, prompting Castaner to assign 4,000 officers to secure the capital this weekend.
According to the city's police, 69 people were arrested last weekend and two dozen were injured when 8,000 protesters defied government orders by marching down the Champs-Elysee. The incidents resulted in over $1.1 million in damages, according to Paris Deputy Mayor Colombe Brossel.
Macron responded to last week's violent march by denouncing "those who attacked the forces of order."
The new fuel tax that takes effect Jan. 1 will raise gas prices around 12 cents per gallon. On diesel the hike will be about 28 cents per gallon.
Last week, gasoline cost around $6.26 per gallon in Paris, while diesel was around $6.28 per gallon.
The demonstrations have morphed into a wider rebuke of Macron's presidency and his attempts at economic reform.
The president is no stranger to protests. Macron's revamped labor laws that make it easier for companies to hire and fire staff resulted in thousands of demonstrators to take to Paris streets in May.
Macron has so far refused to reconsider the gas tax hikes despite calls from protesters who analysts say are feeling forgotten amid rising costs of living.
Nancy Ing reported from Paris; Linda Givetash from London.