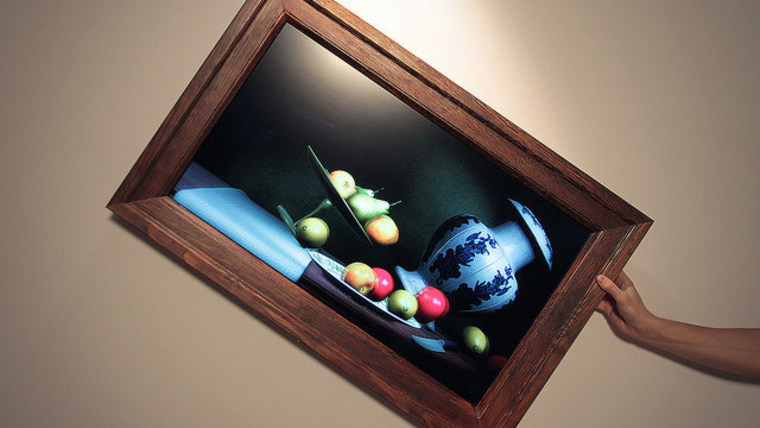 Life isn't still. Paintings don't have to be either. And now, thanks to Seattle-based artist Scott Garner, still life art is catching up with the times.
He's created an interactive gallery piece called Still Life that comes to life when tilted: the vase tips over, fruit rolls off plates and across the table, the fruit stand tumbles.
"It is about the role of technology in our lives and finding ways to switch our perspective on it a little bit," Garner told me Tuesday.
The installation consists of a traditional still life scene — a set table with fruit, plates, and an ornamental vase — presented on a flat screen TV that Garner wrapped in a traditional wooden frame.
"In any digital project, I try to find some source for more traditional craft," he noted.
This framed TV is hung on a rotating mount so that it swivels from side to side. A motion sensor is hooked to the back of the TV. As the screen moves, the tilt data is fed into a computer.
The computer, in turn, runs a video game engine from Unity 3D that Garner programmed so that it moves all the objects in the digital scene as they would in real life.
He created Still Life while an intern at superfad, a brand driven design and production company. Garner is now packing his bags to travel around before starting graduate school in digital art next year.
Where he's going is undecided, but wherever he ends up, he'll likely cast technology in new ways.
"We have amazing technology like smartphones with touch screens and accelerometers and voice recognition and all of these things, but basically you are still using it like a bunch of analog buttons," he said.
"One of the things I'm really interested in is finding ways around that, in addition to just general creative exploration."
— Via Discovery News
More on high-tech art:
John Roach is a contributing writer for msnbc.com. To learn more about him, check out his website. For more of our Future of Technology series, watch the featured video below.