A teenage survivor was found alive at the scene of the Kenya college massacre Saturday, two days after Islamist extremists killed 148 people there, the Red Cross said.
Cynthia Charotich, 19, hid in a crawl space above a closet and refused to emerge even when some of her classmates came out of hiding, fearing the attackers were still on the scene, she told The Associated Press.
She became so hungry and thirsty during her ordeal that she drank a lotion.
"I was just praying to my God," Charotich, a Christian, said of her ordeal at the hands of al Shabab militants at the Garissa University College. "I was scared so much."
She appeared tired and thirsty, sipping on yogurt and a soft drink, but otherwise seemed in good health.
She told reporters that she did not know if she was being approached by attackers or rescuers.
"At first I did not believe it, at first I was thinking that maybe they were the al Shabab so I said 'How do I know that you are the Kenyan police?' Then they brought our professor, the principal, and then they told us this is your teacher, so you are safe now.'"
Her discovery came as up to 300 friends and family waited outside a morgue in the capital, Nairobi, awaiting news of their loved ones.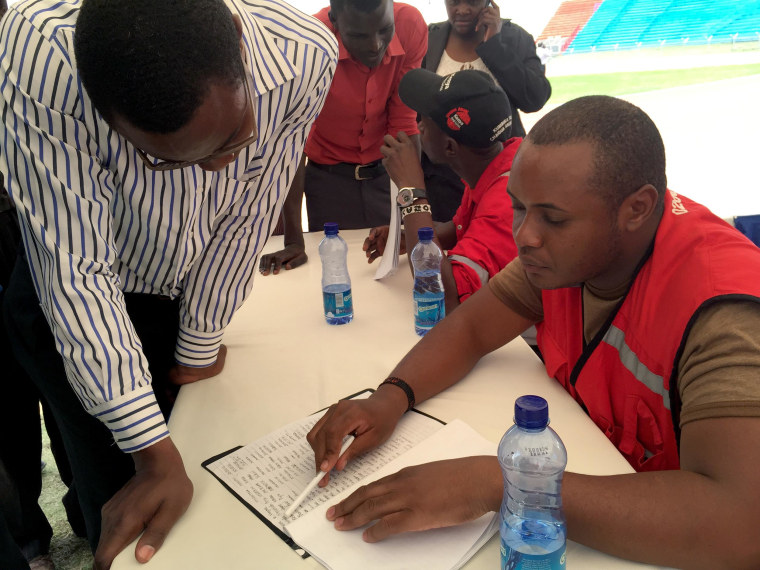 Messages broadcast over a loudspeaker warned of the grim situation inside the facility.
"Please note there are two rooms with two screens showing the pictures of your loved ones," the message told families. "But please bear in mind you need to be strong. There is a really bad stench coming from in there."
One woman collapsed as she tried to find out whether her 20-year-old son was among the victims.
Authorities are still moving survivors and bodies of victims from the scene of the atrocity to the capital, Nairobi.
As the recovery work continued, a Kenyan official said five people had been arrested on suspicion of involvement in the attack. Four attackers were shot dead at the scene.
Among those waiting to be reunited Saturday was Iranawanja Kuri, whose brother was wounded. She was also searching Red Cross lists for news of what happened to her young neighbor.
"I found my brother but I didn't find my neighbor," Kuri said. "It's disheartening. "I feel so bad. I don't know if she is alive or something but we just wait for that miracle that she is going to come and maybe she is hiding somewhere. We just hope she will come."
Al Shabab on Saturday warned of more attacks in Kenya, and reportedly issued a statement saying the attack on Garissa College was in retaliation for killings carried out by Kenyan troops fighting the rebels in Somalia.
"No amount of precaution or safety measures will be able to guarantee your safety, thwart another attack or prevent another bloodbath," said the statement, which has not been verified by NBC News.
Kenyan President Uhuru Kenyatta vowed to in a nationally televised address Saturday to "respond in the severest ways possible" to the attack, and said Kenyan "security forces are pursuing the remaining accomplices. We will bring all of them to justice."
Emma Ong and The Associated Press contributed to this report.