Dozens of firefighters were killed when a high-rise building collapsed after a blaze in Iran's capital, state-run Press TV reported Thursday.
The broadcaster put the death toll at 30 at Tehran's iconic Plasco building. It gave no source for the information. NBC News could not independently confirm Press TV's report.
PHOTOS: Dozens of Firefighters Killed as Iconic Building in Tehran Collapses
Iranian authorities did not immediately release definitive casualty figures.
However, Reuters reported that Tehran Mayor Mohammad Baqer Qalibaf was quoted by a state-run TV outlet that "about 25 firefighters are trapped inside and rescue teams are trying to get them out."
Reuters also cited state TV as saying at least 75 people, including 45 firefighters, had been injured.
Local media said that more than 200 firefighters were on the scene at the time of the building's collapse.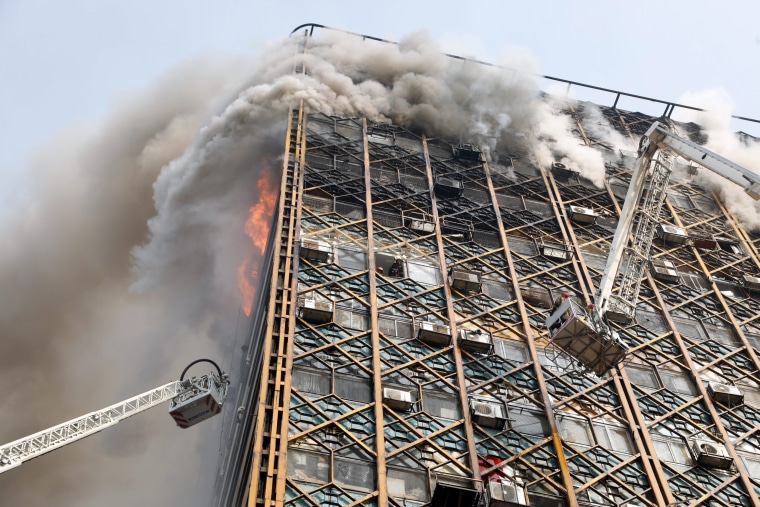 The tower is attached to a multistory shopping mall and is located just north of the city's sprawling bazaar.
It remains unclear how the fire began but Reuters said Iran's Tasnim News Agency reported it started on the ninth floor.
Police had previously blocked off streets around the 17-story structure, which was among the first high-rises built in the Iranian capital.
NBC News initially reported that the building was an apartment block but it later emerged that it is actually mostly commercial.
Live footage aired on Iranian television showed the incident.
A firefighter could be seen perched on a ladder spraying water onto the burning building as it fell.
Jalal Maleki, a fire department spokesman, told Iranian state television that 10 fire stations responded to the blaze, which was first reported around 8 a.m. local time (11:30 p.m. ET on Wednesday).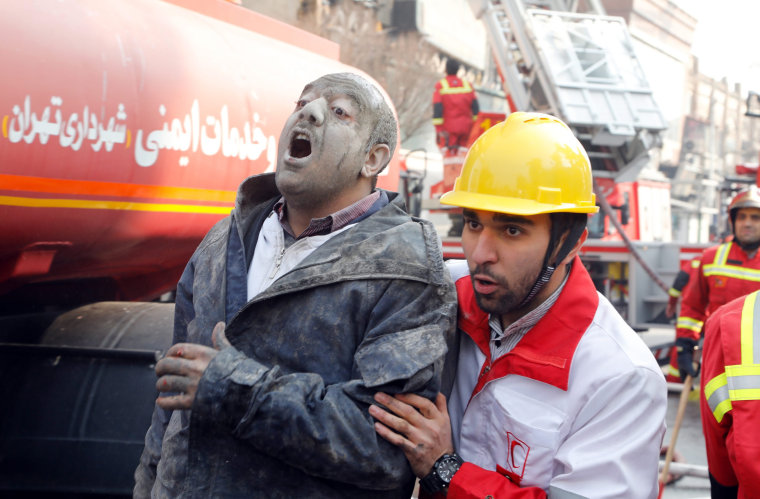 A large number of businesses in the building are believed to be involved in the textile and garment industries.
The owner of a nearby grocery store, who was forced by police to leave the area, told Reuters by telephone that "it was like a horror movie. The building collapsed in front of me."
The semi-official Fars news agency said police had cordoned off the British and Turkish Embassies which are situated nearby.
The tower was built in the early 1960s by Iranian Jewish businessman Habib Elghanian and named after his plastics manufacturing company. It was the tallest building in the city at the time of its construction.
Elghanian was tried on charges that included espionage and executed in the months after the 1979 Islamic Revolution that brought the current ruling system to power — a move that prompted many members of the country's longstanding Jewish community to flee.