Updated at 4:30 p.m. ET: MONTGOMERY COUNTY, Texas -- Texas nurse Verna McClain, charged with capital murder in the shooting death of a mother and the snatching of her 3-day-old baby, made her first court appearance Thursday morning, NBC station KPRC reported.
Asked by a judge if she understood the capital murder charge against her, McClain, 30, quietly replied: "Yes, sir."
McClain was assigned an attorney and ordered held without bail, KPRC said. A bail hearing is scheduled Monday.
McClain is accused of shooting Kala Marie Golden Schuchardt, 28, numerous times in the chest and kidnapping Keegan Schuchardt Tuesday outside a Montgomery County pediatrician's office about 20 miles north of Houston.
She is being held in a single-inmate cell and is not on suicide watch.
Her court-appointed attorney, E. Tay Bond, said McClain plans to plead not guilty.
He told Reuters that he will pursue an evaluation of her mental state. She was visibly upset and mumbling when he met her for the first time Wednesday night and by the next day her mental state appeared to have deteriorated, Bond said.
See the KPRC story on Click2Houston.com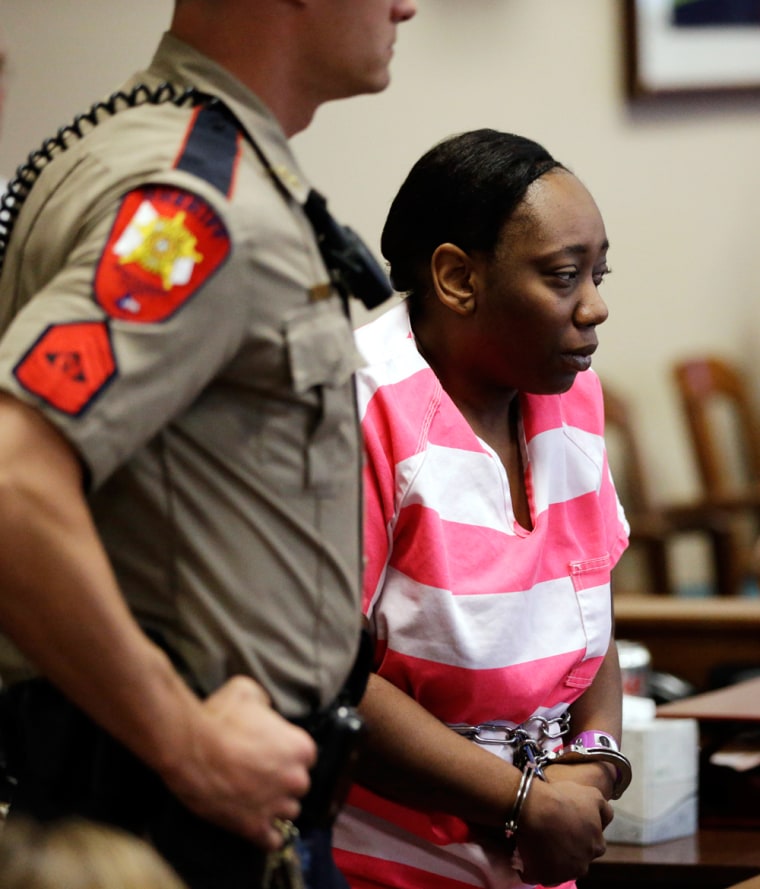 "She does appear remorseful," Detective John Schmitt said Wednesday at a news conference.
Montgomery County sheriff's deputies said McClain had planned to present the child to her fiance as their own after having a miscarriage. A May wedding was planned. Investigators said the fiance, who was questioned but not identified publicly, hadn't seen the kidnapped baby.
McClain has two children of her own with her estranged husband, Theo McClain of San Diego, and also raise his child from a previous relationship, officials said.
Records showed that McClain, a licensed vocational nurse working through a staffing agency, admitted shooting Schuchardt and taking her son. After taking the newborn, McClain told her sister that she now had the child and was ready to start the paperwork to adopt him, according to court records.
Earlier story: Deputies: Texas mother-shooter snatched baby to hide miscarriage
The healthy 3-day-old infant was found around 8 p.m. Tuesday. Investigators said McClain took Keegan to her sister's home in Harris County.
The baby's father, Keith Schuchardt, was briefly reunited with Keegan. But the child and the Schuchardts' two other children are staying with other relatives while Child Protective Services makes sure the Schuchardt home environment is safe, the Houston Chronicle reported. Schuchardt has a criminal record including felony convictions for possession of a controlled substance and burglary of a coin-operated machine, The Associated Press reported.
This article includes reported by The Associated Press and Reuters.
More content from msnbc.com and NBC News: