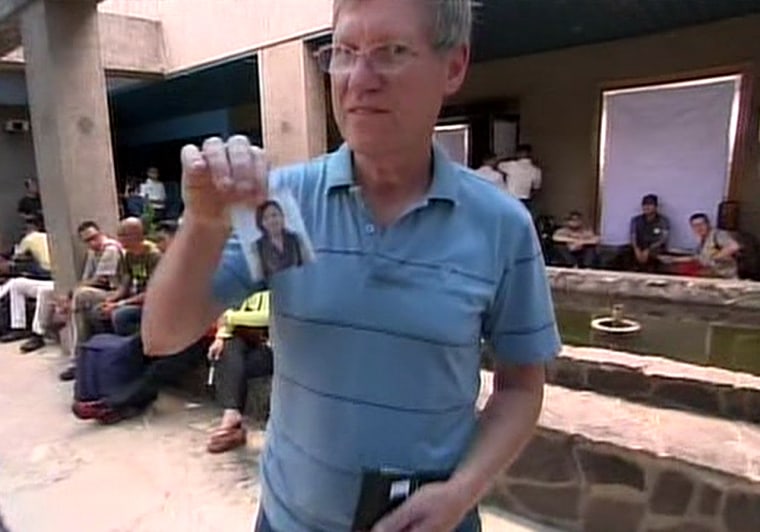 MANILA, Philippines -- An American ex-serviceman is desperately searching for his wife, who vanished while visiting her grandchildren in the typhoon-battered city of Tacloban. 
U.S. Air Force veteran David Geraldson told NBC News that he hadn't heard from his wife, Tessie, since she sent a text message while the storm was overhead at around 4:30 a.m. local time on Friday.
"It's been very trying, obviously," said Geraldson, who is from Fallbrook, Calif. "When you see the horrendous pictures from Tacloban it's obviously very frightening. It's unnerving.
"It was straight overhead and she texted that, 'the wind is blowing, the power is out and we don't know how long we'll have cell service.' No one has heard from her since."
Tessie was visiting her five grandchildren, who are aged between five and 15. 
Speaking from Manila, Geraldson said he was frustrated by efforts to reach Tacloban, where survivors are struggling for basic necessities like food, shelter and water. The storm destroyed at least 70 percent of structures in the Tacloban area.
"I had a flight booked and I thought it was going to go today but I just came from the airport and there are no flights until further notice," said Geraldson, who was stationed in the Philippines during the 1970s and 1980s.
Hitchhiking on aid flights was also proving difficult because the space was reserved for cargo, Geraldson added.
"Your first priority are your loved ones," he said. "Your heart goes out for the literally hundreds of thousands who you know what they are going through because you've been there. I've been to Tacloban many times, I know the city, I know the area and you can imagine what the storm surge did to the people in the coastal areas."
Henry Austin reported from London.
Related: