With a coastline that beckons scuba divers, elephant rides through jungles, and historic Buddhist temples in the heart of the picturesque capital, Thailand is an irresistible destination for millions of tourists each year.
And while the country is no stranger to political unrest, the Thai military coup declared Thursday could scare tourists away — especially from Bangkok, which claimed the title of world's No. 1 tourist destination in 2013 and was so popular among photo-snapping visitors, a shopping mall there was the top place last year where people shared pictures from on Instagram.
Experts estimate vacationers, who are the largest source of foreign exchange in a nation branded by its tourism authority as "Amazing Thailand," bring in about $30 billion a year.
For the most part, political instability has historically shaken Thailand's tourism industry, although it hasn't made a big dent in it.
Since Thailand's constitutional monarchy ended in 1932, there have been at least 18 coups or attempted coups. But analysts worry that this one could escalate, in part due to Thailand's aged and ailing monarch's inability to step in as he has in the past.
"Twenty years ago, most Thai would have expected the king" — King Bhumibol Adulyadej, 86 — "to play some sort of mediating role that would have basically brought the two parties together to the palace, given them a lecture about what's good for the country, and instruct them to find a way to settle their differences," said Marvin Ott, an adjunct professor at Johns Hopkins University and visiting scholar in the university's school of advanced international studies.
Today, that's not possible for Adulyadej, who spends most of his time in a hospital.
"I think people will stay away if the military is occupying the streets of Bangkok and dispersing protesters."
As a result, turmoil could grow. Protests, which have been slowly increasing in the past six months leading up to the coup, have mostly been in isolated areas of Bangkok, home to the sixth busiest airport in Asia and a major hub for flying elsewhere on the continent.
"I think people will stay away if the military is occupying the streets of Bangkok and dispersing protesters," said Ernie Bower, chair of the southeast Asia studies program at the Center for Strategic & International Studies. "If there's a move by the Thai senate to appoint a new government, an unelected government, the Red Shirts — the supporters of the current caretaker government who were elected — they will oppose that action and we probably could see some serious conflict in the streets of Bangkok."
There is a precedent for that: In 2012, 99 people were killed in violence in Bangkok, Bower said, and hotels emptied out.
"But Thailand is pretty resilient," Bower said, adding that it's possible to fly directly into other popular destinations in Thailand, such as Phuket.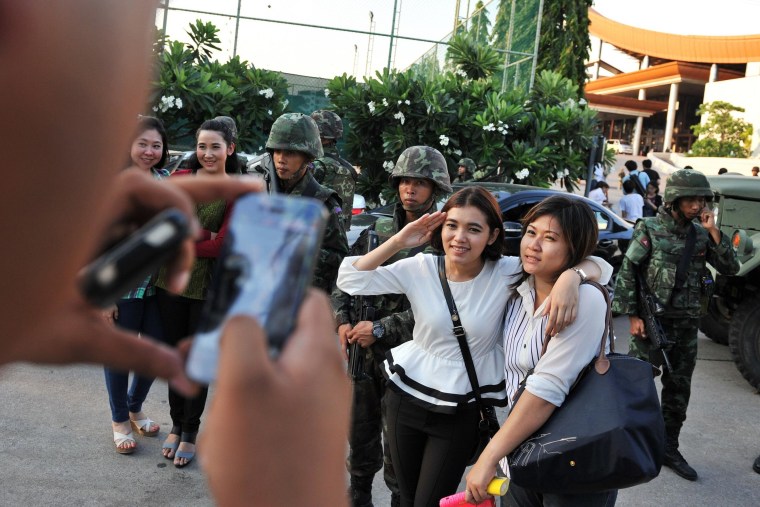 But political standoff has spread to beach resort towns before, Ott said, which had a "disastrous effect" on Thailand's image.
Alexis Galon, 31, a French tourist, has been in Bangkok for a week. He said he's seen a small military presence, mostly in the non-touristy areas of the city, but the biggest disruption came after a nationwide curfew was declared Thursday.
"Around 7, there was a massive traffic jam. Everything was blocked everywhere, and the subways were very crowded," he said.
Galon said he feels safe and doesn't plan on leaving Bangkok, although he does expect the mood to darken.
"The last few days were very, very quiet. The people were not that stressed out. It was more of a friendly atmosphere. I think that's going to change," he said.
Meanwhile, Thai tour operators have already received emails from anxious travelers about whether it's still safe to come visit.
"It is still an extremely safe place for tourists to be. But we're going to keep a close eye on what's happening."
Simon Brooks, one of the owners of Backpacking Through Thailand, which offers three-week tours around the country, said he is prepared to cut out the two days in Bangkok that are included in his tour if he needs to.
"It is still an extremely safe place for tourists to be," he said. "But we're going to keep a close eye on what's happening there and we can alter the tour program."
If protests spread to the main Bangkok airport, then Singapore — the other major hub for mainland southeast Asia — is likely to pick up the air traffic.
"Singapore will see a big surge as flights redirect. The airports should continue to operate, but a lot of foreign fliers will try to avoid transit through Bangkok," Bower said.
Thailand has also billed itself as a top locale for medical tourism, promoting services ranging from Thai massage and Thai herbs to treatments at internationally accredited hospitals: It's home to the largest private hospital in Asia, which serves more than one million patients each year.
And beyond tourism, Thailand plays a vital part in global distribution of goods.
"We saw just how vital Thailand is to the world's supply chain in the flooding a year ago, when massive flooding in Thailand disrupted factories. We saw autos and auto part manufacturing from there halt. It really affected delivery of new cars and auto parts worldwide, as well as in the electronics industry," Bower said. "If Thailand does see a significant shutdown, I think they'll try to separate political from business disruption, but it could happen if there's violence."